Tuna Mayonnaise Croissant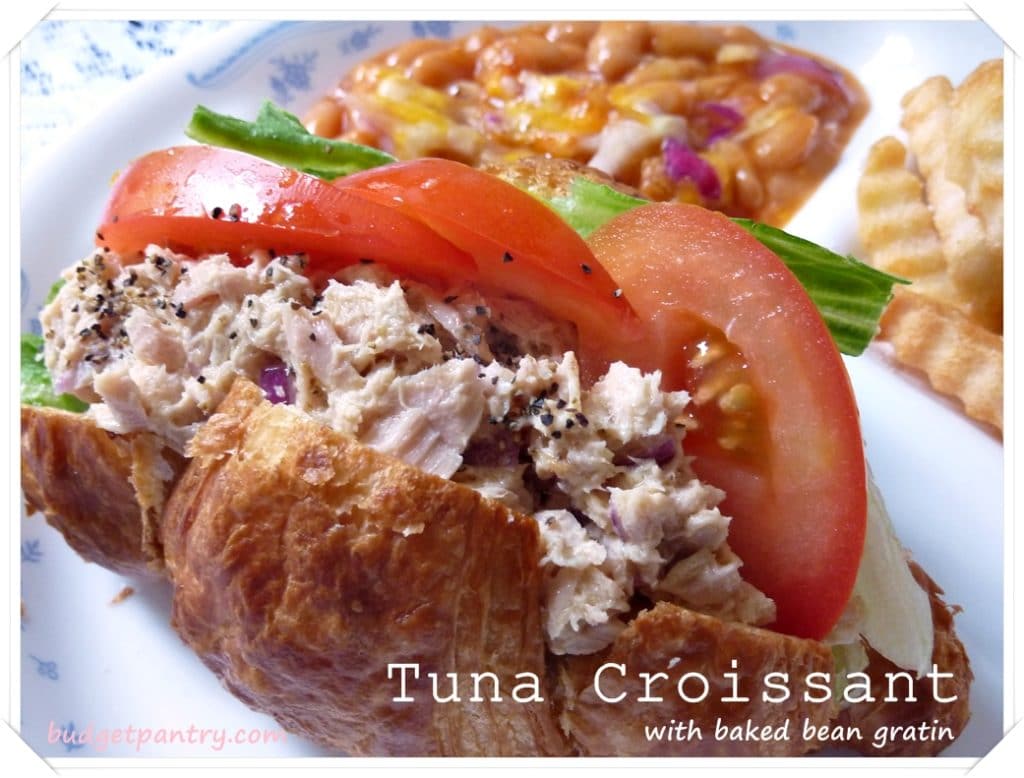 Made a simple lunch yesterday with store bought croissant. The tuna and baked beans were generously sponsored by Ayam Brand.
If you love french sandwiches as much as I do, you would know that they cost quite a lot outside. I remember having Delifrance sandwiches for $3.90 when I was still in school and I think they now cost $6 or $7? Too expensive for my budget! I got to make it myself!
I had my mind set on making a panini or ciabatta ($2.20 for a pack of four, from Gardenia) but got distracted by the fat Bonjour croissants sitting in the clear plastic box. You'd be surprised at the variety of breads available at NTUC. On top of the regular white sandwich breads, they now stock panini, ciabatta, cranberry loaves, multigrain buns, baguette, hard rolls and yes, croissant in their bread aisle. The croissants were better than I expected! I airfried them slightly before filling them with cold tuna mayo, and they were so buttery and flaky, you would never have thought they came in a plastic box. The key here is to warm them- if you don't have an airfryer, use your oven. They're amazing, I promise! The best part? They cost just $0.54 a piece.
Makes 5 croissant sandwiches
What I used:
5 Bonjour croissants (you can find them in NTUC)
2 cans Ayam brand tuna chunks in water, drained (reserve 1 tablespoon liquid)
Half a red onion, chopped
3 tablespoons mayonnaise
2 tablespoons Djorn mustard
1 sachet sugar
A dash of white pepper
Black pepper (optional)
Fresh lettuce
1 tomato, sliced
1. Combine tuna, reserved liquid, onion, mayo, mustard, sugar and white pepper, mix well and chill.
2. Cut a slit across the top of each croissant and toast lightly.
3. Fill with fresh lettuce, tuna mayonnaise and tomato. Top with a sprinkle of black pepper and enjoy!
How much I spent:
$2.70 for croissants
$4.90 for tuna (retail price is $2.45 per can)
$0.30 for tomato
Everything else from my pantry!
Total cost per serving: $1.58
——————————————————————
I served it with a baked bean gratin. I combined one can of Ayam Brand baked beans with cheese with the other half of the chopped onions, then topped it with mozzarella cheese before airfying til the cheese melted. The beans were a tad too salty for me but I think they will go quite nicely with crusty baguette!