Shrimp and Mushroom Wanton Soup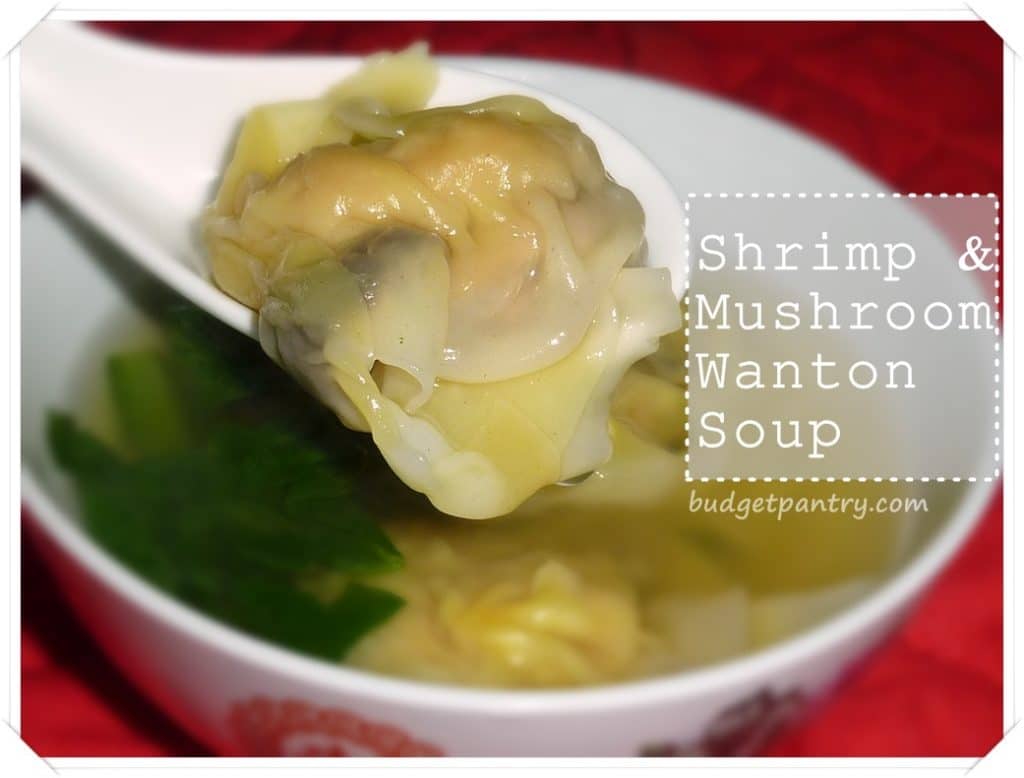 I love home made wanton soup because I like the wrapping process. No, really. I like to wrap wantons! I wrap mine this way:
1) Put a glob of filling in the center of the wanton skin and fold it into a triangle.
2) Use a bit of water to seal the edges. Then, holding both ends of the triangle, fold them over the top so that both ends meet.
Some people choose to fold it into an ingot shape, or twist it into something like a money bag, which is fun! Mine's something like this: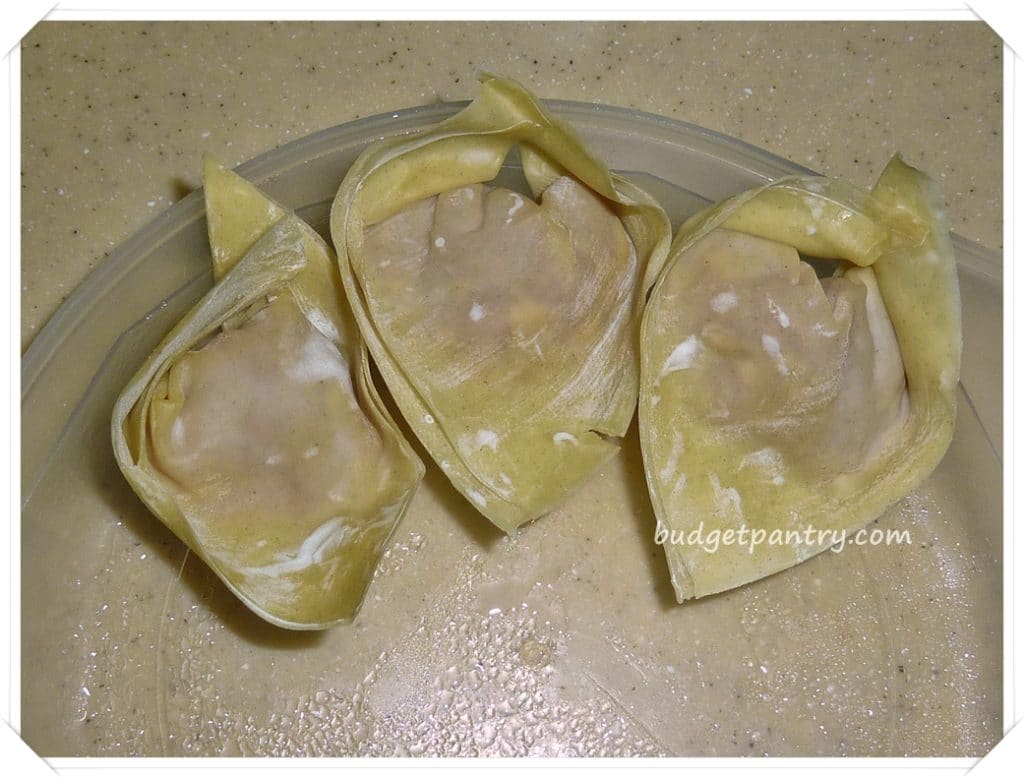 For more ways on how to wrap wantons, check this page out.
Whenever I eat wantons soup in Hong Kong, they always come with lots of sweet yellow chives. It is almost impossible to find yellow chives in the local markets so I had no choice but to leave them out. The vegetable seller told me that yellow chives spoil quickly and she has not seen them for years. If you know of where I can get yellow chives, please leave a comment below!
When making wanton, I always add tiny dried shrimps to the pork, shrimp and mushroom filling. I get mine from Giant and also use it when stir frying vegetables and chicken. The dried shrimps lend a good savoury flavour to the minced meat and prawn filling. Here's what the packet looks like: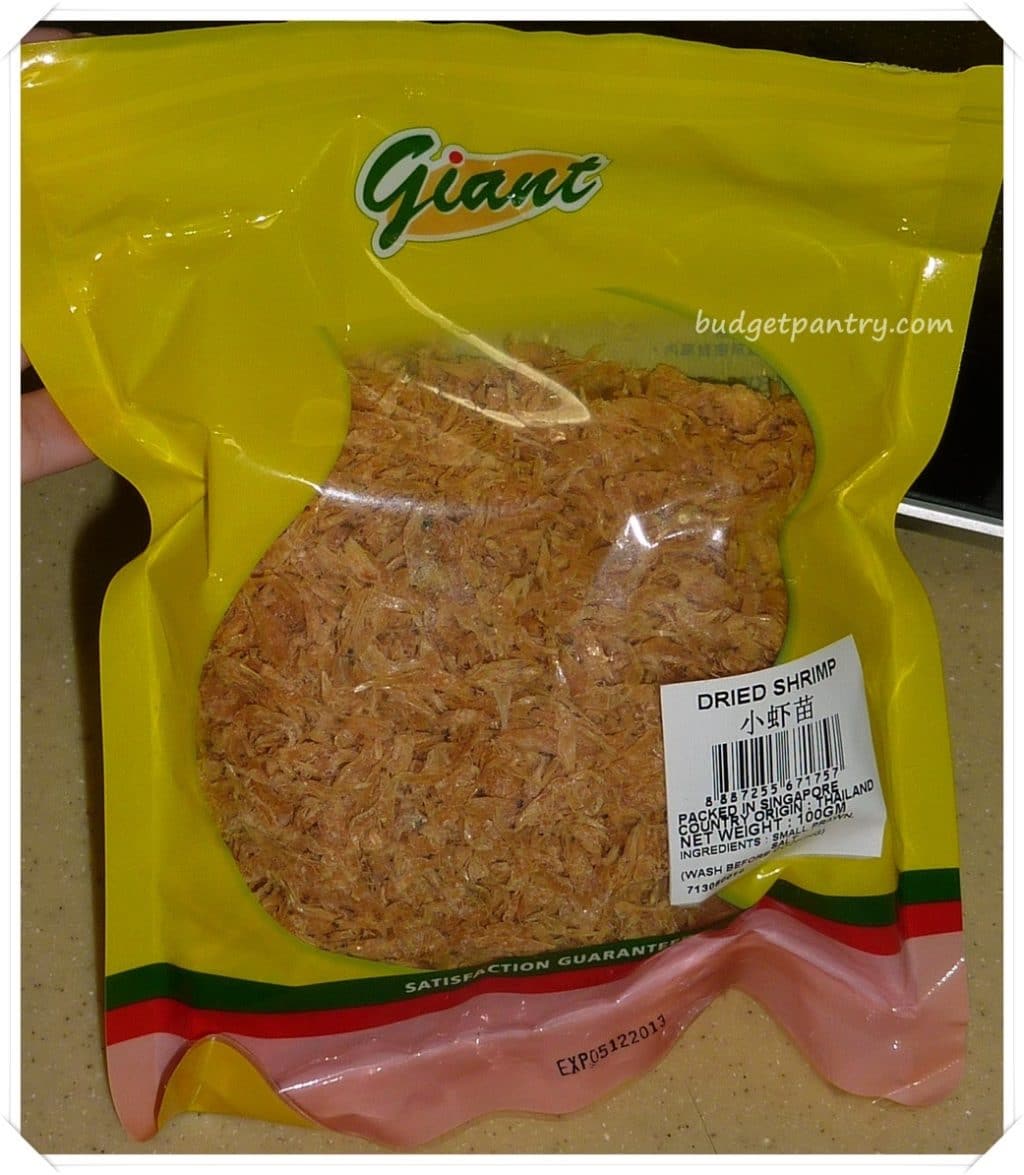 Ready to make some easy wantons? Me too!
Makes 30 wantons (4 large servings)
What I used:
1 pack of 30 wanton wrappers
200g minced pork (marinated in 1 teaspoon oyster sauce, 1 sachet sugar, white pepper, a pinch of salt and 1 teaspoon corn flour)
200g small prawns (soak in cold water + one sachet sugar for 15 mins, drain, then cut each prawn into half)
5 dried shitake mushrooms, soaked in water til plump and sliced thinly
1 tablespoon dried shrimp as above
1 litre chicken stock
A handful green leafy vegetables
A small bowl of tap water to moisten the wanton skin when wrapping
A sprinkling of sesame oil and white pepper
1. Mix the prawns, mushrooms and dried shrimps with the minced pork mixture.
2. To wrap wantons, place a wrapper in your palm and spoon a teaspoon of filling in the center. Fold into a triangle and use a bit of water to seal the edges. Then, holding both ends of the triangle, fold them over the top so that both ends meet.
3. Heat up the chicken stock til boiling, then add the leafy vegetables. Slowly drop in the wantons til they are cooked and have floated to the top.
4. Sprinkle the white pepper and sesame oil and serve immediately.
How much I spent:
$2 for wanton wrappers
$1.60 for minced pork
$2 for prawns
$0.30 for vegetables
Everything else from my pantry!

Total cost per serving: $1.47
——————————————————————
I decided to make these for lunch because I found a packet of wanton wrappers in the fridge after 88 went to the supermarket- a clear sign that she wanted me to make some wantons! She is quite cute– she doesn't tell me to cook a particular dish but when I find something in the fridge that I did not buy, it's a hint for me to cook her that something. Since she "asked" for them, she got them! You can choose to add egg noodles into the soup which is what I'm gonna do when I cook these again. Then maybe, I'm gonna experiment with folding them differently.
Do you have a favourite way of folding wantons?