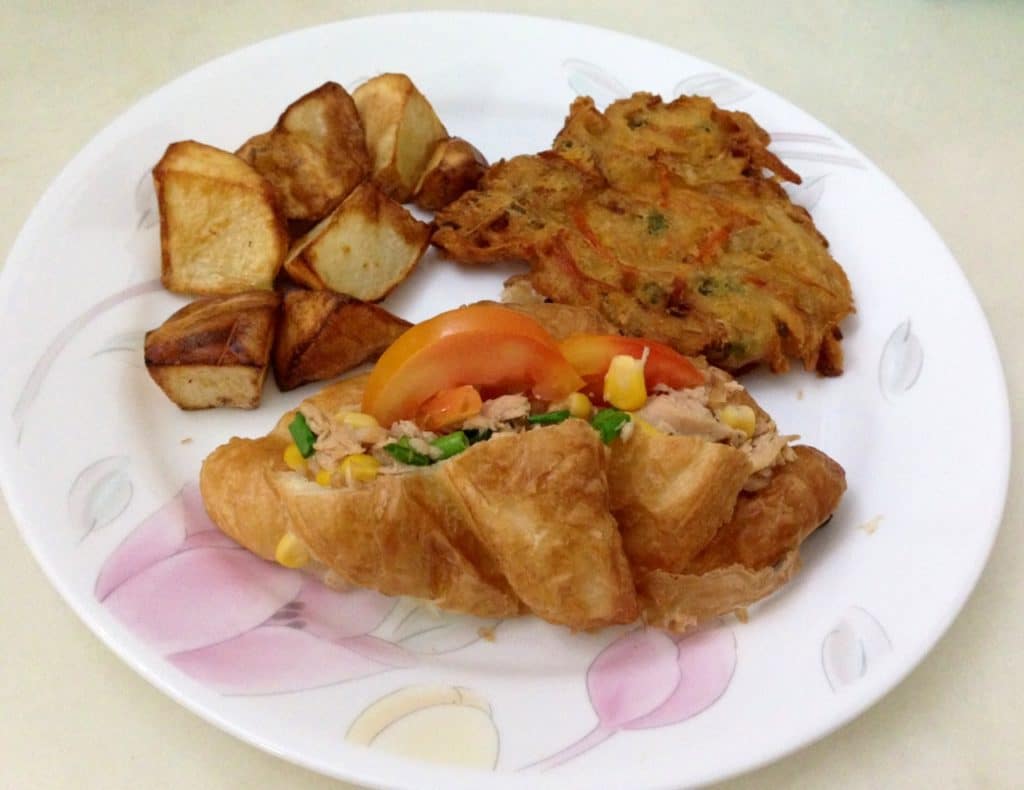 I take a more relaxed attitude towards preparing meals on Saturday because it is the weekend. Not that the family doesn't need to eat on weekends but for some reason I don't feel as guilty if I declare, "I'm not cooking today!" to my aunts on Saturdays. Sundays I don't declare at all.
The Saturday that just passed? We had an amazing Tuna Croissant spiced up with airfried potatoes and vegetable yam fritters. I made three sandwiches for our dinner cos Jason was working, and two for his supper at 2am earlyyy morning. Ok, I confess I ate half a croissant past midnight, so Jason had one and a half servings. It's for his own good.
Makes 5 servings
What I used:
1 can Ayam Brand tuna in water
1 can corn kernels in water
1 box of 5 butter croissants from NTUC
1 tomato
2 potatoes
1 tbsp light mayonnaise
1 tbsp Djorn mustard
White Pepper
Spring onions, chopped
1. Soak cut potatoes in water for 10 mins then airfry at 180 degrees for 15 mins.
2. Drain tuna and corn, combine with mayo, mustard, spring onions and pepper. Refrigerate.
3. Cut tomatoes into wedges.
4. Cut across the middle of the croissants with scissors, to make a pocket. Stuff with tuna mixture & tomatoes and lightly airfry or toast croissants when potatoes are about ready.
5. Arrange on plate and start eating!
How much I spent:
$2.70 for croissants
$2.10 for tuna
$1.30 for corn kernals
$0.20 for tomatoes
$0.60 for potatoes
$1.30 for each vegetable yam fritter
Total cost per serving: $1.38 without the fritters and $2.68 with
——————————————————————-
The croissants were wonderful, flaky, buttery and light- not the kind of standard that I expect from NTUC. You may of course use any brand of croissants but I happened to be in NTUC on Saturday and the baked darlings were friendly on my wallet. My aunts preferred my creation to Delifrance's, or so they said. The "vegetable" fritters were from "Happy Veg", a (very unhealthy) deep-fried snack kiosk at the MRT station. An easy dinner on a Saturday!