Garlic Shanghai Green with Ikan Bilis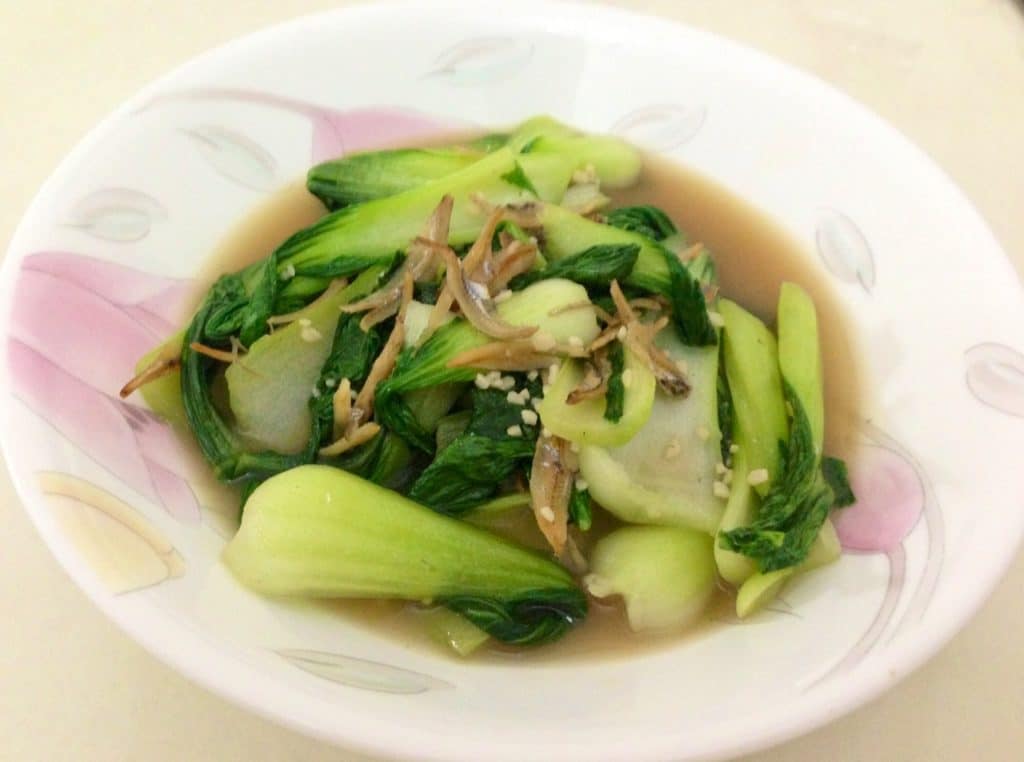 This is a very simple garlic vegetable stir fry which has all the goodness of anchovy stock. The Shanghai Green is cooked til still crunchy and this is a very easy way to add some green leafy vegetables to your family's diet. I hate cooking leafy vegetables.. I never know what to do with them. I can do a mean vegetable stew with carrots, cabbage, tomatoes, and mushrooms.. I can do a delicious curry vegetable.. I can cook broccoli and cauliflower in X.O Sauce, or sambal french beans with dried shrimp.. but put leaves in front of me (except spinach- I'll cook it in sambal, or garlic dried shrimp), and I am lost. I usually add leafy greens to my one-dish meals like fried noodles or soup, and sometimes in a stir-fry like this which I don't particularly love to do. I couldnt resist getting these beautiful Shanghai Greens though- 3 huge packets for $1 from the market opposite my place. I thought they tasted quite good!
Serves 2
What I used:
1 packet Shanghai Green
1 tsp chopped garlic
1 tsp olive oil
1 tbsp dried Ikan Bilis
1 tsp oyster sauce
1/3 cup water
A dash of sesame oil
A dash of white pepper
Cornstarch mixed with a bit of water
1. Soak ikan bilis in hot water for 15 mins, then drain. Reserve water.
2. Add oyster sauce, sesame oil and pepper to the reserved water.
3. Fry garlic in oil til fragrant, add the ikan bilis and fry for 2 mins.
4. Add the vegetables, cook for 1 min then add the water mixture.
5. Cook for another 2 mins then add cornstarch solution.
6. Let it simmer for 1 min then serve.
How much I spent:
$0.33 for vegetables
Everything else from my pantry
Total cost per serving: $0.16
——————————————————————-
I served this with curry pork in potatoes and ABC Soup (carrot, potato, onion, corn) for tonight's dinner, and the cost per person is about $1.40. Pretty amazing for a nutritious 1 meat, 1 vegetable and 1 soup dinner if you ask me. Look out for the recipes for the curry pork (I cheated!) and ABC Soup.