SG Hawker Favourites: (Air) Fried Fish Bee Hoon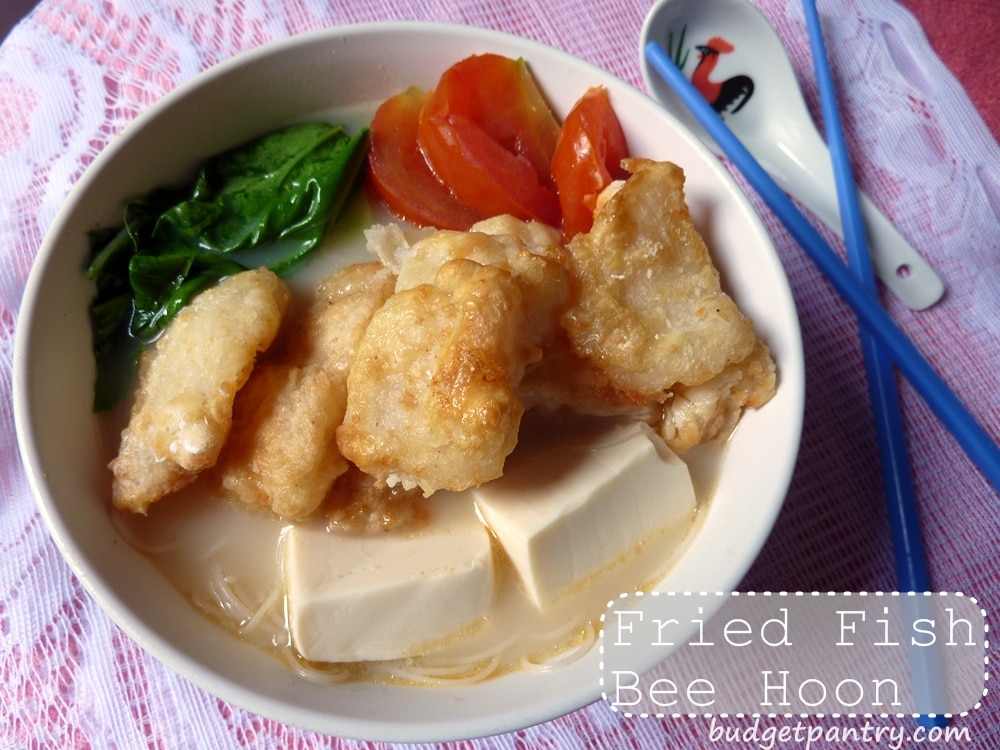 Quick-fix meal!
I re-created this hawker dish and my family loved it! Jason even went as far to rank it up there along with the Creamy Mushroom Risotto I spent 2 hours cooking and preparing. I remember for the risotto, I was physically standing at the stove for an hour stirring the broth into the rice!
This Fried Fish Bee Hoon took me a much lesser amount of time since I prepped the fish overnight. You don't have to. I used an airfryer for oil-free "deep frying". If you don't have an airfryer, I would suggest you pan-fry the fish in shallow oil instead of deep frying them.
For the type of fish, if you can, go to the market and buy snakehead/snapper fish fillets and ask the fish monger to slice them into good sized chunks. Supermarkets do sell them pre-sliced but they're used mainly in Sliced Fish Soup. If you don't mind, you can also buy better quality cream dory or sutchi fish (they're the same thing) which are cheaper, fatter and chunkier, but don't have a good reputation. When you eat fish and chips or fried fish soup outside, it's normally made with dory/sutchi fish too.
SG Hawker favourites: (Air) Fried Fish Bee Hoon
(budgetpantry.com)
Serves 4
What you need:
500g dory/snakehead/snapper fish fillets, cut into good sized chunks and marinated with:
1 tbsp sesame oil
1 tbsp light soy sauce
A dash of hua diao jiu
Pepper
1 packet thin bee hoon (I used whatever carb was in my pantry)
4 tablespoons corn flour
5-6 slices ginger
2 litres water
1 fish stock cube
1 chicken stock cube
2 tomatoes, cut into small wedges
12 tbsp low fat evaporated milk
1 tbsp oil
Half tbsp sesame oil
2 tbsp Chinese cooking wine (hua diao jiu)
Lettuce and/or green leafy vegetables
1 box silken tofu, cut into large cubes (optional)
Steps:
Dredge the marinated fish in corn flour on both sides and air/pan/deep fry them til golden brown. I sprayed the fish pieces with some oil and airfried them at 180C for 7 minutes on the grill pan/ foil (this WILL STICK on the mesh basket), then flip. Turn up temperature to 200C and continue airfrying for 5 minutes. Set aside.
Soak bee hoon in hot water til soft, drain then set aside. In a large pot, add 1 tbsp oil and fry ginger til fragrant. Add the water and stock cubes.
Bring to boil and add the sesame oil, chinese cooking wine, evaporated milk, tofu and tomatoes. Cook for 3-4 minutes.
Add the veggies, cook for 1 minute then add bee hoon. I cooked the bee hoon in a sieve as I was cooking portion by portion. Remove bee hoon from pot.
Arrange bee hoon, veggies, tomatoes, tofu and fish slices in a bowl and ladle the soup over it. Enjoy while piping hot!