HK Pork Chop Baked Rice 焗豬扒飯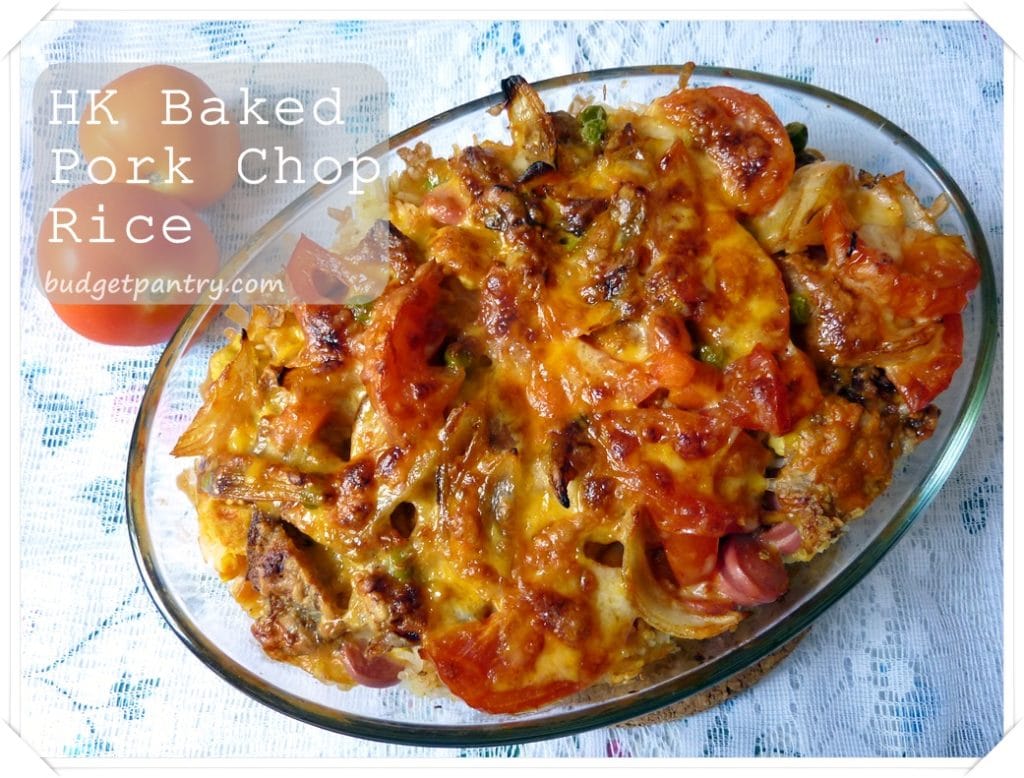 What is the one thing that you never fail to order at a Hong Kong cafe? For me, on cheat days, it is always Pork Chop Baked Rice. Think melted gooey cheese on top of pork chops in a creamy tomato sauce with fried rice underneath.. it is carb heaven right there! This dish is relatively easy to make, but the tomato sauce can sometimes be runny or not tasty enough. I experimented with quite a few versions before settling on this one. My must-have ingredient? Tomato puree (I use Ayam Brand) and Worcestershire sauce.
Some recipes only call for ketchup, but I find that combining tomato puree with ketchup, along with some Worcestershire results in a creamy (but not overly so) and tangy sauce that goes so well with the fried rice. I can't quite put a finger to Worcestershire sauce. Growing up, I was never familiar with it because what Ah-mm mostly used in her kitchen were oyster sauce, light soy sauce and chinese cooking wine. It was only when I started cooking on my own that I was introduced to it, in western-type roasts, grills and marinades. It is now a staple in my kitchen as it enhances the taste of many gravies and meats. I love it.
For tomato puree, I used to always buy Hunt's, but recently I decided to try out this one by Ayam Brand. The small size is just perfect for cooking one dish which means no wastage, and at $1, it fits right into my budget. I like its consistency- reasonably thick but not overpowering, and how it isn't quite as sour as Hunt's. I might get the larger can next time as I think I saw a "Healthier Choice" logo (lower sodium) on that- not sure if the lower sodium version is available for the smaller can.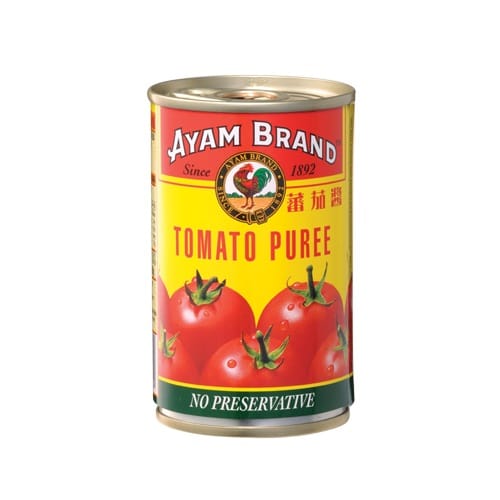 For the pork chops, I used frozen shoulder butt chops (a little more fat than pork loin chops) from Giant. $4.20 on promotion for 5-6 slices. For a 3 person- serving, 2-3 slices are sufficient. And of course, I cooked it in my trusty airfryer for low fat cooking.
Makes 3 servings
What I used:
1 and a half cups rice grains, cooked the day before and refrigerated
3 slices pork shoulder butt,  marinated in 1 tablespoon light soy sauce, 1 tablespoon oyster sauce, 1 tablespoon cornstarch and some pepper for at least an hour
Half yellow onion, chopped into small wedges
2 tomatoes, chopped into small wedges
3 eggs, beaten
Shredded Mozzarella/ cheddar cheese (I bought mine at cold storage for $2.99 a packet and used half)
2 frankfurters, sliced into cute circles (there is no other way to describe it)
A handful of frozen vegetables
1 tablespoon light soy sauce
Cornflour for dusting pork chops
1 tablespoon olive oil
For the gravy (Combine all and set aside):
8 tablespoons ketchup
2 tablespoons tomato puree
125ml water
2 tablespoons sugar
1 tablespoon Worcestershire sauce
1. Preheat oven to 200 degrees.
2. From the bowl of beaten eggs, remove 2 tablespoons to coat pork shoulder chops. Dust in cornflour and airfry for 12 minutes at 180 degrees or pan fry til done. When cooled, cut into half-inch strips with a pair of scissors and set aside.
3. Now to fry the rice. Heat up half the oil and pour in the eggs. Scramble til almost cooked then add in the rice, frankfurters and light soy sauce. Mix everything together and set aside.
4. In the same pan, heat up the remaining oil. Add the onions and fry for a minute til slightly translucent. Add the tomatoes, frozen vegetables and sauce, and cook til the tomatoes are soft, about 3 minutes. Allow the sauce to simmer for a bit til it thickens slightly.
5. Now to assemble! In a clear baking/ pyrex dish, layer with all the rice, followed by cut pork chops, tomato gravy and finally top with shredded cheese. Bake for 15 minutes or til cheese melts.
How much I spent:
$2.10 for pork shoulder chops
$1 for tomato puree
$0.30 for frankfurters
$0.60 for tomatoes and onion
$0.75 for eggs
$1.50 for cheese
Everything else from my pantry!
Total cost per serving: $2.09
——————————————————————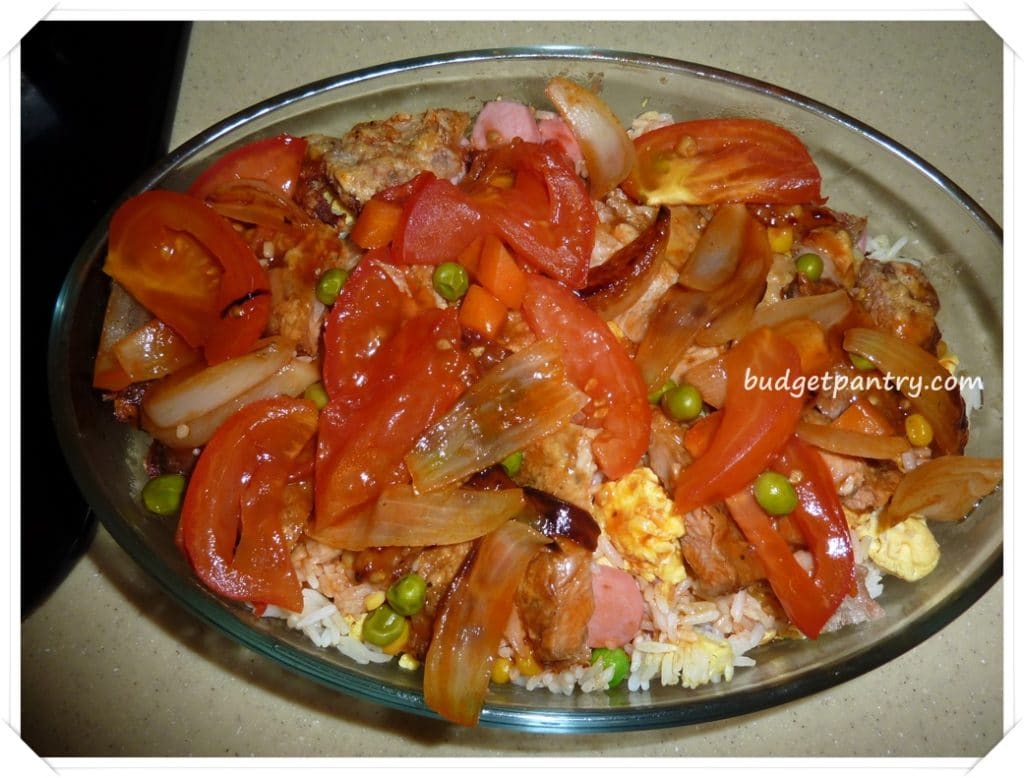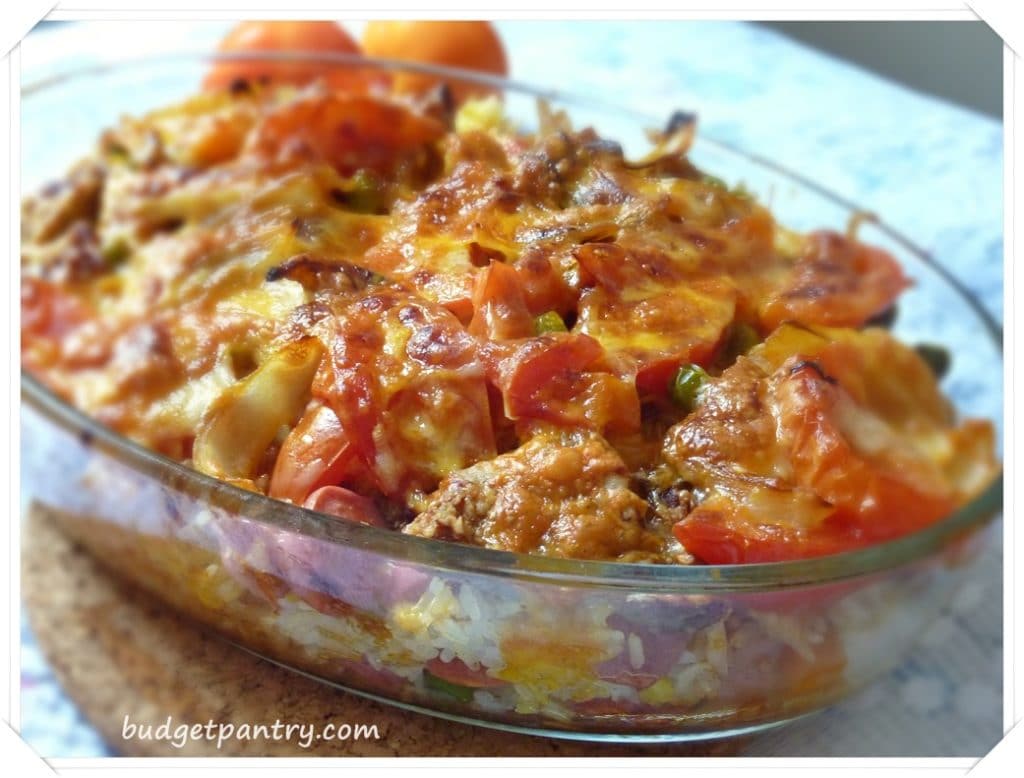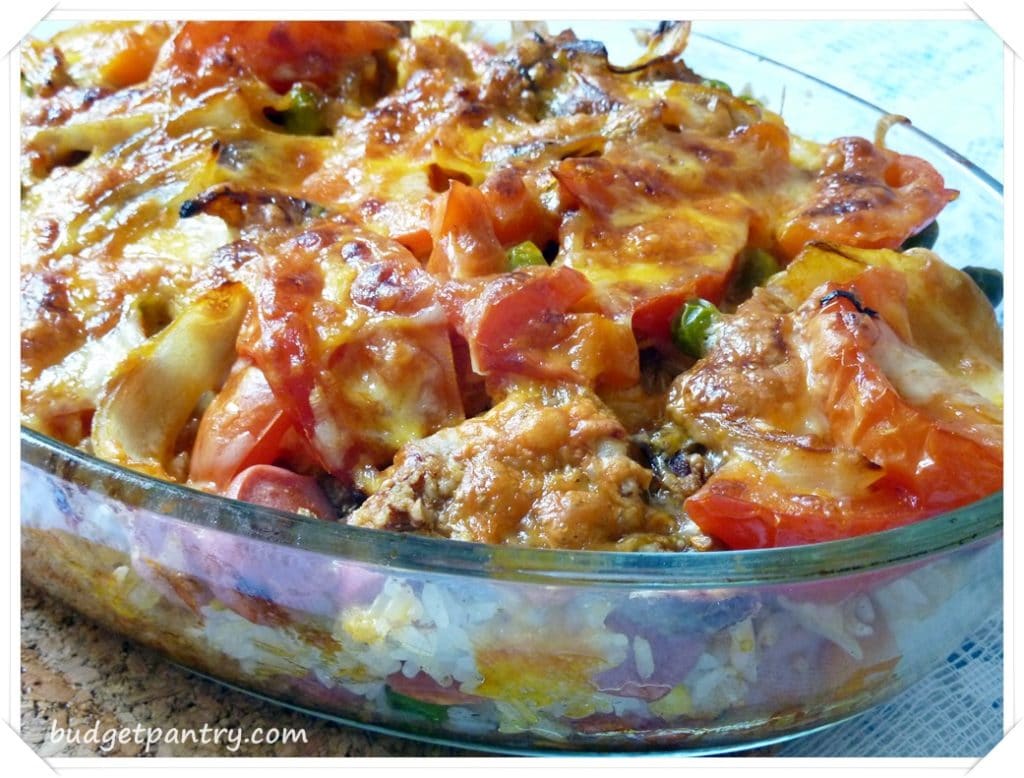 This recipe is quite lengthy but it is because we have to cook all the components (rice, pork chops, sauce) separately. You don't have to use separate pans! Just cook systematically. If you don't have an airfryer, fry the pork chops first, then lightly clean off excess oil, then cook the fried rice. Cook the gravy last. This way, washing up will be less tedious and you can spend all your energy tucking in to your yummy creation! If you decide to cook this over the weekend, let me know if you enjoyed it!