Mapo Tofu with mild spicy bean paste
There is an interesting story behind Mapo Tofu , literally translated as "Pock Mark Lady's Tofu". The Mapo Tofu we have here in Singapore is usually very spicy, with Szechuan chili oil used so liberally you would have thought they were free. We're not fans of chili oil, so when eating out, we always order "Hotplate Tofu" instead– deep fried egg tofu, vegetables and cracked egg covered with non-spicy brown sauce, served on a sizzling hotplate.
So when I came across this Mapo Tofu which didn't look too intimidating, heat-wise, I decided to have a go at it. The ingredients are basic and low cost, and the dish looks incredibly delicious over rice. My family loved it.
Makes 3-4 servings
(Adapted from Just One Cookbook with slight changes)
What I used:
1 block tofu, cut into cubes like in the picture (I used Unicurd brand "Chinese Tofu")
1 teaspoon minced garlic
1 teaspoon minced ginger
150g minced pork (you can use chicken)
2 sprigs of spring onions, cut thinly with scissors
1 tablespoon olive oil
For the sauce (combine everything together):
2 tablespoon chili bean paste
1 tablespoon oyster sauce
2 tablespoons white wine
1 tablespoon sugar
Half teaspoon light soy sauce
1 teaspoon sesame oil
1 teaspoon cornstarch
1/4 cup water (about 65ml)
1. Heat up the oil and fry ginger and garlic til fragrant. Add the minced meat and quickly break it up with your spatula or wooden spoon.
2. When the meat is no longer pink, add in the sauce. Stir to combine.
3. Add the tofu and briefly mix. Don't break up the tofu or touch it too much. Heat through for 1-2 minutes til you see small bubbles in the pan.
4. Turn off the heat and sprinkle spring onions before serving.
How much I spent:
$0.75 for tofu
$1.50 for minced meat
Everything else from my pantry!
Total cost per serving: $0.57
——————————————————————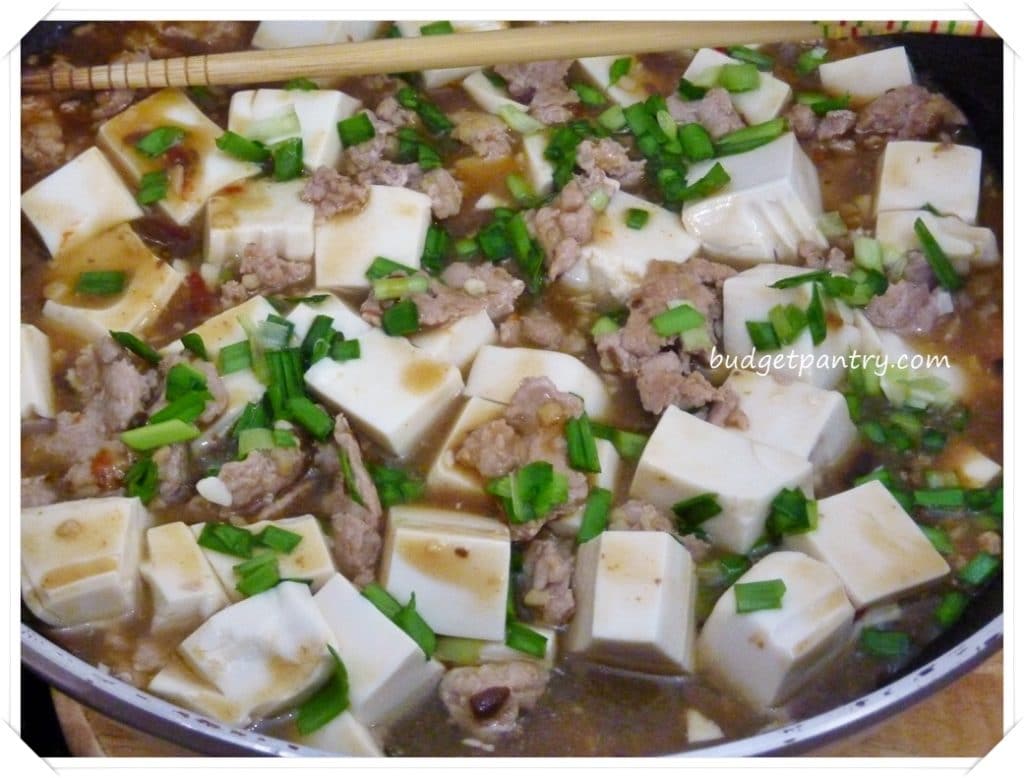 This dish can be served straight over rice in a large bowl, along with a simple clear soup. It is so easy to make, I'm sure I'll see it more often during dinner, especially on days when I'm not too creative or just plain lazy!