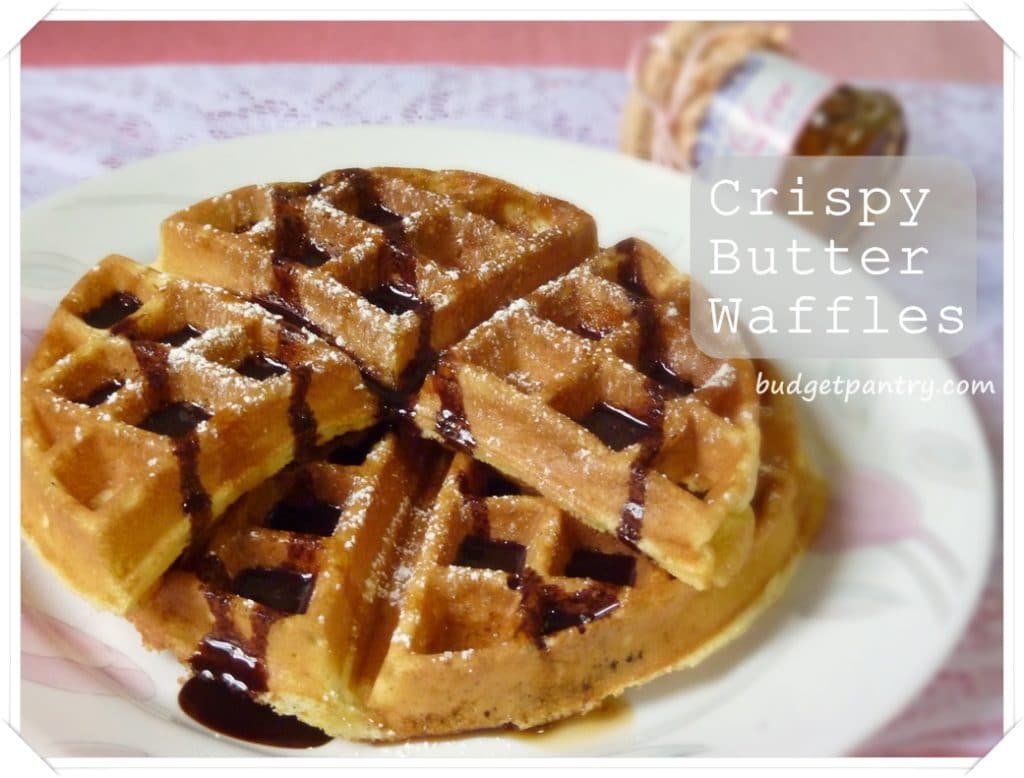 I've been kinda obsessed about waffles since a long time ago.. and have always dreamt of having my own waffle maker. Not just any waffle maker, but deep, round, belgian-waffle type makers which produce the crispiest and fluffiest waffles imaginable. You don't see this type of waffle machines in regular department stores here in Singapore.. what they have are those smallish makers which create bready, doughy waffles like what you get from neighbourhood bakeries. And I didn't want those.
I researched online and get insanely jealous whenever I see waffle makers for home use available elsewhere for US$59 to US$99 thereabouts. I've even read about prices which start at US$20, and then I throw a waffle fit. Jason has gotten used to taking me out for belgian waffles every two weeks.
Then one day, on our anniversary, he presented me with a large rectangular box, exquisitely wrapped by himself, and when I tore it open.. my heart skipped. It was a Waring Pro waffle maker! He could only get the one for "Commercial" use because really, no one sells any other versions here. The price tag? $310 after a 10% discount. That's insane, so to get back our money's worth, I have no choice but to keep making waffles. Really, that's all there is to it.
Serves 3-4
What I used:
195g plain flour
Half tablespoon baking powder
2 tablespoons caster sugar
Half teaspoon sea salt
113g butter, melted (cooled)
400ml full cream milk
2 medium eggs
Half teaspoon almond essence
Oil spray
1. Sift the flour, baking powder and salt. Mix in the sugar then set aside.
2. Combine butter, eggs, milk and almond essence and beat well. I beat by hand and it is ok to have some lumps.
3. Add the butter mixture to the dry ingredients then stir to combine. Don't stir them too vigorously. We want the mixture to still be lumpy. Add the almond essence if using.
5. Once the batter is combined– no need to smoothen it out too much–, lightly grease your waffle maker, preheat it, and cook according to manufacturer's instructions. I use the maximum heat setting (5) on my Waring Pro.
6. Dress your waffles up with honey and butter, hersheys syrup and icing sugar, some whipped cream and fruits, or a scoop of ice-cream! I drizzled mine with honey and chocolate syrup, plus dusted some icing sugar on top.
How much I spent:
$1.60 for butter
$0.50 for eggs
$1.80 for milk
Everything else from my pantry!
Total cost per serving: $0.98 (as opposed to paying at least $8 outside!)
——————————————————————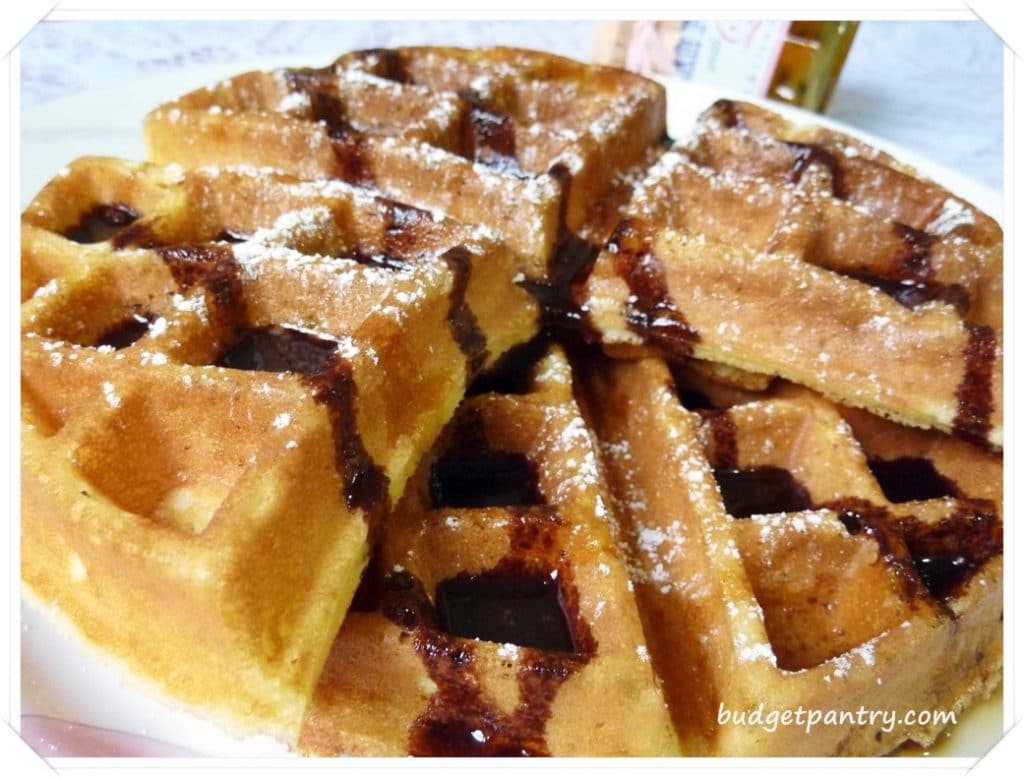 With my Waring Pro, I spray with oil and preheat on heat level 5. When the beep sounds, I pour in a cup of batter, taking care that each crevice is filled. Use your measuring cup to distribute the batter evenly. Immediately flip the waffle maker and wait for the second beep that indicates the waffle is done. I let it still sit in the waffle maker for 30 seconds to a minute before removing because I that's how I get my waffles crispy.
I know the frustration when waffles turn out soggy and soft.. I have tried countless waffles recipes and realise sometimes, it is really about using your waffle maker effectively. I was afraid of turning up the heat and started off using heat setting 3, but I never got crispy waffles that way. I also always fill up the entire measuring cup that comes with my waffle maker instead of filling til the "fill line".
If you have a waffle recipe you swear by, using Waring Pro, please share it with me, including heat setting and all. I'm always hoping to perfect my waffles!