Easy Cranberry Nut Muffin- with Philips Airfryer option!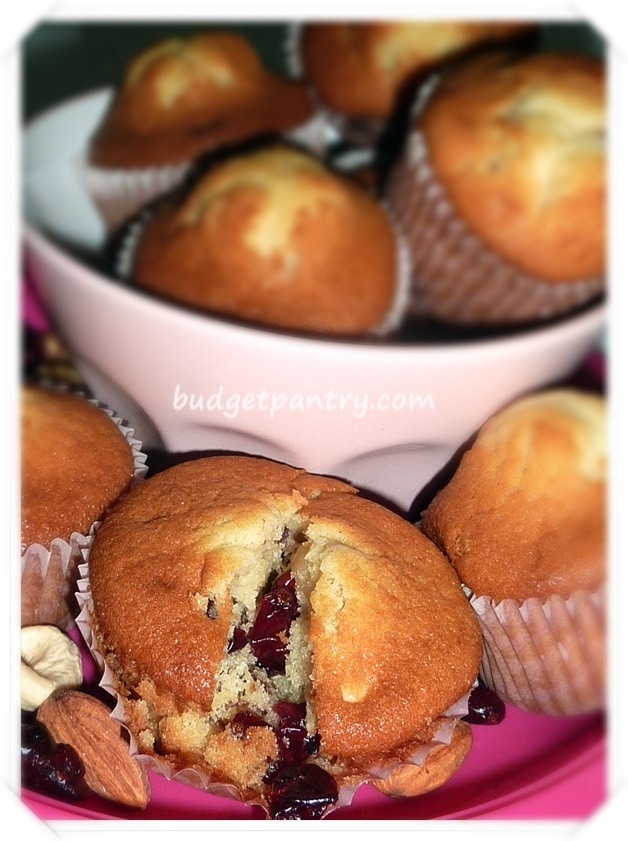 A dear ex-colleague gave me her cupcake recipe a while ago and I've been dying to try it out. I know I most probably wouldn't be making the frosting, and my version would just be a pale comparison to her gorgeous creations. And being not quite a baker, I was apprehensive about trying yet another cupcake recipe. I know cupcakes (or in this instance, muffins- its ugly step-sister) are relatively easier to bake, but I always have a problem with overly airy and floury muffins, I have almost given up. I usually suck at baking. Not when I have this recipe!
The thing about baking is there's a lot of science involved. Like why are we using baking soda and not baking powder, and why does the oven need to be preheated? Why can't we overbeat the cream and eggs? And most of all, with cooking, I taste along the way. Baking doesn't give me the luxury to do that. I cannot taste a raw egg batter. I cannot eat raw eggs, so I don't get tiramisu. If you wouldn't eat raw eggs, why would you eat tiramisu? If you would eat raw eggs, why would you?
Anyway. I have a huge bag of mixed nuts, cranberries, figs and raisins in my refrigerator and just have to do something with them. Cranberry muffins sound dandy! (<– this sounds like what Aegon would say! My nephew is all "English" like that, and he's not faking anything.) An addition of chopped nuts sound even more exciting. So, using the A-star recipe as a base, I ventured courageously to bake my Cranberry Nut Muffins.
Makes 12 muffins
What I used:
1/3 cup salted butter, softened and cut into cubes (80g. The original recipe was 1/4 cup but I added just a bit more. If you have unsalted butter just add 1/4 teaspoon salt.)
1/2 cup granulated sugar (100g. The original recipe was 3/4 cup but I prefer it less sweet. It's up to you.)
1 egg
180ml milk
1/2 teaspoon vanilla essence
1 and 1/4 cup plain or all-purpose flour, sifted (150g. Spoon flour lightly with another spoon into your measuring cup, instead of scooping the flour with the measuring cup.)
1/2 teaspoon baking powder, sifted together with flour
1/2 teaspoon baking soda, sifted together with flour
A handful of cranberries and chopped nuts- I used unsalted walnuts, cashew, almonds and grams (yes grams, as in kacang putih grams). You can use whatever you like!
1. Preheat oven to 180 degrees.
2 Beat butter and sugar in electric mixer til pale and fluffy.
3. Add egg and beat for a few minutes. Add vanilla essence, then alternate between milk and flour mixture til all ingredients are used up. Beat for 2-3 minutes til combined. Use a rubber spatula to scrape/ graze the sides as the mixing bowl swirls.
4. When batter is ready, switch off mixer and stir in cranberries and chopped nuts.
5. Fill your muffin liners til full so you get happy, tall and large muffins!
6. Bake at 180 degrees for 15 – 20 minutes, depending on your oven. Check at the 15 minute mark. (I did an Airfryer option! I "baked" it in my Philips Airfryer at 160 degrees for 15 minutes. If airfrying, use a larger cupcake cup which is thicker and stronger and can standalone, and not cupcake liners. Turned out beautifully!)
7. Remove from oven and cool. Eat one yourself first before they're all gone in 2 minutes!
How much I spent:
Hmmmm $1 for milk? I have everything in my pantry! Sorry not very helpful there! *runs*
——————————————————————-
These muffins are seriously the tastiest I have baked in my life. The cake is dense but not heavy, not oily nor airy.. I did not taste flour and it held together so beautifully. The cranberries lent a sweet (or tart, depending on your cranberry batch!) taste to the buttery muffins, and the chopped nuts gave a crunch that matches the chewy cranberries so well. Ah-mm couldn't stop raving about them at past 12am last night as I handed her one fresh out of the oven. She had another one before bed and even "upsold" them to 88 this morning in the kitchen! Mid-day today, she went to the oven and said, "Har, 剩两个而已啊?" ("What, left two only?") I promised her I will bake somemore tonight. I have never seen her so enthusiastic about my baking so this recipe sure is a winner!
All I can say is, if I can bake, so can you :)