Creamy Chicken Stroganoff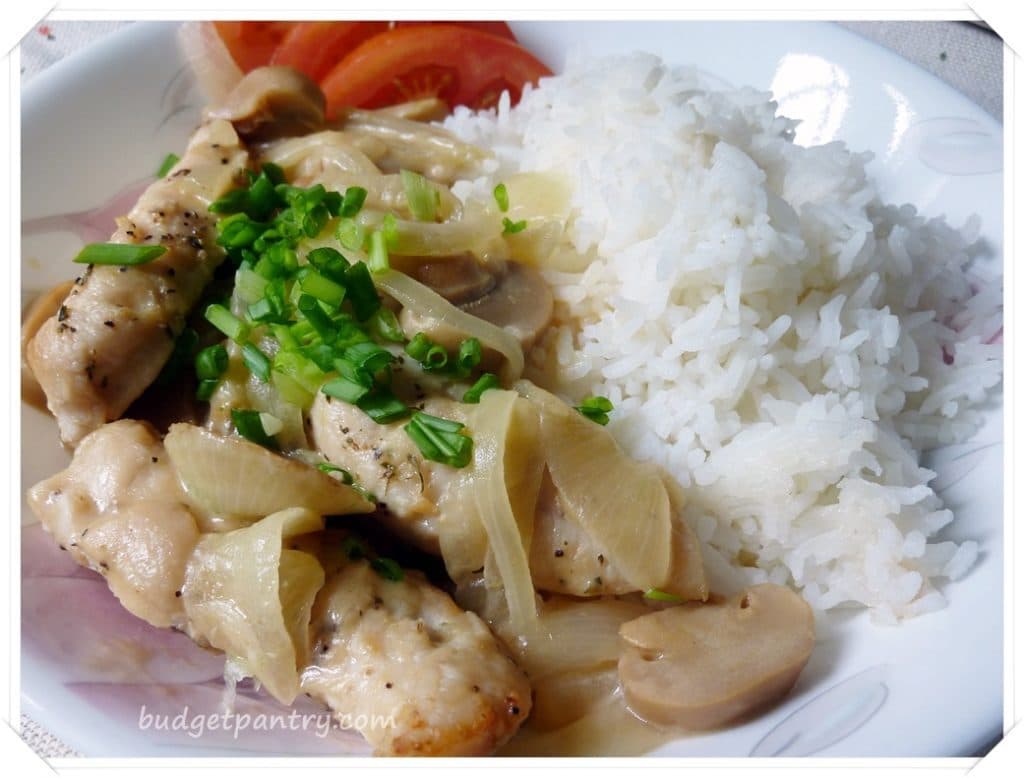 Who doesn't like creamy gravy over rice? This afternoon, I made a variation of Chicken Stroganoff, cooked Asian style without sour cream, with plenty of sliced onions and button mushrooms in a creamy Carnation white sauce. Oh yes, I airfried the chicken pieces. They're so tender and juicy.
Many people associate Carnation evaporated milk with Teh-Si, and rightly so. Most would be surprised at the savoury dishes you can whip up with a can of Carnation milk! You can cook mac and cheese, shepherd's pie, butter chicken, potato soup, baked fish, and lots of other breakfast, lunch and dinner options you never thought possible. And with a 330ml can just costing $1.80 thereabouts (I use low fat. The regular can is even cheaper), it is a budget alternative to cooking cream that comes in little tiny cartons.
For mind-boggling recipes with Carnation milk, go to http://www.carnationmilk.ca/recipes.aspx
Try this recipe over the weekend with a side of crunchy asparagus. You'll love it as much as we do.
Makes 4 servings
What I used:
16 strips chicken fillet (or you can use chicken breast cut into strips approx. 1- 1.5 inch in diameter)
Garlic powder, a dash of salt and black pepper, and optional italian herb flakes/ paprika (for seasoning)
Half a can of Carnation low fat evaporated milk
1 knob butter
1 tablespoon olive oil
1 large yellow onion
1 can button mushrooms
1 tablespoon Djorn mustard
Cornstarch solution (1 tablespoon corn flour dissolved in 2 tablespoons room temperature water)
200 ml chicken stock
Scissors-cut spring onions
1. Season chicken with garlic powder, salt and pepper and airfry at 160 degrees for 12 minutes. Alternatively, pan-fry them in shallow oil til just done.. don't over brown them.
2. If panfrying the chicken, remove chicken pieces and add butter and olive oil. If airfrying, heat up your frying pan and add butter and olive oil.
3. Add sliced onions and cook under low heat for about 5 minutes, til onions are soft and fragrant. Add Carnation milk and cook til bubbly, then add chicken stock. Bring to boil and lower to simmer. Stir in the Djorn mustard and continue to simmer for 2 minutes.
4. Add in cornstarch solution, stir to combine. Add button mushrooms, mix well and cook til sauce is thickened. Do a taste test and add some salt if needed.
5. To serve, arrange 4 chicken strips on top of rice and spoon creamy sauce over. Sprinkle spring onions on top and tuck in while hot!
How much I spent:
$5 for chicken fillet
$0.30 for onion
$1.30 for button mushrooms
$0.90 for carnation milk
Everything else from my pantry
Total cost per serving: $1.88
——————————————————————-
The best thing about this recipe if that you don't have to spend lots of money on exotic ingredients rarely used in an Asian kitchen. Sour cream and cooking cream are not essential in this dish.. when you don't have what a recipe calls for and don't see yourself using that ingredient frequently, substitute!
If you've cooked this ahead of time and want to heat up the sauce for dinner, add some chicken stock to the hot pan and stir to "loosen" the milk and starch. Enjoy!
White sauce cooking on the stove top: