Hawker Staple: Fishball Kway Teow Soup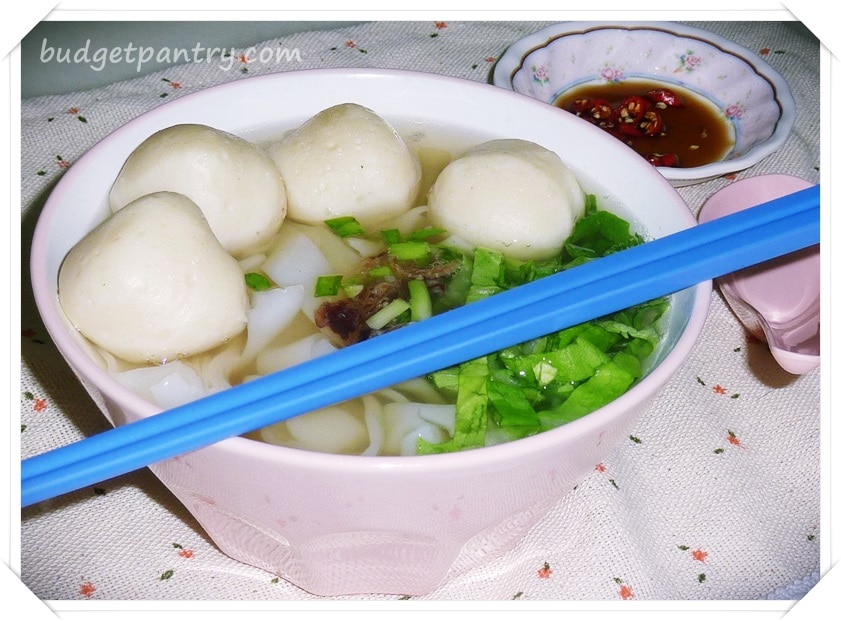 To be honest, fishball kway teow soup is not something I would order when I'm out at the hawker centre. There are so many other glorious food to eat! Fishball kway teow reminds me of dieting, sore throat, being unwell and sick, and is not my top choice. Then again, I also wouldn't order this when I'm dieting because I don't eat a whole bowl of carbs when I'm trying to lose weight. Sometimes I don't eat anything at all when I'm detoxing and take a liquid concoction made from organic cactus honey extract, citrus extract, herbs and spices plus lemon juice throughout the day.
Contrary to belief, not eating anything for a few days is doable and is not an "extreme measure". I love detoxing for the way it makes me look and feel.. and weight does not rebound easily. I lost 6 kg since I tried a 4-day detox program and have kept it off since.
Anyway, back to kway teow soup. It is quite simple to make but did you know that a bowl of kway teow soup contains approximately 2500mg of sodium, which is more than the recommended sodium intake for one whole day? So although it is low in fat, watch the sodium. Leave the soup behind, or cook your own at home!
Makes 4 servings
What I used:
500g kway teow (flat rice noodles)
16 large fishballs from the wet market or those packed in water
A handful of lettuce leaves, sliced thinly (I used endives in the pic above, but you should really use lettuce!)
1 litre water
1 small piece ginger
3 tablespoons dried ikan bilis (anchovies) or use 2 ikan bilis stock cubes
Spring onions and fried shallots, for garnish
Light soya sauce to taste (about 1 tablespoon)
A dash of white pepper
1. Boil kway teow for 30 seconds in boiling water, drain, portion into 4 bowls and set aside.
2. If using ikan bilis instead of stock cubes, add ikan bilis and ginger to water and bring to boil. Lower flame and cook for 15 minutes. Fish ikan bilis out and season with light soya sauce to taste. If using stock cubes, just add them to boiling water.
3. Add the fishballs in the same pot. When cooked, ladle soup and fishballs over prepared kway teow and garnish with spring onions, lettuce and fried shallots plus a dash of white pepper.
How much I spent:
$1 for kway teow
$2.90 for fishballs
$0.50 for ikan bilis/ stock cubes
Everything else from my pantry
Total cost per serving: $1.10
——————————————————————-
You can add some garlic oil for fragrance if you wish.. but I normally leave out using extra oil as much as I can. On a side note, I was having a fainting spell that day after preparing the stock and fishballs, and told Jason to portion his own noodle + garnish and ladle the soup over. He took this pic using his handphone.. quite cute.. just throw everything together and eat! Hahaha! Check out his creation: