Chicken and Spinach Pastry Pocket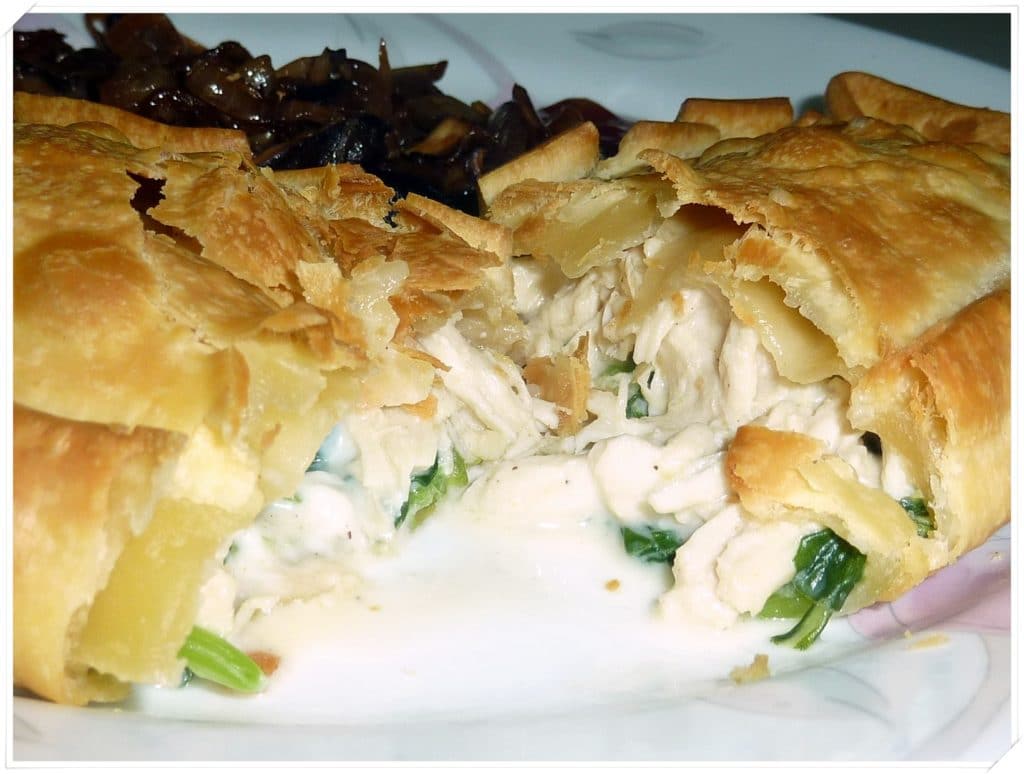 I've never been a great baker but I love pastries, savoury especially. Chicken pies, beef pies, creamy mushroom pies.. I love them all. But I have a problem making them because I never seem to figure out how I would have a clean "lightly floured surface" to roll out those pastries. Where do you do it? On the tabletop?
So I buy pastry sheets. I had some shortcrust left over from when I made the mushroom quiche, and thought to put them to good use. The thing about buying frozen sheets is that they are never as buttery as you would like. Something's amiss, but I cannot alter the texture or taste, and this is the frustrating thing about buying pre-packaged items.
Ah-mm and 88 liked this. It is something different from the regular "western" food we usually have, and crispy to eat and fun to look at. They had kinda the same reaction when I made risotto the other time.. at first 88 approached it warily (as she does with any unfamiliar food), then tucked into it happily. Ah-mm's approach to new foods is different.. she dives straight in to enjoy different tastes presented to her. She's easier to cook for in a way, but 88′s easy to cook for also because she's predictable. Do I understand what I'm saying?
Along with the pastry pockets, I also made caramelised onions with shitake mushrooms. These are not yet caramelised enough, but I wanted some bite to the onions. To make these, I sauteed onions with some oil in a skillet, then added sliced mushrooms. Cook til the onions are soft then deglaze the pan with white wine. Add some sprinkling of salt at the end.
I decided to make chicken mayo with cream-cheese spinach as the filling. This would be nice with a potato, carrot, celery and chicken filling ala chicken pie! You can also fill it with sardines and tuna, and even make smaller portions of it as a snack.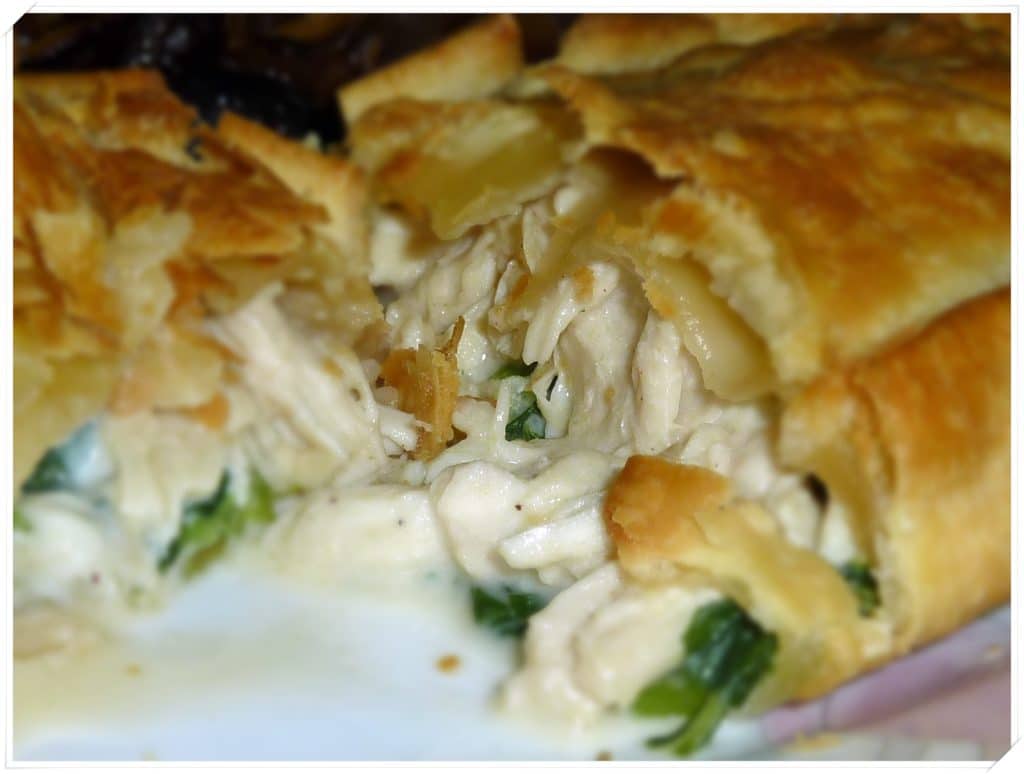 Makes 3 servings
What I used:
3 frozen shortcrust pastry sheets (from cold storage, about $8 for 7 sheets)
6 pcs boneless chicken fillets (or you can use one chicken breast)
1 package spinach
1 onion, chopped
1 tsp oil or butter
Garlic powder
1/2 tsp chicken seasoning
4 tbsp mayonnaise
2 tbsp cream cheese
Salt and pepper
1. Take the pastry sheets out from the freezer before preparing the ingredients.
2. Boil the chicken til cooked. Reserve 3 tbsp of water. When chicken has cooled, shred and add the mayo, garlic power, chicken seasoning, reserved water, and salt and pepper.
3. Boil spinach, squeeze dry and roughly chop.
4. Heat up a pan and fry onions in oil or butter. After 3 minutes, add cream cheese and cooked spinach. Set aside to cool.
5. Cut pastry sheet into two when it is soft enough to handle. Then lay the spinach in the middle of one-half of pastry sheet and top with mayo chicken.
6. Lay the other one-half of pastry sheet on top, seal the edges and trim away any excess. (don't waste! can make mini pies!)
7. Spray with cooking spray then airfry for 15 minutes at 180 degrees. Alternatively, bake at 200 degrees in the oven for 20-25 minutes or until crust is golden.
How much I spent:
$3.40 for pastry sheets
$2.50 for chicken fillets
$0.50 for spinach
Everything else from my pantry
Total cost per serving: $2.13
——————————————————————-
This is quite easy to make since we're not making the pastry from scratch. Try it, I think you'll like it! I'm keeping the rest of the pastry sheets for a classic chicken pot pie and hopefully will make it sometime next week.