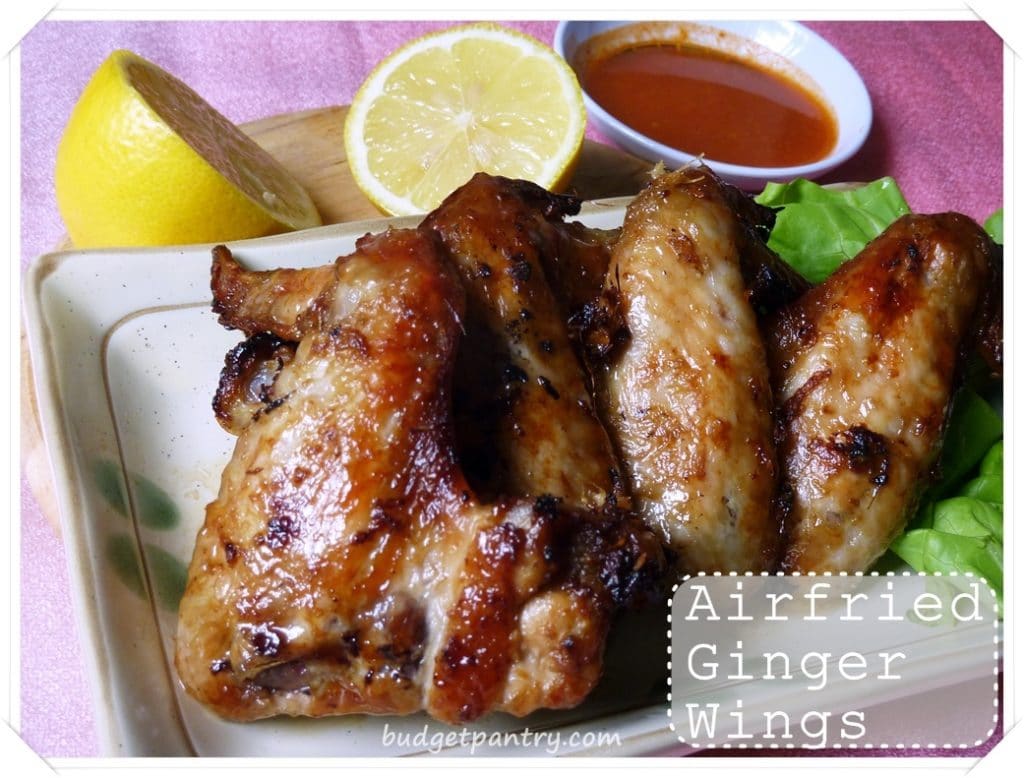 Chicken wings are a favourite in my household, but I've not cooked them in quite a long time because of health concerns. I usually buy chicken fillet or breast as they are lower in fat. So when I decided to give my family a chicken-wing treat last week, I knew exactly what I was going to do with it: Make GINGER WINGS!
This marinade is great for BBQ-ing, baking or roasting too, so if you don't have a Philips Airfryer, don't fret! But being the Airfryer advocate, no other cooking method beats the convenience of cooking these in one. Just 15 minutes and no extra or splattering oil.. frying chicken wings doesn't get easier than this.
Airfried Ginger Wings
Serves: 4 (2 wings per person)
Total cost: $3.60
Total cost per serving: $0.90
What I used:
8 whole chicken wings (you can also use mid-joint only but they are double the price)
For the marinade:
3 tablespoons minced ginger, along with the ginger juice (put it in your food processor)
2 tablespoons oyster sauce
2 tablespoons light soy sauce
1 teaspoon fish sauce
1 tablespoon sugar
1 tablespoon honey (just use an extra tablespoon of sugar if you don't have honey)
1 tablespoon chinese cooking wine (hua diao jiu)
1 teaspoon sesame oil
1 teaspoon corn flour
Steps:
1. Marinate wings for at least 4 hours or overnight.
2. Line aluminium foil in the airfryer basket (don't cover the entire surface area to allow air to circulate), spray quickly with cooking spray.
3. In a preheated airfryer, lay the wings front side down and spray some cooking spray. Airfry at 180 degrees for 10 minutes. After 10 minutes, turn over and increase temperature to 200 degrees and airfry for 5 minutes. If using mid joint only, use 160 degrees and 180 degrees respectively.
4. Serve with lemon and a "chicken rice" style chilli dip!
*If using oven, preheat and bake at 200 degrees for 25 – 30 minutes depending on your oven. Turn once halfway and bast with marinade.
How much I spent:
$3.60 for wings
Everything else from my pantry
These remind me of the grilled bbq wings we have in local hawker centers, only better! Using the airfryer means that the meat remains juicy while the skin turn out super crispy. I can't imagine cooking crispy wings any other way. These ginger wings were finger-licking good and were cleaned out in minutes!