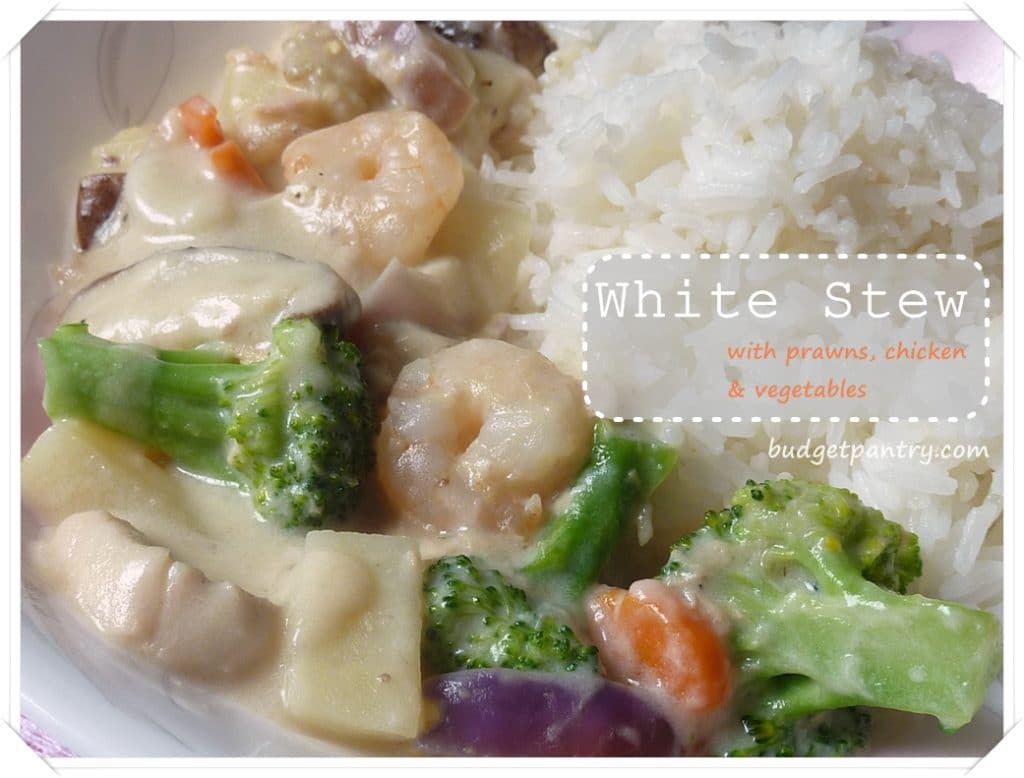 I love cooking white stew because I am a fan of creamy gravy with rice. I usually do a chicken and vegetable version on cold nights- it is so comforting and warms our tummies. I like to let my family scoop their own serving of stew.. for some reason they think it is fun (the same way they like to assemble their own laksa) and this way, they can be sure that they get a piping hot meal (the stew comes straight off the stove!) and the rice won't get soggy because they eat it immediately. Have a computer-game or technology addict kid or husband at home who just wouldn't leave their rooms at meal times? You'll get what I mean, although I am sometimes inclined to let him eat soggy rice because SERVES YOU RIGHT for ignoring me when I tell you dinner's ready.
Anyway. I read about the addition of tuna from Nami's site and just knew that I had to try it. According to her, the tuna adds an extra savoury flavour and I thought, why not? I was already cooking my white stew with carnation milk instead of whipping cream to lower the dairy and fat.. I could do with a richer sauce!
White Stew
Makes 4-6 servings. Total cost per serving: $2.31
What I used:
5 strips chicken fillet, sliced into bite-sized pieces
Half a broccoli, cut into smaller florets
1 carrot, peeled and sliced
2 potatoes, peeled and cubed
6 shitake mushrooms, sliced
1/3 medium eggplant, cut into bite size pieces (optional)
10 prawns
1 can tuna in oil, drain 90% of oil
125ml carnation milk
750ml milk
1 large yellow onion, sliced
30g all purpose flour (about two tablespoons)
2 tablespoons butter
1 vegetable stock cube (optional)
Salt and black pepper
Steps:
1. Season the chicken with salt and pepper. I used about 1 level teaspoon salt and black pepper.
2. Saute the onions in butter til transparent then add in the chicken.
3. Add in the flour when chicken is cooked and stir to mix well. Slowly stir in milk and be sure to scrape the pan as the flour will burn.
4. Add the carrots, potatoes, tuna and vegetable cube. Bring the mixture to a boil and reduce heat to simmer for about 15 minutes. Stir occasionally.
5. Add the broccoli and carnation milk. Cook for another 10 minutes. Sprinkle more black pepper before serving with rice or crusty bread.
How much I spent:
$2 for chicken fillet
$2.50 for prawns
$1 for broccoli
$0.50 for potatoes
$0.30 for onion
$0.30 for carrot
$1.85 for tuna
$0.80 for mushrooms
$0.70 for carnation milk
$1.60 for UHT full cream milk
Everything else from my pantry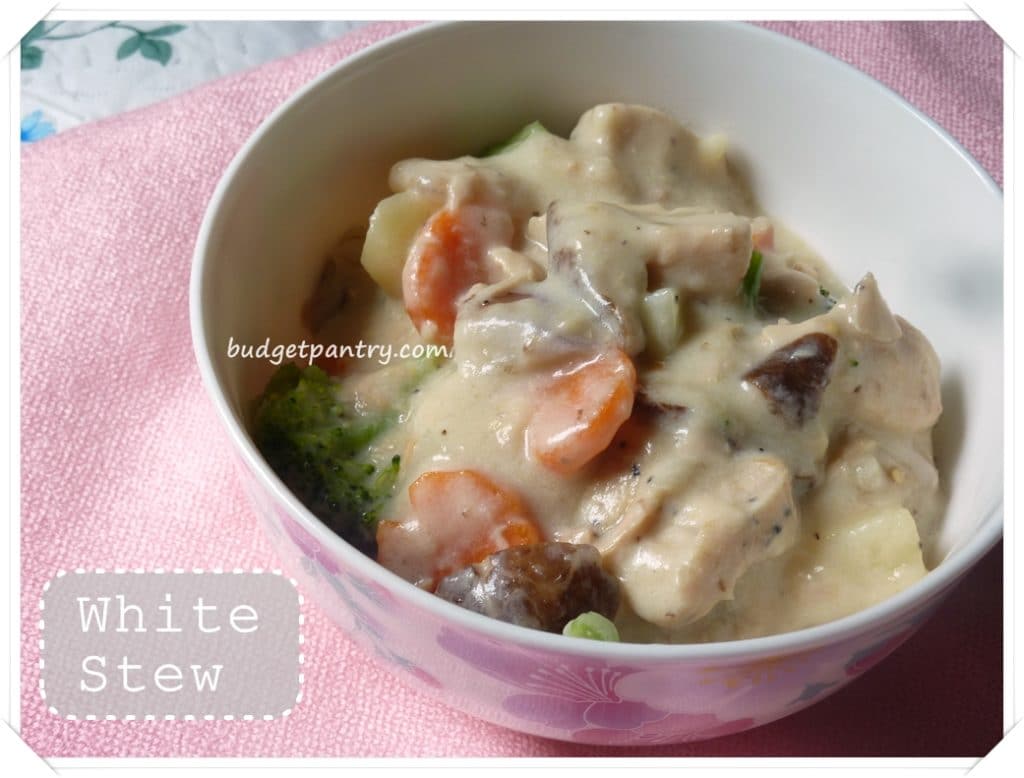 The list of ingredients make it seem like a lot of work, but it is just really about chopping them up before hand. Most of the work gets done in a single pan so you get very little clean up which is major plus for me. If you prefer a richer flavour, you may use heavy whipping cream in place of carnation milk. For variation, add corn kernels or peas if that's your thing. I liked the addition of tuna and will make this again!