ToTT New Cookbook- "Best Brunch Ever": Delicious Morning Recipes to Savour
Media Invite
Be sure to scroll down to the end of this post for my CHRISTMAS GIVEAWAY! Hurry, ends 19 December 2359h! But promise to read my post first, ok?
This post is long overdue and I apologise for it! Some of you have been wanting to ask me the question: "So did you attend ToTT's media launch on the eve of your wedding?" Yes I did! And I am so glad I did! It was an afternoon of coziness and humour, and we were lucky to have four renowned chef share their creations "live" with us. I did worry about not fitting into my wedding dress because I finished everything on the plateS. The dress was tighter than during the fitting, but here I am, married and back from my honeymoon!
ToTT recently launched a new cookbook and an inaugural online shopping portal in October to commemorate its 3rd anniversary. "Best Brunch Ever: Delicious Morning Recipes to Savour" features 24 easy-to-prepare brunch recipes by eight well-known chefs in Singapore. The four chef who graced the event were charming (especially Chef Nicholas joanny, chef-owner of Nicolas Le Restaurant!) and presented Italian, French, American and Vietnamese cuisine to us.
We were first treated to Chef Antonio Facchinetti (chef de cuisine of Prego Restaurant, Fairmont Singapore)'s Spaghetti Piccanti (Italian):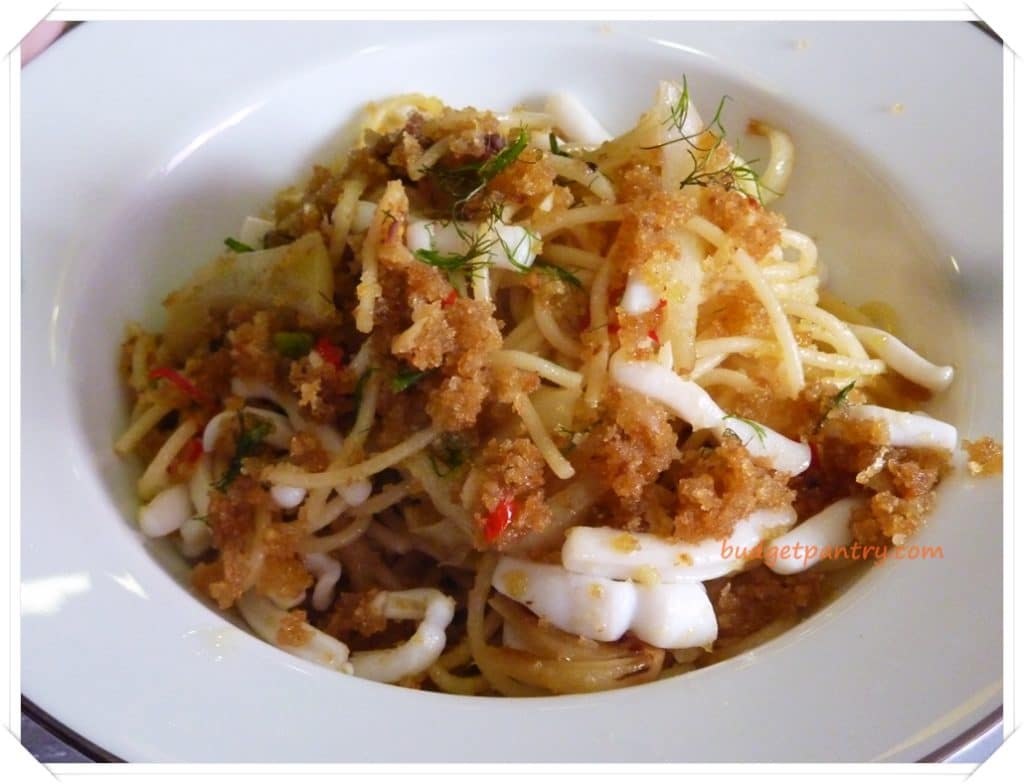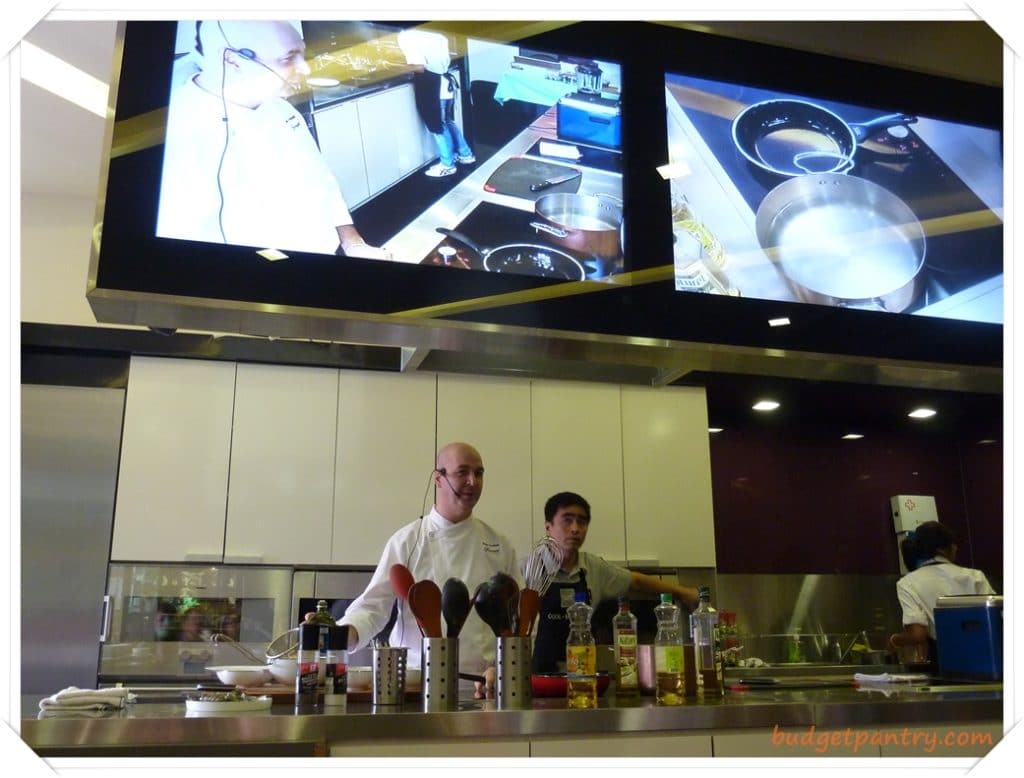 Spaghetti Piccanti is essentially spaghetti with calamari, anchovies, bread crumble, chilli, garlic and fennel. I have had pasta in Italy with added bread crumbs for texture and taste, and was surprised at how a plate of pasta is lifted just with this addition. For this recipe, Chef Antonio blended ciabatta bread with anchovies in a food processor before adding it to the pan.
We next had my favourite dish of the day, Eggs 'a la Coque' by Chef Nicolas Joanny, chef-owner of Nicolas le Restaurant (French):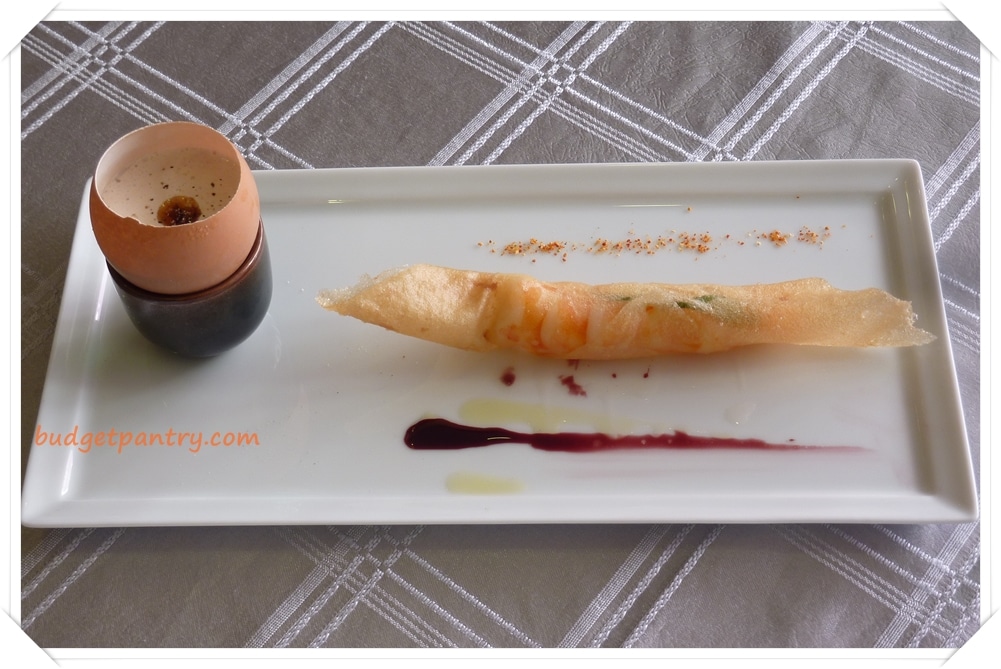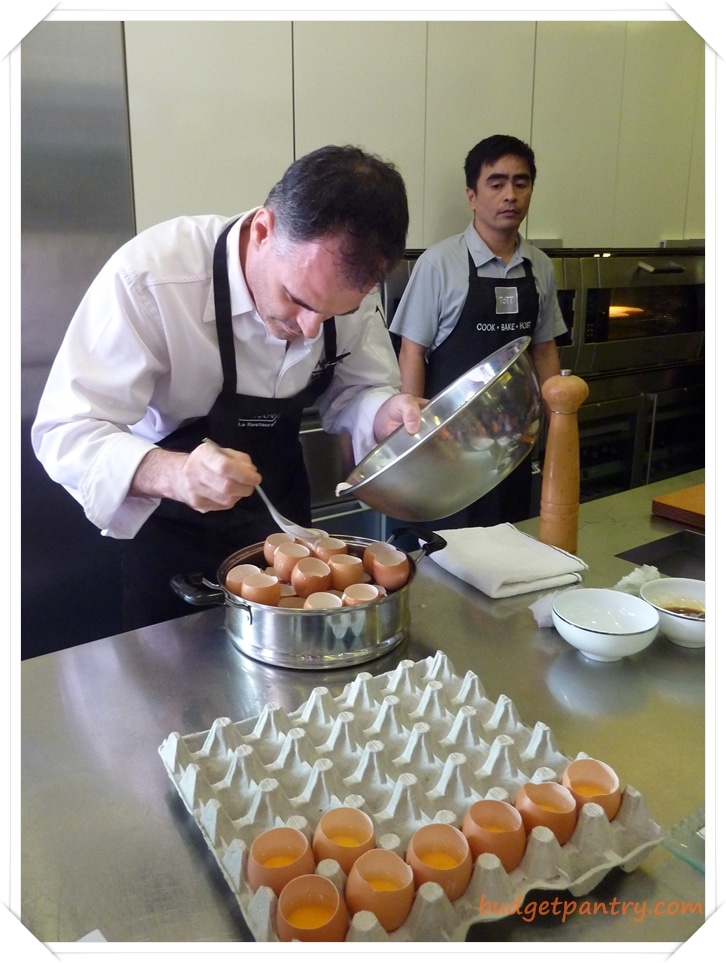 This looked so easy to prepare- the eggs were simply steamed til still runny and drizzled with some vinegar, whipping cream and wine which has been reduced til thick and syrupy (Chef Nicolas said you could use maple syrup too- you just need something with sweetness to balance out the vinegar). I don't know what kind of black magic happens there, but the eggs were the best I have ever eaten and I almost cried fowl. How could a dish of steamed eggs be so delicious? 
The eggs were served with a deep fried prawn and you know me- I go with deep-fried anything. I need to recreate this at home!
Next up was Chef Dan Segall, group executive chef of The Big Idea (Fat Cow, Kinki, The Pelican and Bedrock Bar & Grill to name a few), and boy, did this guy have some personality: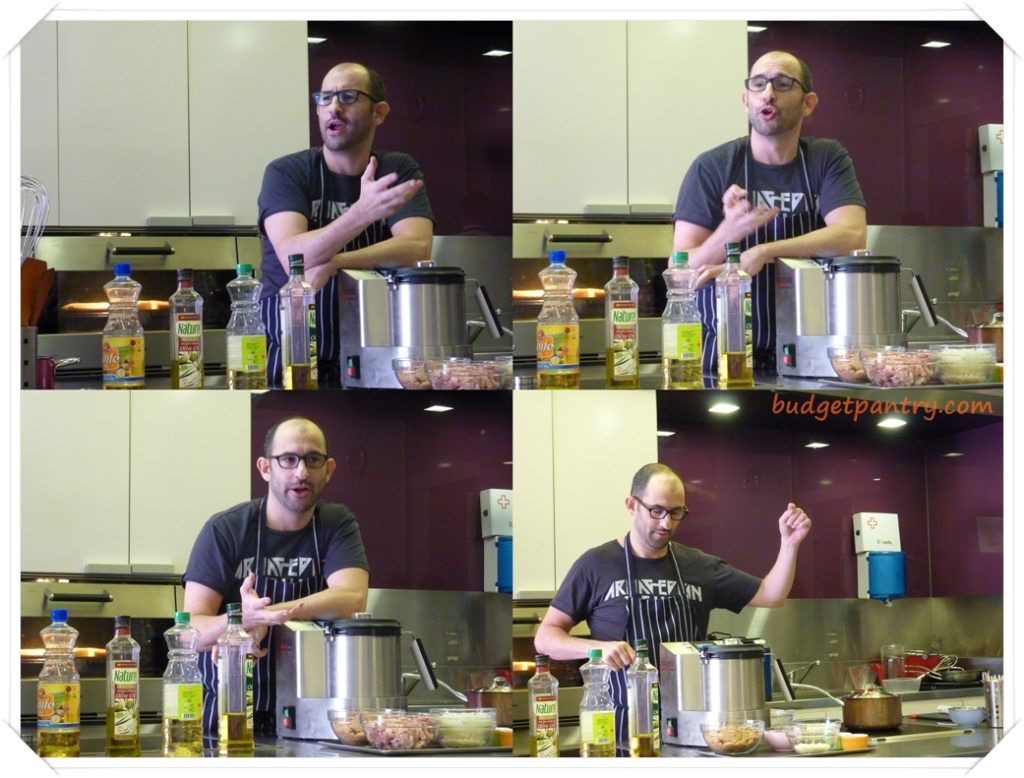 His jokes were so effortlessly funny and what can I say? He is a natural at this- he should go be an entertainer if he ever decides not to cook anymore. But why would he, he makes amazing American food, like this cornbread with bacon jam:
Pretty amazing dish. The cornbread was a bit denser than I would have liked, but I never liked cornbread to begin with. I'm not a carbs girl! But the combination gave it such an interesting flavour that I polished off the entire thing. Carbs and bacon on the eve of my wedding- it was so delicious, I had no time to worry whether my dress would fit.
The final chef was Chef Chi Quang Trinh, which made Vietnamese Banh Cuon (steamed rice rolls):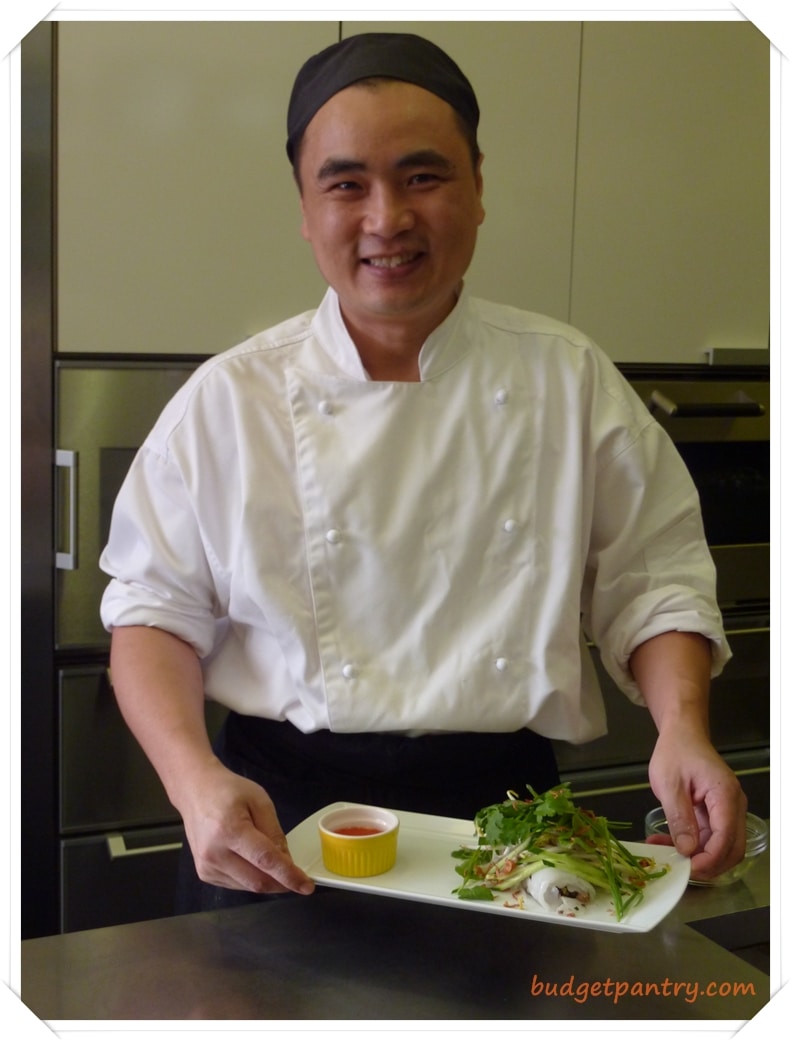 This seemingly simple and in all honesty, boring-looking dish took me by surprise. I really liked it! This was my second favourite dish of the day, after the eggs! The "skin" was made using rice flour, tapioca flour, water, a bit of vegetable oil and a little salt, and it tasted so soft, so fresh, so complementary to the minced pork, black fungus, shallots and bean sprouts. Chef was soft-spoken as compared to the other chefs but his food spoke volumes. :)
ToTT also launched their e-commerce site http://www.ToTTstore.com during the media event. It now has over 1500 products catalogued for a complete online store experience and offers free delivery with over $200 worth of purchases! I am almost afraid to navigate the site because it is so easy to use and I have a complicated relationship with kitchen appliances and utensils- I love them but don't have the space for anymore! Go on over to their website, there's lots to explore.
ToTT Store is located at: 896 Dunearn Road, #01-01A Sime Darby Centre, Singapore 589472
Operating hours: Mon – Fri 11am to 9pm. Sat, Sun and PH 10am to 9pm.
Tel: 62197077
Website: http://www.ToTTstore.com
Facebook: http://www.facebook.com/ToTTStore
And now.. for the CHRISTMAS GIVEAWAY (for Singapore readers only at this time, sorry!):
I am giving out my personal copy of "Best Brunch Ever"- Delicious Morning Recipes to Savour for ONE lucky reader! I know, this is insane right? I will ask someone to buy me more cookbooks from the ToTT Store. This copy is for YOU! All you need to do is:
1. Go to: https://www.facebook.com/budgetpantry

2. LIKE and SHARE my latest post about this giveaway
3. Comment to tell me (in all budgetpantry style), "Where is your favourite BUDGET brunch or lunch place?" It can be a cafe, restaurant, eatery, anywhere, as long as it is under $10 per pax!
Giveaway ends 19th December 2359h. Any comments after that will not count. I will send out the item on 20th December . If it reaches you in time for Christmas, that'll be great. If not, at least you have an extra present to open after the 25th! LIKE, SHARE and COMMENT away!
(Thank you Foodnews for the invite :))