Low-carb lunch idea: Stuffed Portobello Mushrooms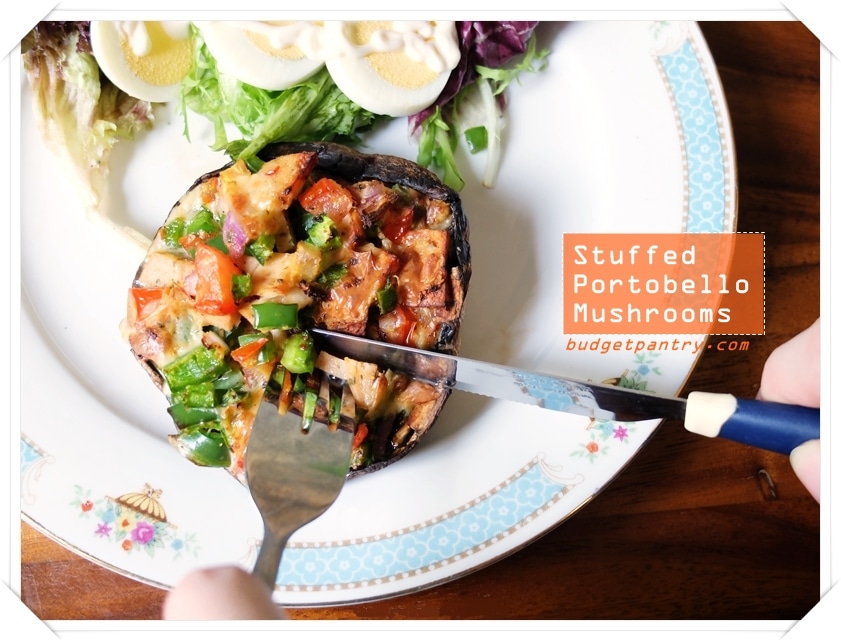 If you've been following my facebook page or instagram, you'd have noticed that I've been packing homemade lunches to work.
I'm a low carb kind of person because with my fat genes (thanks Dad!), eating very little carbs is the only way I can control my diet. And since I can't exercise yet after the surgery, I'm really watching what I eat to ensure that I get the nutrients that I need while keeping my weight down.

For the whole of last week, I have been on a culinary challenge (ha!) to pack nutritious, low carb, easy-to-cook meals to work. They have to fill me up because I can't "EATCLEAN" for lunch and succumb to Hainanese curry rice for dinner. The food at my office eatery really sucks. There's no low carb option except lousy pre-packed salad bowls with THOUSAND ISLAND DRESSING (what is the point?) and their chap chye png is cannot make it. The only good thing to eat there is the briyani WITH FRIED CHICKEN AND CURRY, but you know, if I go that route, I can never turn back.
I'm starting a new "Low-carb meal ideas" category so that anyone who's looking for low-carb recipe options can have it easier.
So today, I bring to you: Stuffed Portobello Mushrooms.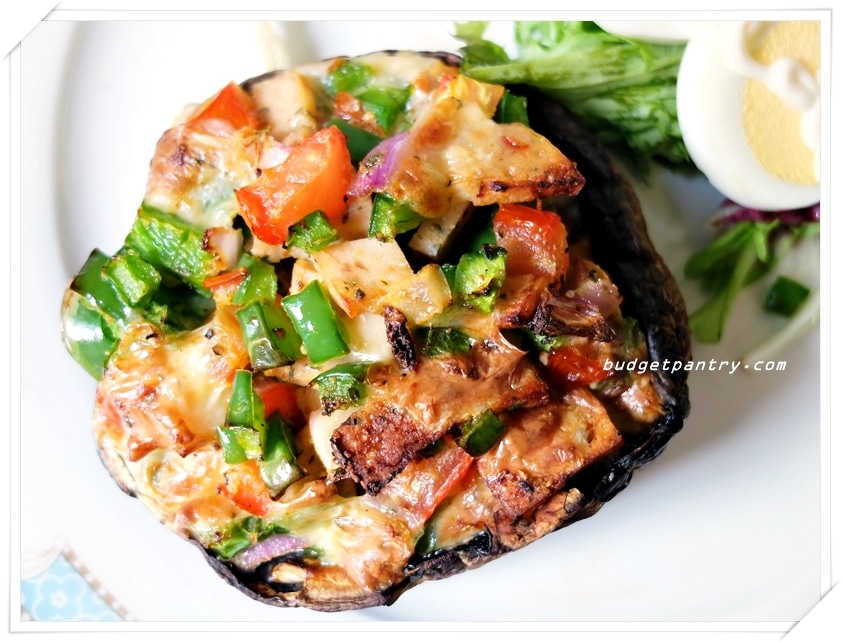 I brought one portobello mushroom (plus a side of sliced tomatoes) to work on Monday, and Shefali looked at me, flabbergasted.
She: "You're eating a mushroom for lunch."
Me: "Yeah! It's delicious."
She: "ONE MUSHROOM. WTF. WTF."
Slim girls. They'll never understand.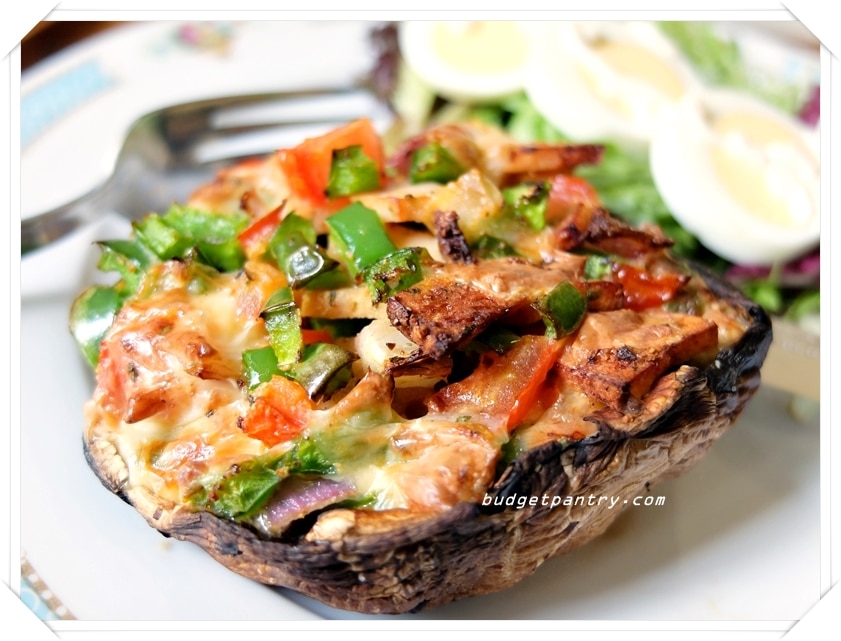 But my lunch was delicious. It wasn't just one portobello mushroom. It was a glorious fat mushroom stuffed with chopped bell peppers, onions, tomatoes, a bit of ham, minced garlic, cheddar, and seasoned with truffle salt and black pepper. It is super satisfying and much better than I had expected. PLUS, you get to cut it with a fork and knife, like when you're eating a steak.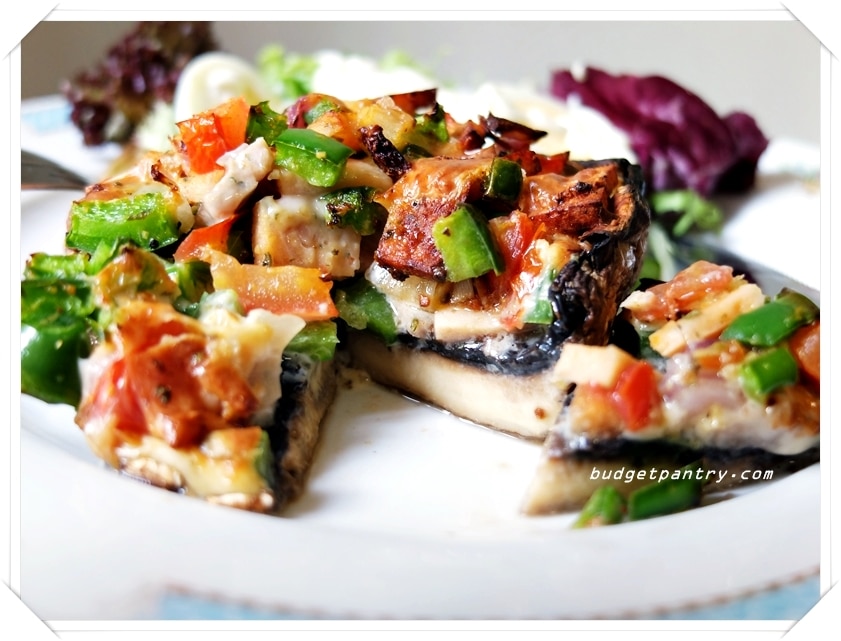 The steps are really simple, combine all ingredients (except mushrooms) in a bowl, spoon on top of mushrooms and air fry or bake in the oven til done. No prizes for guessing which method I used.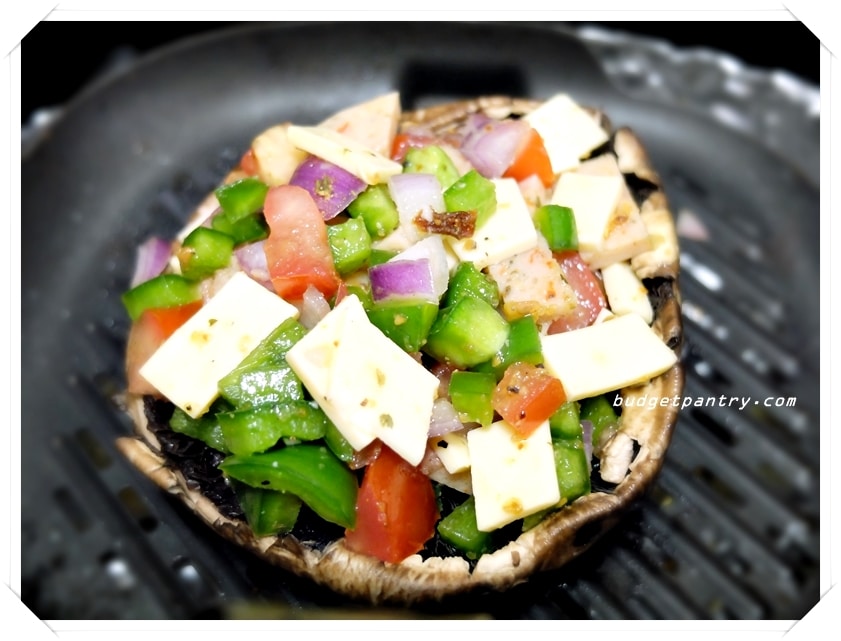 I basically made a salsa and added ham and some cheddar, but you could do whatever you like with this. Bacon and mozzarella, spinach and onion, ham and egg.. the combinations are quite endless. You could also use the mushroom as a pizza base. Spoon a little pasta sauce or tomato paste, then top with pepperoni, bell peppers and olives. Or you could use two of them as burger BUNS. Sandwich a tofu patty in between.
Oh and the gills.. I don't remove them because they're edible and they don't bother me, but some people have a problem with the black "bleeding" into the rest of their food. If you do decide to remove them, please cut them out instead of using a spoon to scrape them. You'll just end up disfiguring the poor mushroom.
I have so many low-carb ideas, I can't wait to share them all! Let's eat healthy together :)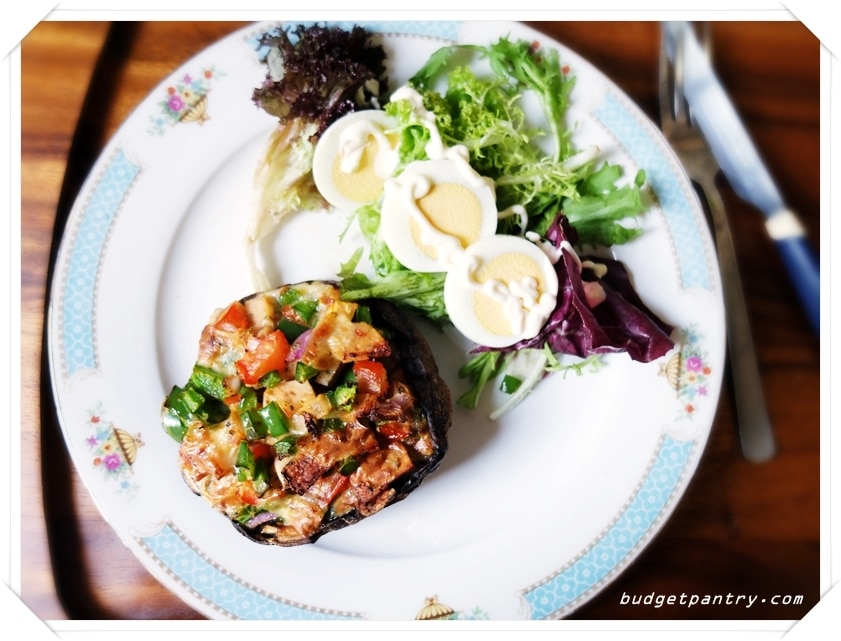 Low-carb meal idea: Stuffed Portobello Mushrooms

(budgetpantry.com)
Serves: 3
Total cost per serving: $3.00
What you need:
3 portobello mushrooms
1 green pepper, diced
1 tomato, diced
2 slices ham, chopped into small pieces
1 teaspoon minced garlic
1 medium red onion, diced
Half teaspoon truffle salt
A dash of black pepper
Grated cheddar or mozzarella cheese
1 tablespoon olive oil
Steps:
Preheat airfryer to 160C or oven to 190C.
Prepare the mushrooms: wash and pat dry. Remove stems. Drizzle olive oil all over mushrooms and coat well with your hands. Set aside.
Combine bell pepper, ham, tomato, garlic, onion, truffle salt, black pepper and cheese in a large bowl.
Spoon above mixture into the mushroom caps. Top with more cheese if you like, then airfry at 160C for 8 minutes or bake in the oven at 180C for 12-15 minutes until top is brown and cheese is melted.
Serve with salad and hard boiled eggs.
How much I spent:
$7.80 for Portobello mushrooms
$0.50 for cheese (I used sliced cheddar)
$0.00 for ham (I got them free on promotion with purchase of CP products)
$0.30 for onion
$0.70 for bell pepper
Everything else from my pantry