Moist and Delicious Passion Fruit Yogurt Cake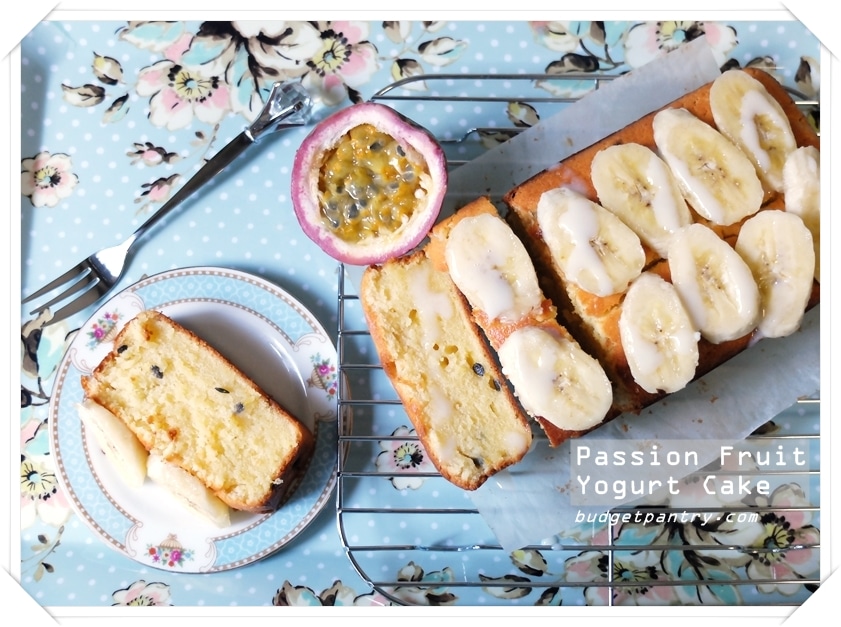 Passion Fruit isn't a commonly eaten fruit in Singapore. Most households will have apples, oranges and maybe kiwi and grapes in their fridge but passion fruit? Many people probably haven't even bought one before (passion fruit bubble tea not counted), and that includes me, before this cake!

I ordered a box of surprise fruits and vegetables selection online the other day. Apart from the usual stuff, I also got Portobello mushrooms, white mushrooms, freedom range eggs, plums, ready-to-eat Caesar salad, a whole rock melon and a bag of PASSION FRUITS.
I couldn't recognise them at first and even threw away one which looked wrinkly, thinking that it's gone bad. Turned out that ripe passion fruits are supposed to be purple and wrinkly. When I realised that these were passion fruits, the first thought that came to mind was to bake something with them. Maybe a pound cake? A chiffon? Muffins? What about.. a yogurt cake? A passion fruit yogurt cake sounds very yummy to me.
I actually baked this cake two times. The first was a disaster. I looked up many yogurt cake recipes and settled on one that called for 250g of flour AND no need for a mixer (sounds too good to be true – I guess I was blinded by that alone). The recipe was meant for a larger sized baking pan and I figured I could bake the excess batter into muffins. Turned out that for some reason, there was NO excess and the batter only filled to a little over 3/4 of my baking pan. I sent it into the oven anyway and here's what happened: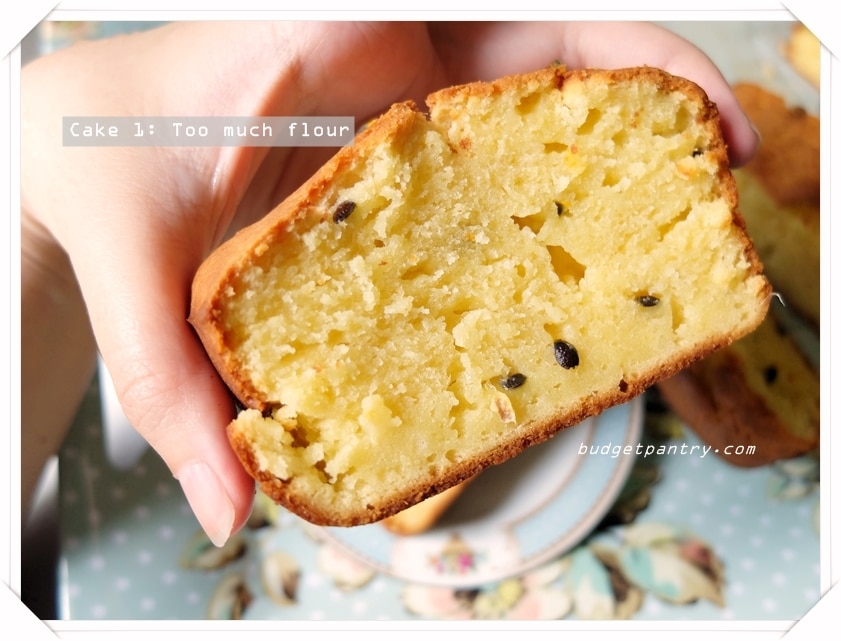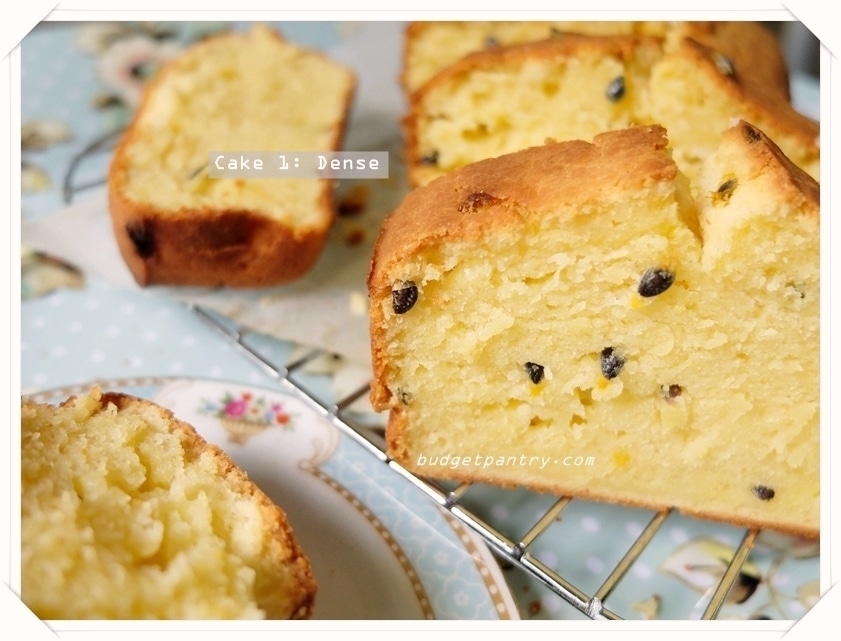 Much too much flour. Too much yogurt. The cake was heavy like stone. What was I thinking? I really wanted to eat cake.. so I decided to try again. Using common baking sense, I reduced the flour to 180g and also reduced the yogurt by half. To make it moist and soft, I sifted the cake flour three times to make it super fine. I also used my trusty kitchenaid to cream the butter and sugar instead of using melted butter. I reduced the sugar by more than 1/3 too. Yep, I basically changed the whole recipe.. I have baked cakes before.. where was my common sense that day?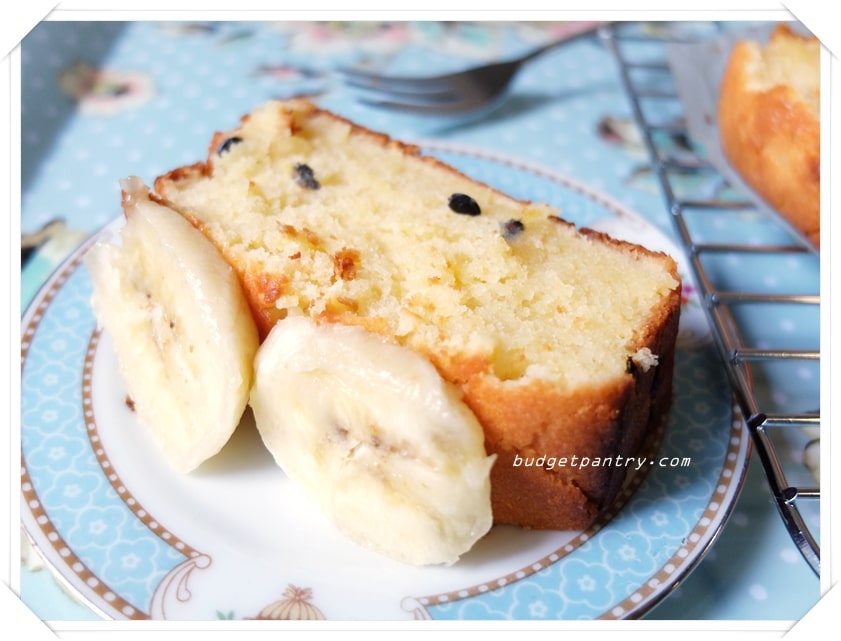 This time, the result was entirely different. Because the cake flour has been sieved multiple times, the texture is really fine and soft. The cake isn't the crumbly and dry type. It was such a joy to eat. The passion fruit flavour was even better the next day!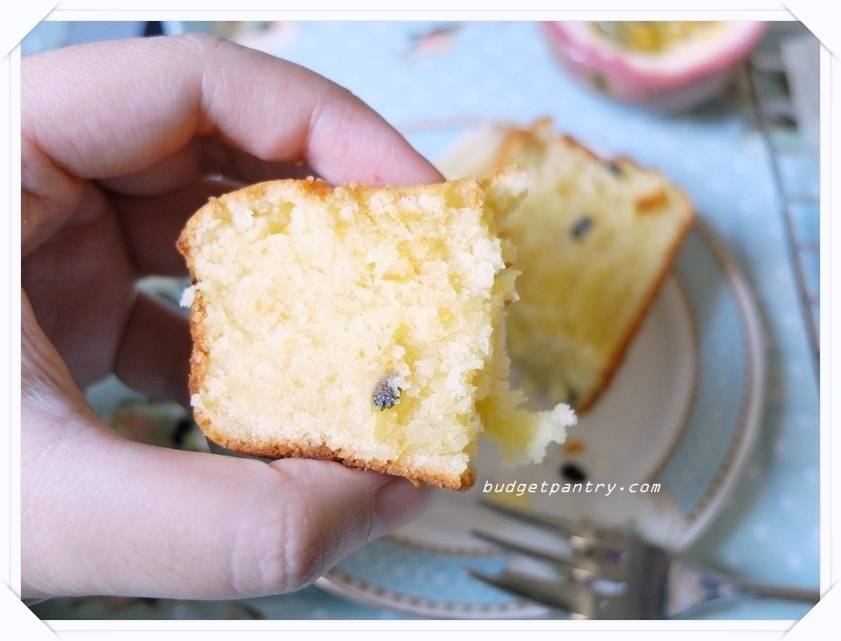 I used the juice of three passion fruits and added back some seeds for difference in texture, but if you prefer not to have the seeds in your cake, it's totally optional. To dress up the plain cake, I used banana slices and made an icing with powdered sugar, yogurt and passion fruit juice. You can skip all this if you're no-frills. I promised my colleagues I will bake one for them next week. Going by how much I like this myself, I think I need a bigger pan!
Moist and Delicious Passion Fruit Yogurt Cake

(budgetpantry.com)
Makes: One 9 x 5 x 3 inch loaf tin
Total cost per cake: $7.60
What you need:
125g butter, cubed
135g caster sugar
180g cake flour
3 eggs (55g eggs)
100g plain Greek yogurt (I use Emmi 4% fat plain yogurt)
3 passion fruits (push through a sieve and add back 3 teaspoons seeds. remove one teaspoon for the icing)
1.5 teaspoon baking powder
1 teaspoon vanilla extract
Icing and decoration (optional)
1 banana, sliced
2 teaspoons icing sugar
1 teaspoon passion fruit juice
2 teaspoons yogurt
Steps:
Preheat oven to 170C. Butter a loaf pan and line with baking paper.
Sift flour and baking soda twice, then set aside.
In a stand mixer, cream butter and sugar on low speed til pale and creamy. On medium speed, add the eggs one at a time, followed by the vanilla extract.
Add one-third of the yogurt, beat till incorporated, then add one-third of the flour. Alternate between yogurt and flour til both are used up.
Add the passion fruit juice and seeds. Beat til well combined.
Pour the batter into the prepared pan. Drop twice onto the tabletop before placing into the oven. Bake for 45-50 minutes or till golden brown and a toothpick inserted into the centre comes out clean.
Make the icing (optional): add 2 teaspoons icing sugar and 1 teaspoon passion fruit juice to 2 teaspoon yogurt. Stir to combine. Decorate with bananas and drizzle icing on top of cake before serving.
Best served warm. Even better the next day!
How much I spent:
$2.80 for passion fruit
$2 for butter (I use SCS salted butter)
$2.20 for yogurt
$0.60 for eggs
Everything else from my pantry