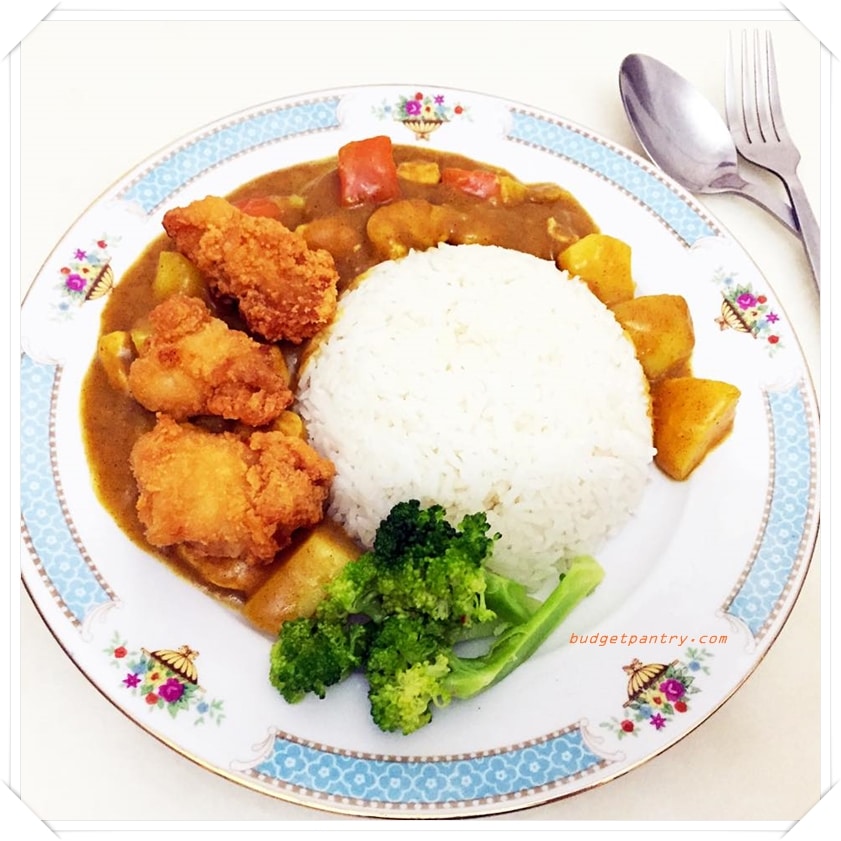 Japanese curry for dinner tonight? I have a thing for Japanese curry and tonkatsu.. sometimes this "thing" needs to be satisfied once a month! I used to have a phobia of boxed Japanese curry because it reminds me of my ex-Japanese boyfriend's mom (I don't want to be reminded). And Japanese curry and Miso soup were the only thing she made. I added a bit of fresh milk to this version, plus chicken fillet, chicken karaage, potatoes and carrots. So yummy! I used Golden Curry brand.

I chose the MEDIUM HOT version but it's not spicy at all. I have another box one-level up on the "spiciness" meter and I don't think there's gonna be much difference, but that's typical for Japanese curry. I wouldn't compare Japanese curry and the red and yellow curry in Singapore, Malaysia and Indonesia.. they're just not the same things. I love both!
This is the first time that I'm cooking Japanese curry at home and my only regret is that I hadn't started earlier. It is a simply one-dish meal that can be cooked in a jiffy, although the paste is still processed, but so are our packaged laksa mixes and curry pastes. This saves me so much time as dinner can be ready in less than half an hour, plus the entire family loves it.
I used frozen inner chicken fillet from Lebon for this dish, which can be bought at Giant supermarket and Cold Storage. I just bought two 1kg packets for $9.99 over the weekend (they're on promotion at Giant IMM), then saw ONE packet selling for $12.50 at Cold Storage Plaza Sing two days ago. How can the price difference be so huge?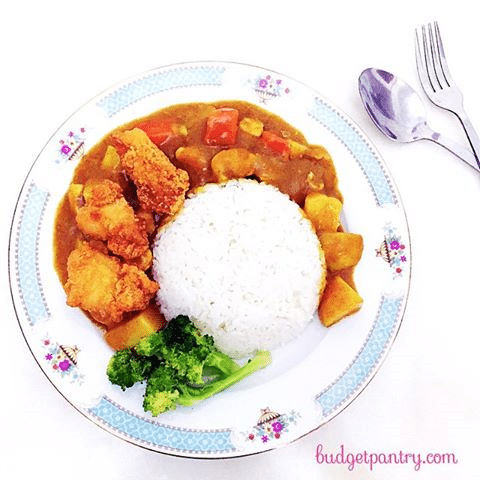 I also added some chicken karaage pieces from CP which I air fried to crispy deliciousness in 12 minutes. Although I watch my diet most days, I stash frozen fried chicken because fried chicken and I have a special relationship. When I do eat chicken karaage, I limit myself to 3 pieces max (oh with mayo of course!) but no rice. In denial, I think. And fried chicken and curry? I would replace all the chicken fillet with fried chicken if I could.
I can foresee Japanese curry appearing more often on my dinner table.. I'm also going to try the white stew mixes soon!
Easy Japanese Curry

(budgetpantry.com)
Serves: 3-4 heartily
Total cost per serving: $1.75
What you need:
1 package (100g) Golden Curry sauce mix
6 strips inner chicken fillet
3 medium potatoes
1 large carrot
1 medium red or yellow onion
100ml fresh milk (optional)
620ml water (use 720ml water if not using the milk)
1 tablespoon olive oil
Steps:
Chop all ingredients into bite size pieces.
Heat up the olive oil and fry the onion til translucent, about 4 minutes. Add in the chicken, potatoes, carrot and water and bring to boil.
Lower the heat and simmer for about 15 minutes. Add the entire package of curry mix and mix well. Add the milk if using. Simmer for another 5-10 minutes til thick, then serve with rice.
How much I spent:
$3.70 for curry mix
$$1.80 for chicken fillet
$$0.90 for potatoes
$0.30 for carrot
$0.30 for onion
Everything else from my pantry