Ok, I'll admit it- I cheated on this dish by using Ayam Brand Red Curry Paste. It was too easy to be true! The picture above sucks though- there's actually more curry gravy and the pork don't look so pale in real life. HA.HA. Ok, I promise to take photos of my cooking using my super awesome Panasonic Lumix TZ-7 digital camera instead of my iPhone 5 (have you heard the story of me in a coach in Europe, zooming in to a household window ON THE HILL on the way to Switzerland, using this camera? ok, the recap is just another excuse for me to miss Europe but more on that later).
Buy this thing: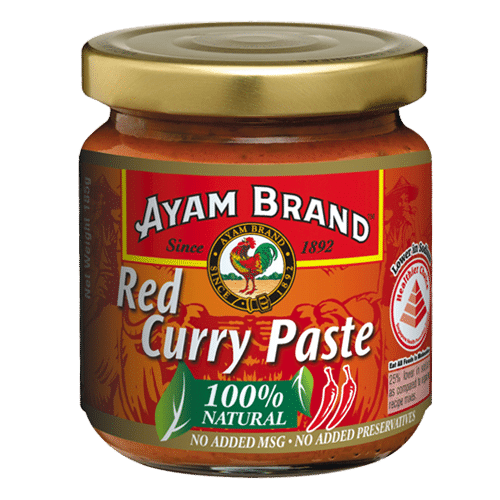 Serves 4
What I used:
250g lean pork
Half packet Ayam Brand TRIM Coconut Milk (100ml)
3/4 bottle Ayam Brand Red Curry Paste
150ml water
1 potato
1 tsp olive oil
Half an onion, sliced
1 tsp belachan (optional)
1. Fry onion in olive oil til fragrant, about 1-2 mins.
2. Add pork and cook for 2 mins, then add curry paste and potatoes.
3. Cook on high heat for 3 mins til fragrant.
4. Add coconut milk and water.
5. Cook til potatoes are soft and liquid is reduced and thick.
6. (optional) Add a teaspoon of belachan chilli.
6. Serve hot with rice.
How much I spent:
$2 for pork (I bought Pork Kee lean pork 2 packages for $7.95 from NTUC. Each package is vacuum divided into 2 so I've got 4 portions)
$1.30 for 3/4 bottle of curry paste (I got 2 bottles for $3.50)
$0.35 for coconut milk (2 x 200ml for $1.35. I used half a packet)
$0.30 for potato
Everything else from my pantry
Total cost per serving: $0.99
——————————————————————-
Jason was full of (good) comments for the curry- he finished his entire bowl of rice, hardly surprising though- I wonder why I even brought it up *shrugs*. But really, the sauce was delightful and rich, and wonderfully tangy with the addition of belachan. The pork was tender and of very good quality even though it is frozen and not "fresh". The cut is slightly thicker than shabu pork, not tough like some types of lean pork I've cooked with before. I'll post a photo of the packaging when I cook Ginger Pork with Spring Onions next.