If you've never heard of Shakshouka, you're in for quite a treat!
Shakshouka is dish of tomatoes, onions, peppers and spices topped with poached eggs, cooked in a skillet over the stove top, and usually served straight from the pan.
According to The Book of New Israeli Food: A Culinary Journey quote in Wikipedia, "Shakshouka is a staple of Tunisian, Libyan, Algerian, Moroccan, and Egyptian cuisines traditionally served in a cast iron pan or tajine with bread to mop up the sauce. It is also popular in Israel, where it was introduced by Tunisian Jews."


What I've read is that while Shakshouka is commonly served as a breakfast meal, it is also often eaten at dinner time in Israel. The dish is very easy to make, but the flavours by no means reflect that. I've had the chance to eat this dish on my travels, in Middle-Eastern type restaurants in Europe (I've never been to the Middle East and North Africa), but this is my first attempt at cooking it.
You need very basic ingredients: canned tomatoes, a yellow onion, garlic, green or red peppers, spices (black pepper, paprika, cumin and cayenne pepper if you so wish) and salt and sugar to taste. Let the stew simmer for a bit, then crack 5-6 eggs on top before covering briefly til the whites form.. til the eggs are half cooked and still runny.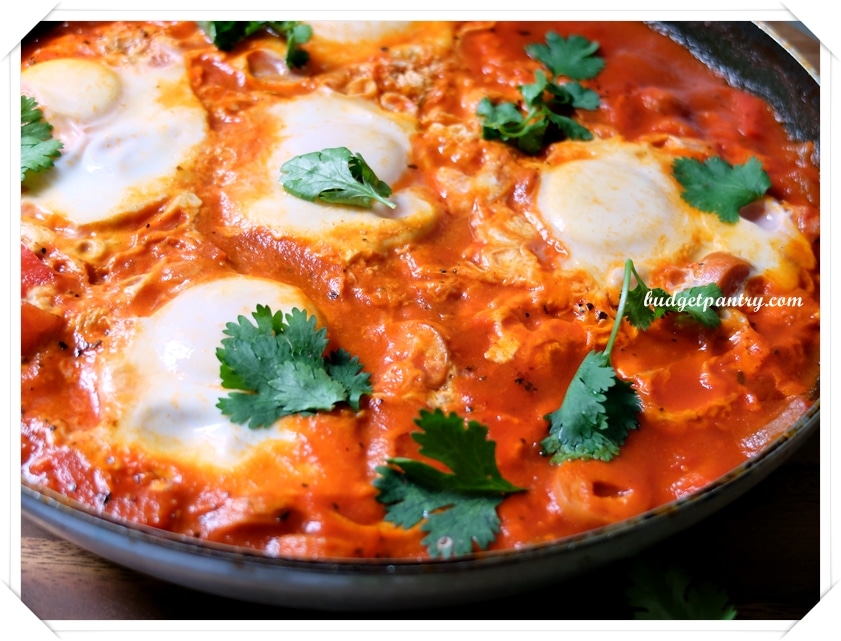 Jason and I love this dish because it is both hearty and healthy. You can choose to make an all-vegetarian version, or add some chicken or beef sausages for even better flavour. I used pretty minimal olive oil for this, and if you leave out the meat, this dish is all about tomatoes, aromatics, spices and eggs. I served mine today with crusty baguette from the neighbourhood bakery (so good!), but you could leave out the bread if you're cutting down on carbs.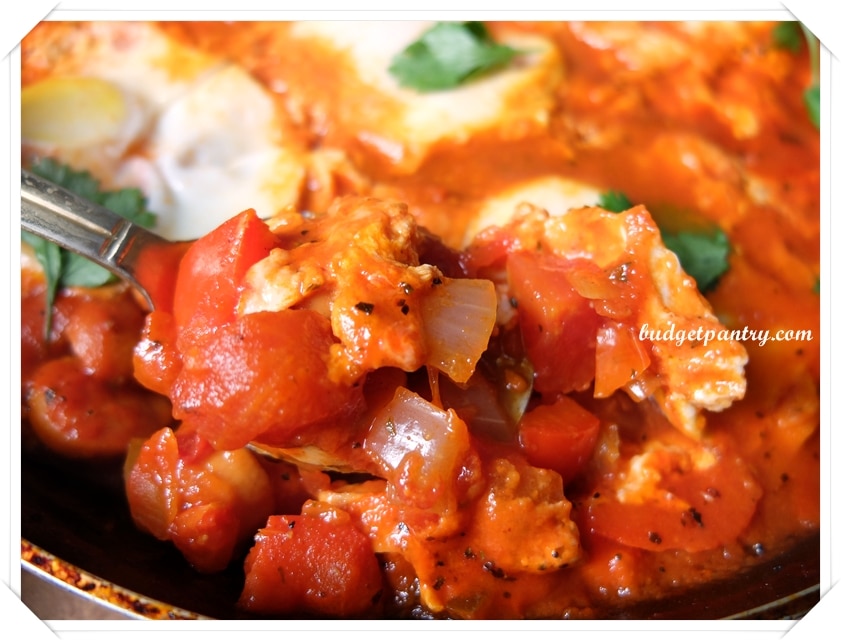 If you have half an hour (including prep time!) to spare, cook Shakshouka. I bet you'll fall in love with it like I did!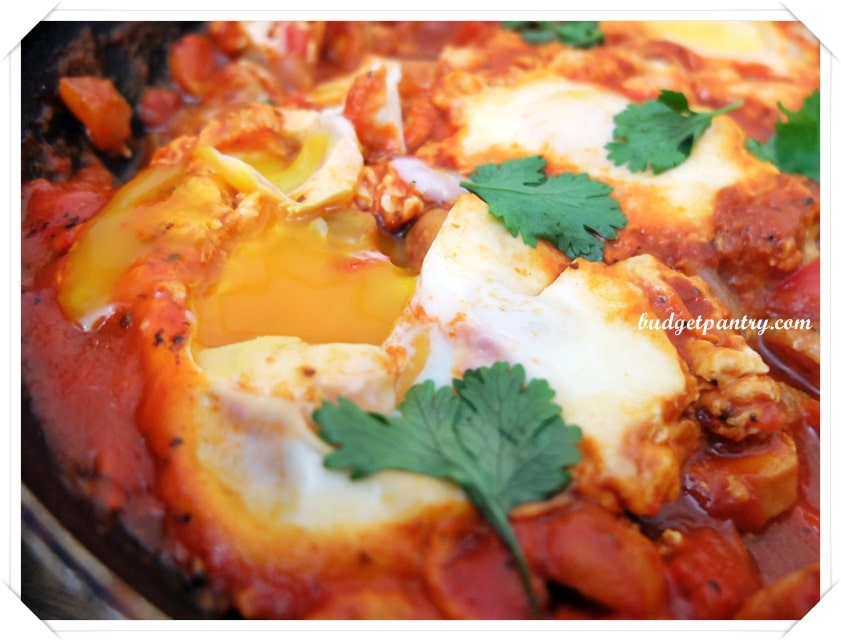 Shakshouka
Serves: 3-4
Total cost per serving: $2.45
What I used:
2 cans diced/whole/stewed tomatoes (you can use Hunts or any brand)
1 tablespoon tomato paste
1 medium yellow onion, diced
4 cloves fresh garlic, sliced
1 red bell pepper, diced
5 eggs
2 chicken sausages, chopped (you can use any type or leave it out)
3/4 teaspoon salt or to taste
Half teaspoon cumin
Half teaspoon paprika
Half teaspoon turmeric
Half teaspoon cayenne pepper (optional)
1 teaspoon sugar (optional but I like the sauce slighty sweet)
Dash of black pepper
1.5 tablespoon olive oil
Fresh corriander or parsley for garnish (optional but I love it!)
Crusty bread to serve
Steps:
In a large skillet, heat the olive oil and fry onion til transparent, about 3-4 minutes. Add in the garlic and cook til fragrant.
Add in the bell pepper and cook for 4 minutes before adding the sausages. Empty the canned tomatoes (together with the juice and all) and add the tomato paste. Flavour with cumin, paprika, turmeric, cayenne pepper (if using), salt (to taste), black pepper and sugar.
Reduce the flame and allow to simmer for 5-10 minutes. Crack 5 eggs on top and cover with lid. Switch off the flame as soon as you see that the whites are forming and yolks slowly setting. Watch it carefully as you don't want well-done eggs.
Serve immediately with crusty baguette.
How much I spent:
$3 for canned tomatoes (I used canned diced tomatoes from my neighbourhood provision shop)
$1 for red pepper
$0.40 for onion
$0.10 for corriander
$1.50 for eggs
$2 for sausages (I bought 4 chicken sausages from Fairprice for $3.99 and used half a packet)
$1.80 for baguette from Prima deli (I toasted it again with my airfryer)
Everything else from my pantry