Yuzu-Lemon Penne Salad + Philips GIVEAWAY!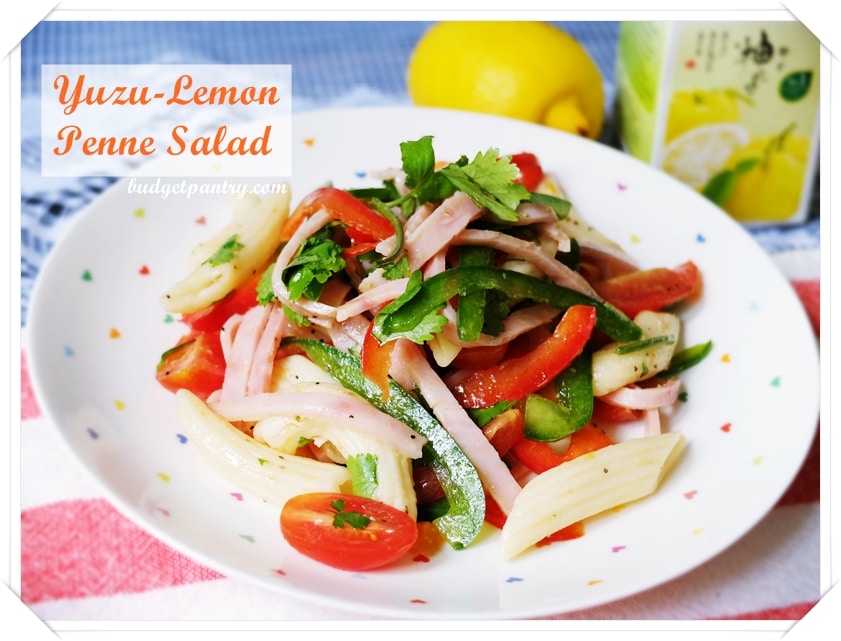 I'm quite in the mood for recipe challenges these days, it seems!
Philips rounded up a group of bloggers (including me!) for a friendly "challenge" to create a dish with their Philips Avance Noodle Maker using one secret ingredient: LEMON! I thought of doing a cold pasta salad immediately cos I cannot associate lemon with a normal noodle dish! I can't wait to see what the others come up with then I can try making it too!
Oh and scroll down for [GIVEAWAY] details!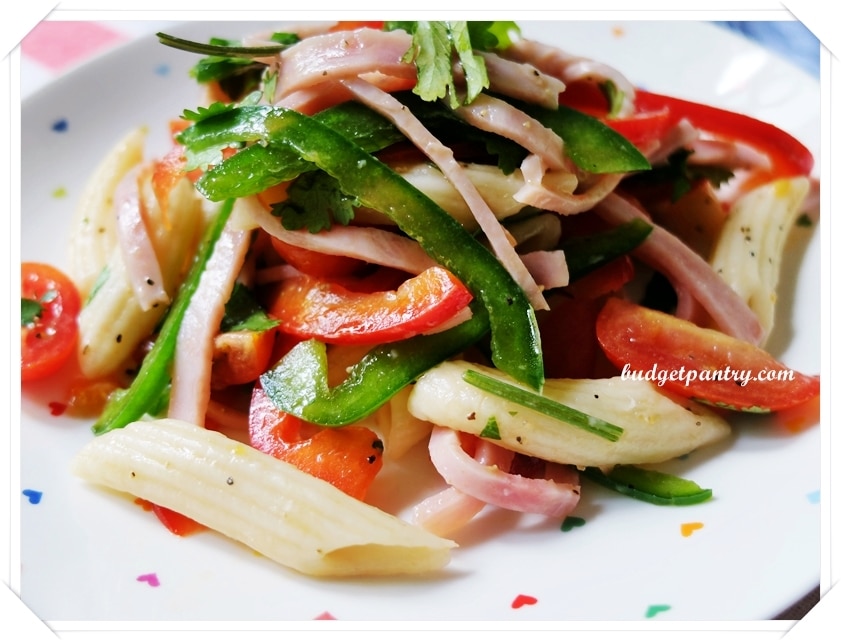 And now more on how to make noodles. When using the noodle maker, you need two basic ingredients. Flour and a type of liquid. For a 2-person serving of noodles or pasta, you use 250g flour and typically 85 ml to 95ml liquid. Your liquid can be egg + water (like in the case of the wanton noodles I shared on Facebook last month), carrot juice, apple juice, spinach juice, tomato juice.. the possibilities are quite endless!
The machine is quite idiot-proof to use:
1. Add 250g plain flour.
2. Select bounciness level/timing and press "Start".
3. Trickle in the liquid. Wait a few minutes (8 minutes in this case!) and your penne is ready!
Watch the video which I shared recently on my Facebook page:
Guess what I'm up to today? Yuzu-Lemon Penne, that's what! Yes, I used Yuzu + a tablespoon of fresh lemon juice to make the pasta and I'm gonna make a cold refreshing salad with it! Last minute #Christmas shopping? I think this quite good idea! #PhilipsSingapore #PhilipsNoodleMaker #freshpasta #homemade #budgetpantry #igsg @philipssg

Posted by Budgetpantry on Saturday, 20 December 2014
Look at the texture of the penne. Firm and perfectly kneaded.. not soft nor soggy!
The challenge called for lemon juice but didn't mandate we had to use it IN the noodles or simply as a component of the entire dish. I didn't think using "pure" lemon juice would work because 85 ml of fresh lemon juice and flour? The acid would react with the flour and break it down, no? So I thought of a combination of yuzu AND lemon. Ahh.. yuzu! Refreshing, tangy and sweet. I think it would go quite well with the pasta!
And I didn't regret using yuzu! The best thing is you don't even have to use freshly squeezed juice. Package juice works just as well for convenience. Combined with the crunchy peppers and savoury ham, this salad really hit the spot. After tossing all the ingredients together, I gave it a final touch with some extra yuzu + lemon juice as dressing. You could also add thin asparagus. I think it'll go very well with the yuzu-lemon pasta! Have fun!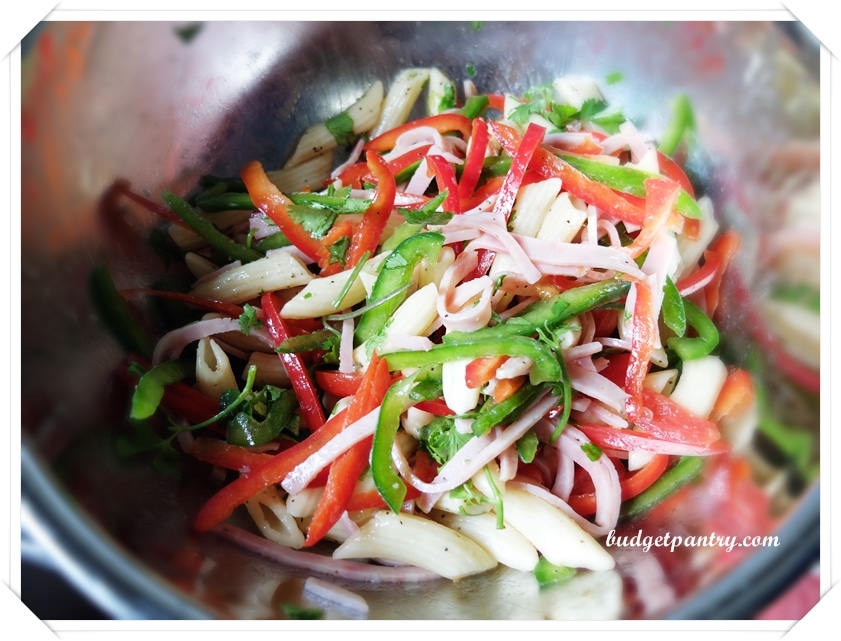 And now for the [GIVEAWAY]!
Philips is giving away a complimentary 6pc set of kitchen utensils to one of budgetpantry's readers! All you need to do is vote for my Yuzu-Lemon Penne creation by clicking "LIKE" and "SHARE" on the Facebook post here and comment with your email address for me to contact you if you're the winner. One lucky reader gets to win the GIVEAWAY FOR SURE even if I don't win the friendly recipe challenge eventually. How's that for cool? Here's what included in the set:
1. Flexible Turner
2. Slotted Spoon
3. Slotted Turner
4. Ladle
5. Spaghetti Server
6. Solid Spoon
7. Rotating Stand to hang all the tools!
Pretty nifty, no? The complimentary set will be delivered to the winner's home. No pickup necessary. Contest ends 7 Jan 2015, 2359h, SG readers only. Non-SG readers can still "LIKE" to post to vote! Thank you everyone! I'll be using Random.org to pick the winner.
Start voting already! Here's the Facebook post again for you to "LIKE", "SHARE" (to public!) and comment. Good luck!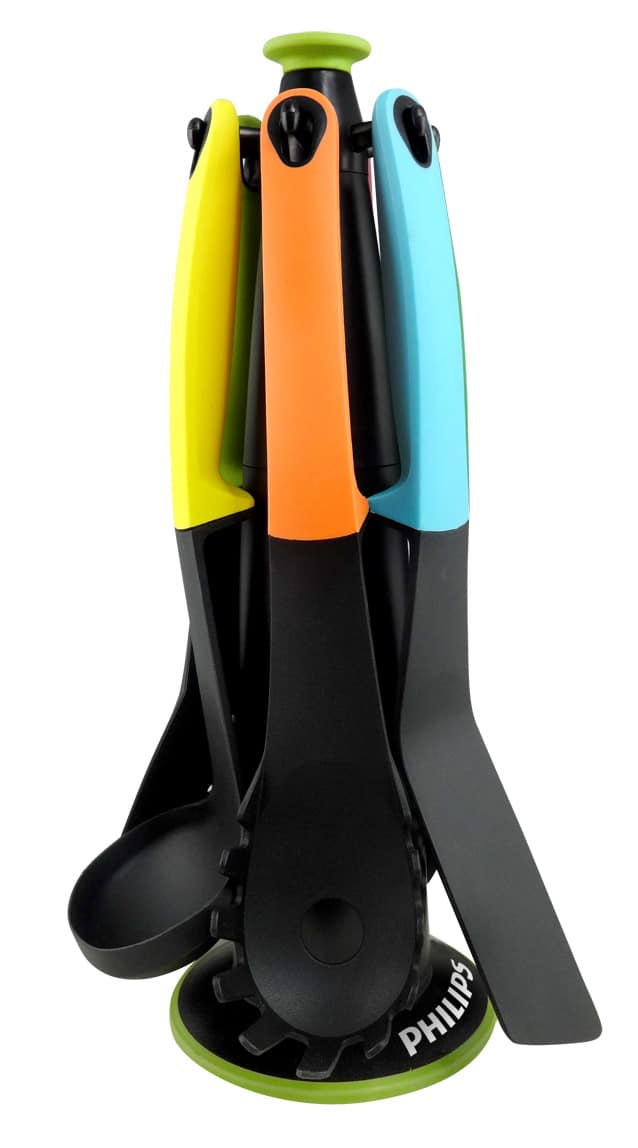 *Note: This isn't a sponsored post and I wasn't obliged to come up with this post, but I was gifted the noodle maker for review. Thank you Philips Singapore!
Yuzu-Lemon Penne Salad
Serves: 3-4
Total cost per serving: $1.85
What I used:
For the penne (if using Philips Noodle Maker. if not just buy ready penne)
250g plain flour
85ml Yuzu juice (I used Peel Fresh)
10ml fresh lemon juice (about 1 tablespoon)
The rest of the ingredients
5 slices ham, cut into strips
1 green pepper, cut into strips
1 red pepper, cut into strips
A handful of cherry tomatoes, quartered
1 tablespoon yuzu juice
1 tablespoon lemon juice
Fresh corriander
A sprinkle of black pepper
A dash of salt
2 tablespoons extra virgin olive oil
Steps:
Make the penne using the Philips Noodle Maker. Pour in 250g plain flour, press the "On/Off" button, select bounciness level (I set to 8- super bouncy), press "Start". Slowly trickle in the yuzu and lemon juice. Cut the penne into approx 1.5 inch length with a pair of scissors. If using ready penne, cook according to package instructions.
Bring a pot of water to boil. Cook the penne for about 4 minutes. Test one at the 3 minute mark to make sure it is the consistency you like as fresh pasta takes way less time to cook than dried. Drain and run under cold water. The only time you should give your water the cold water treatment is when you're making a cold salad! Please don't do this to your aglio olio.
In a large mixing bowl, combine ham, green and red peppers, cherry tomatoes, penne, corriander, black pepper and salt. Add the yuzu juice, lemon juice and olive oil. Toss well and serve on a happy plate!
How much I spent:
$1.50 for leg ham
$0.80 for green pepper
$1.30 for red pepper
$1.25 for flour (penne)
$1.00 for cherry tomatoes
$0.70 for lemon
$0.90 for Yuzu juice
Everything else from my pantry