家常便饭: Oyster Sauce Shabu Shabu Pork with Potatoes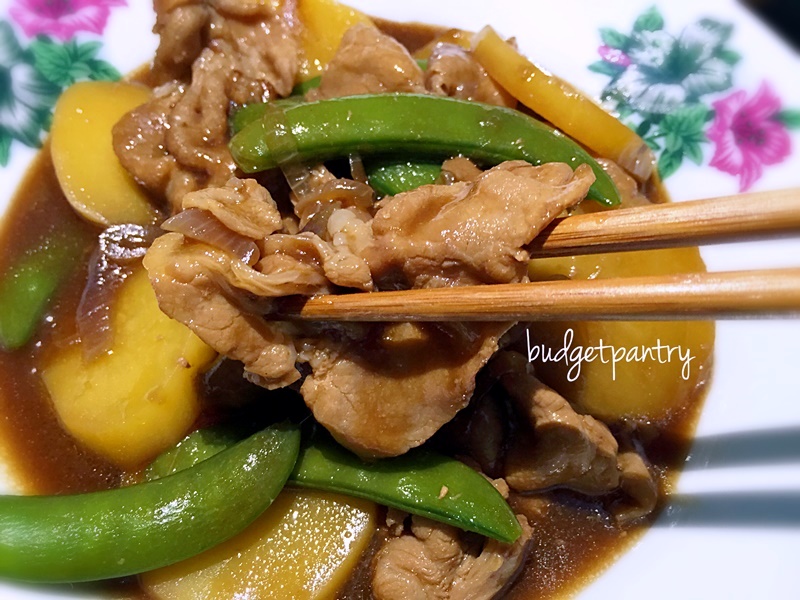 I love shabu shabu style pork, and I don't only eat them during Chinese New Year! Because of how thinly-sliced they are, the meat is always soft and tender. No tenderiser needed and very good for stir fry.

Because I had some potatoes to use up, I bought a tray of these pork collar shabu shabu slices to cook tonight's dinner. The husband kept exclaiming, "Home-cooked taste!!" throughout the meal, it was hilarious. He loves oyster sauce pork and chicken with rice and one of his favourite ways to eat this is to scoop the thickened gravy over steaming hot rice. I suspect he can eat the rice with gravy alone! If you're not a fan of thickened sauces and prefer a lighter dish, visit my recipe for Japanese Ginger Pork – Japanese cooking doesn't use cornstarch to thicken the dishes.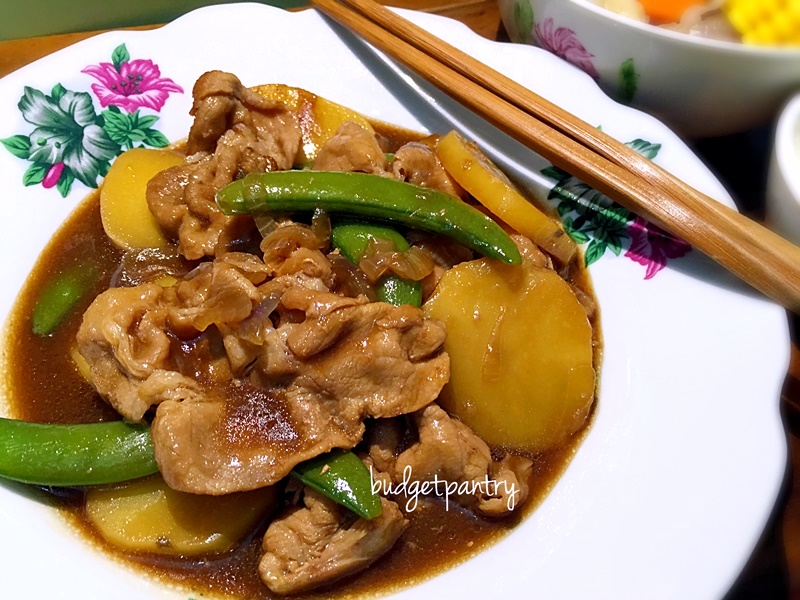 Note: The gravy recipe is very versatile. You just need your tastebuds. If you prefer more gravy, add more water and adjust the seasonings by doing a taste test. If you have some Japanese Shogayaki Sauce, you can add approximately 1 tablespoon and omit the sugar and ginger.
家常便饭: Oyster Sauce Shabu Shabu Pork with Potatoes

(budgetpantry.com)
Serves: 4 as part of a Chinese meal
Total cost per serving: $2.30
What you need:
400g shabu shabu pork collar
15-20 sweet peas, ends removed
2 small potatoes, sliced
1 large red onion
5 slices ginger
2 tablespoons oyster sauce
1 teaspoon light soy sauce
Half teaspoon dark soy sauce, for colour
Half tablespoon sugar
300ml water
1 flat tablespoon cornstarch dissolved in 1 tablespoon water
2 tablespoon oil
Steps:
Heat up the olive oil and fry ginger and onion slices till fragrant. Add in the potatoes.
Add the pork slice by slice with a pair of chopsticks, ensuring as much as possible that they don't stick together. When 70% done, add the oyster sauce, light soy sauce, dark soy sauce and sugar. Stir fry quickly to mix. Add the water (you can add more if you like more gravy). Bring to boil and lower heat to simmer till potatoes are soft, about 5-8 minutes.
Add the sweet peas and cover immediately with lid for 3 minutes (don't overcook the vegetables). Remove lid and add the cornstarch solution to thicken. Serve hot with rice.
How much I spent:
$6.80 for pork collar
$0.60 for potatoes
$1.50 for sweet peas
$0.30 for onion
Everything else from my pantry