CNY Bakes: Cranberry Cornflake Cookies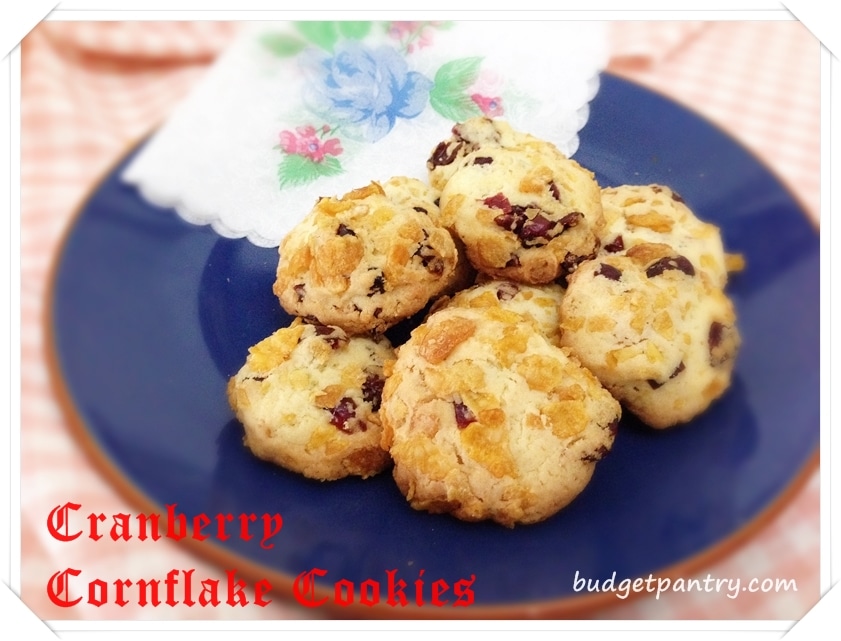 Are you one of the lucky ones whose mom or grandma get into baking a frenzy every Chinese New Year?
I'm officially jealous! Although my aunt is a superb cook, I've never seen her bake in my life. The only time she uses the oven is when she wants to roast a chicken or when she wants to toast bread.. but she now toasts bread in my airfryer and doesn't roast chickens anymore.. so hmmm. My mom is a super baker but she's not very hardworking, so I've never learnt to make pineapple tarts, kueh bangkit, green pea cookies or love letters.
BUT! COOKIES! Cookies are easy enough to bake, so this year, I decided to make Cranberry Cornflake Cookies for Chinese New Year. My new year's resolution is to learn allllll the recipes for CNY goodies, so that my future daughter (or son) can live their childhood in the kitchen the way I never did.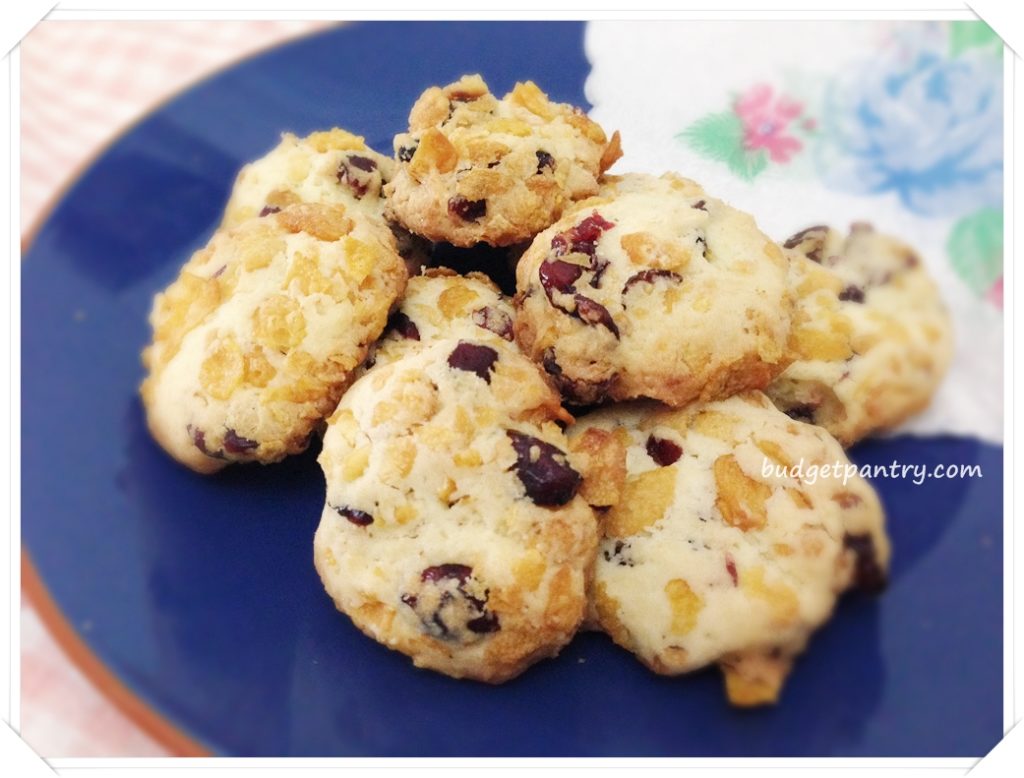 Remember to let the cookies cool before storing or eating! The cornflakes will be a little chewy right out of the oven but they will regain their crispiness once cooled. Be patient! For variation, add white chocolate chips or semi-sweet chocolate chips instead of cornflakes. I was itching to make a white chocolate cranberry version (very Christmasy!) but finally settled on cornflakes cos it is Chinese New Year. Enjoy the snacking and watch the waist line!
Note: This cookie recipe calls for icing and caster sugar as it needs them to dissolve quickly in the relatively short baking time. Don't substitute with regular or fine sugar for best results. SCS butter, extra fine icing sugar, eggs, flour and cornflakes sponsored by PurelyFresh. Remember to get your baking goodies from there this CNY!
Cranberry Cornflake Cookies
Makes approximately 45 cookies
Total cost: $5.67
What I used:
125g butter, left at room temperature
50g icing sugar
50g extra fine caster sugar
1 egg, lightly beaten
150g top flour (you can use plain flour)
20g corn flour
80g dried cranberries
50g cornflakes and more to coat/ roll cookie in
Half teaspoon vanilla essence
Half teaspoon salt
Steps:
1. Preheat oven to 140 degrees celsius.
2. Empty cornflakes in a ziplock bag and crush coarsely. Set aside for later use.

3. Cut cranberries into smaller pieces with a pair of scissors. Set aside for later use.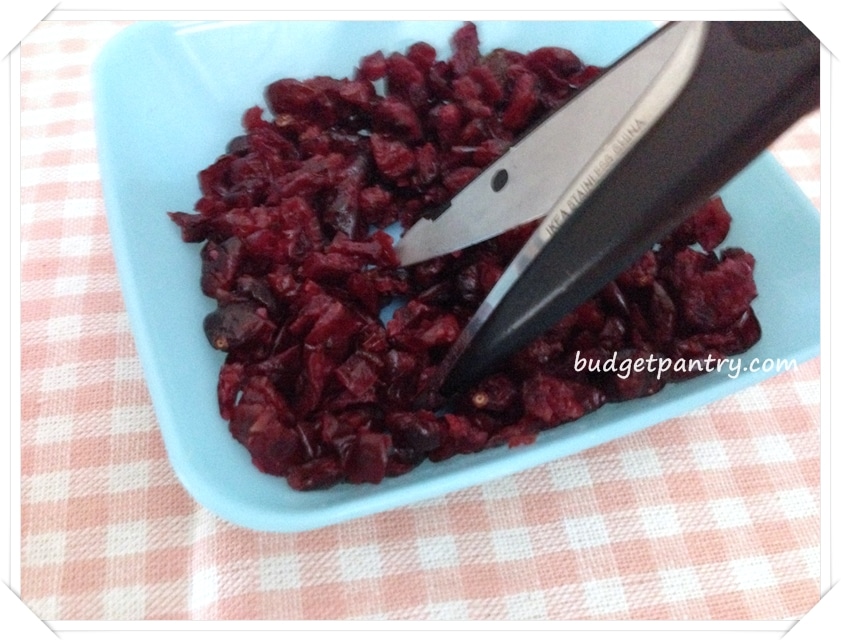 4. In a large mixing bowl, add cubed butter, icing sugar, caster sugar and beat til pale and creamy. I simply used a wooden spoon but please use your electric whisk or beater if you can.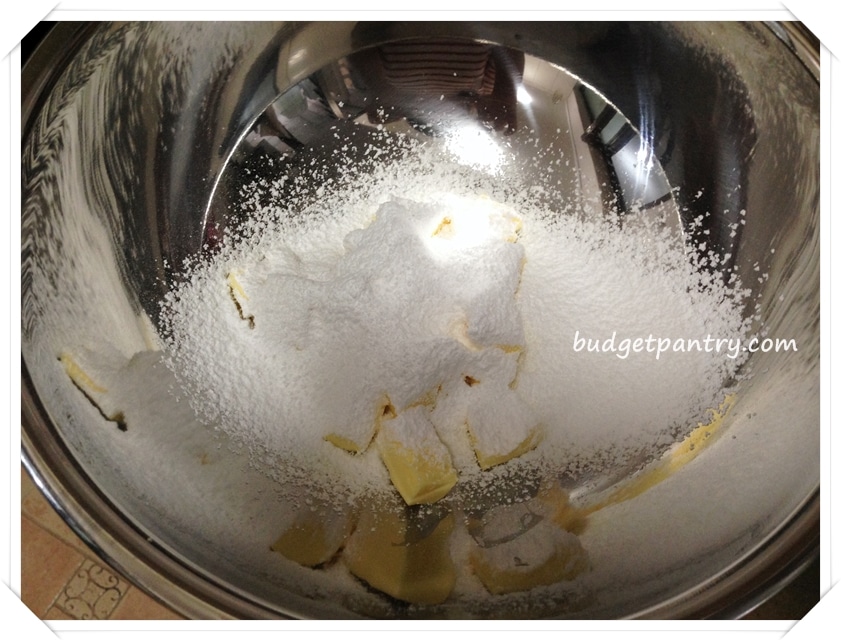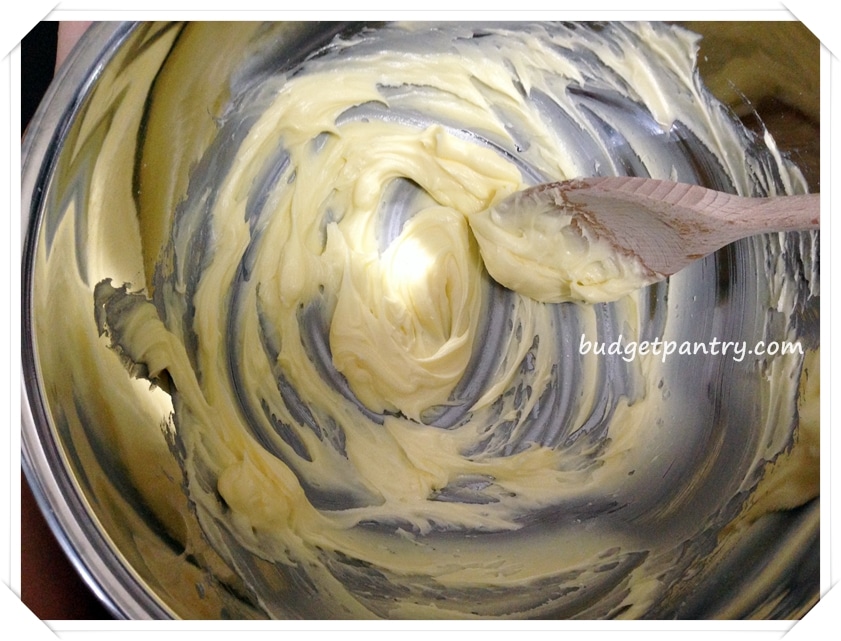 5. Slowly add half the egg and stir til combined before adding the other half. Add the vanilla essence.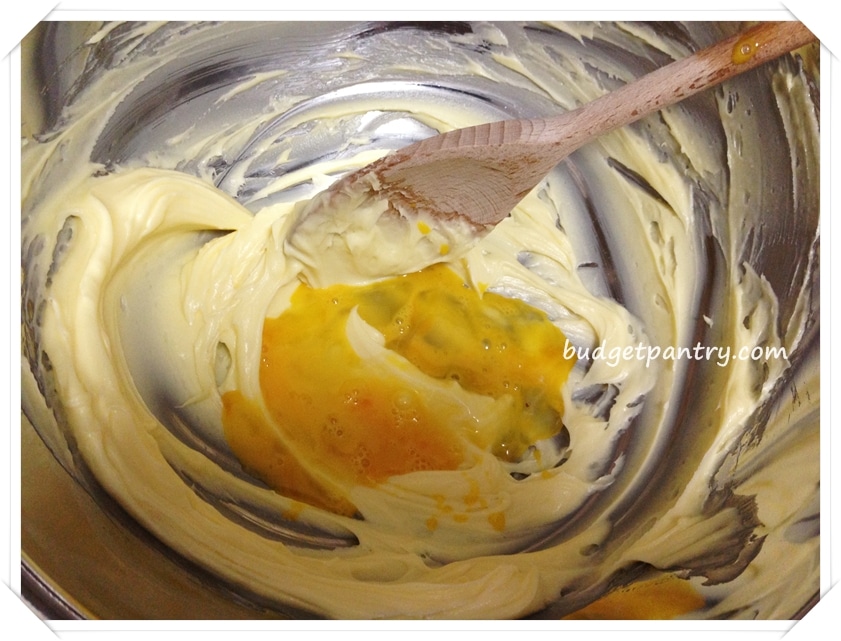 6. Add sifted top flour, corn flour and salt and mix well to combine.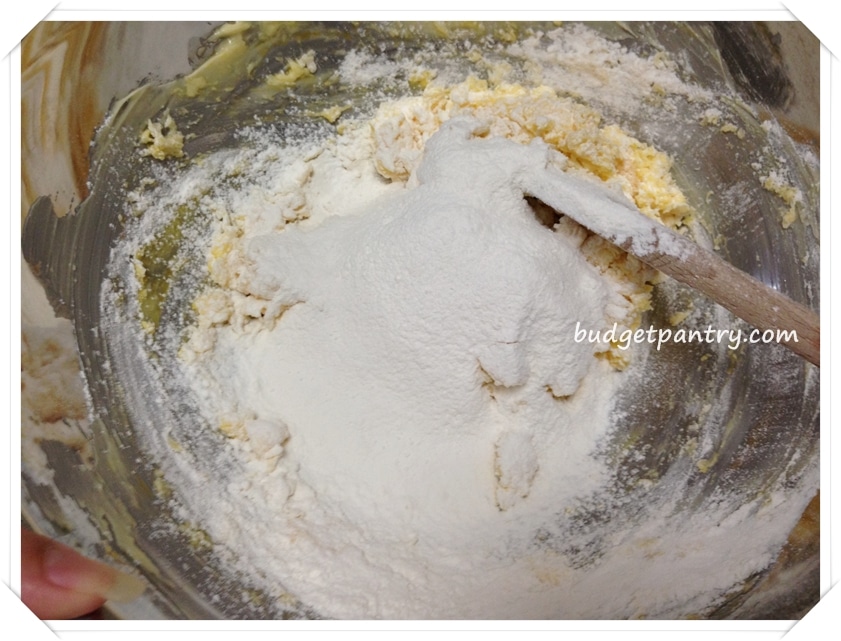 You should get a doughy paste like so:

7. Stir in the cranberries and 50g crushed cornflakes. So pretty! (remember to add the crushed cornflakes too! I forgot the picture!)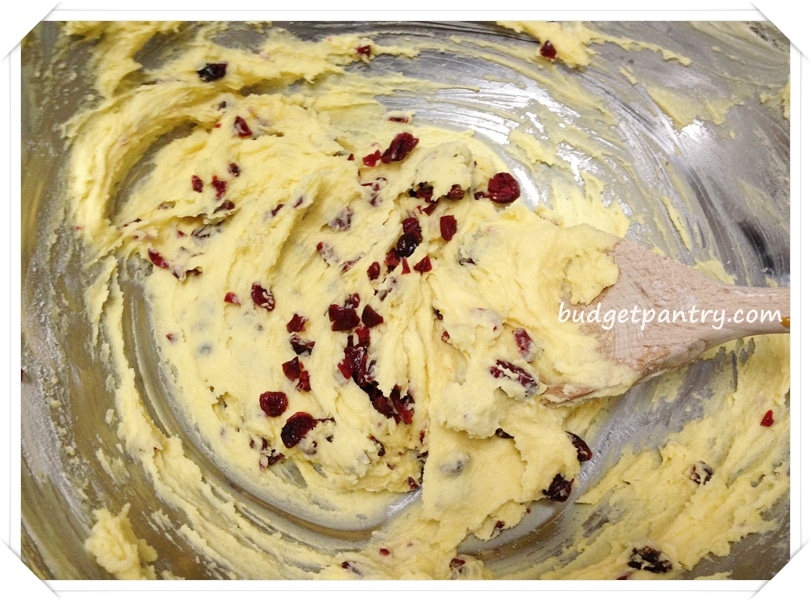 8. Take a small ball of cookie dough and roll it haphazardly (haha!) in a separate portion of crushed cornflakes.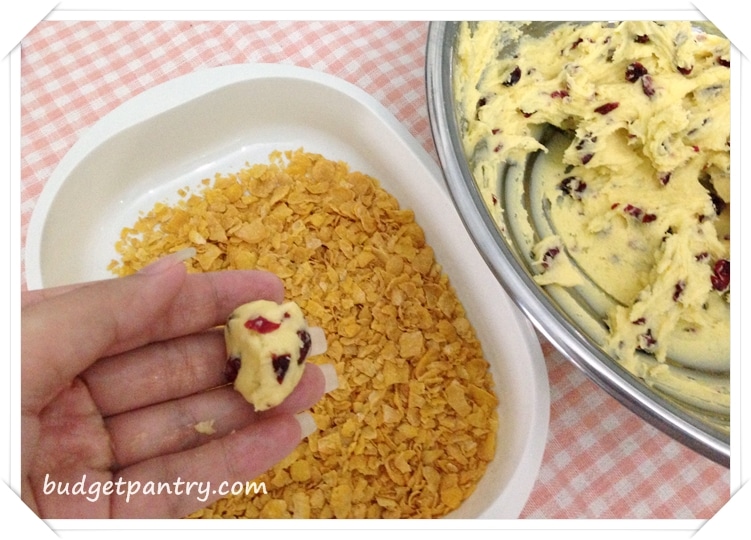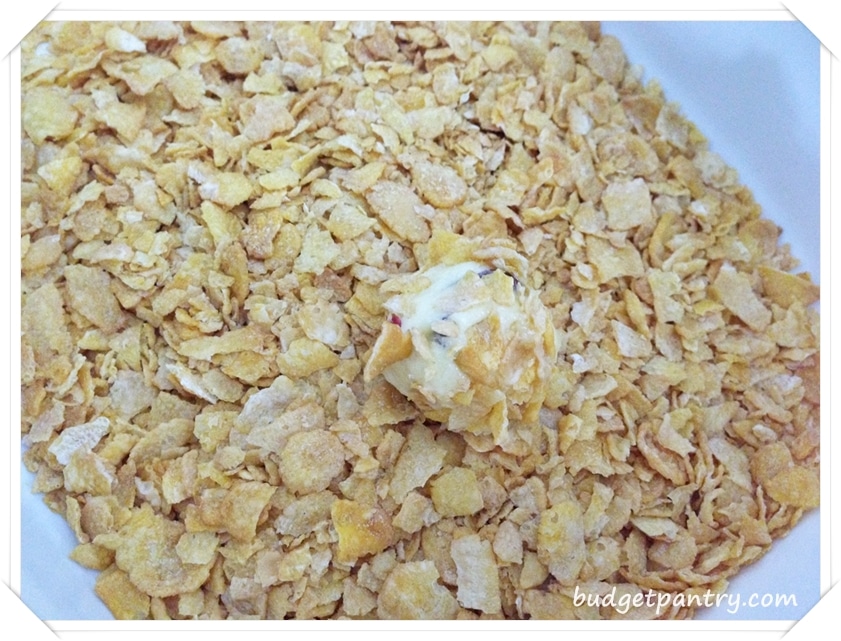 9. Line your cookie sheet with baking paper and bake or 20 minutes or til lightly browned.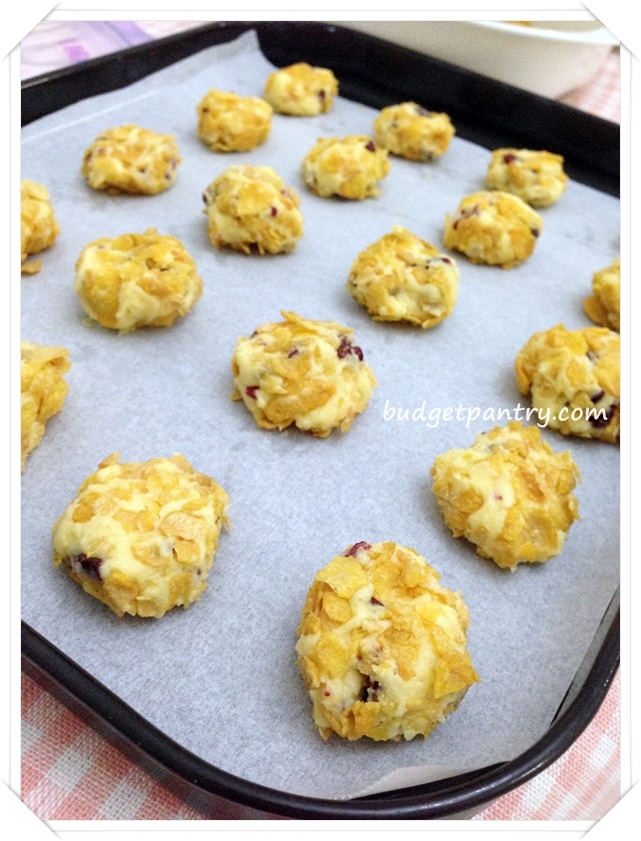 How much I spent:
$1.90 for cranberries (I bought a 500g pack for $12)
$2 for butter (I used half a block of SCS butter)
$0.42 for flour
$1.10 for cornflakes
$0.25 for egg
Everything else from my pantry