Fried Chicken with Vegetable Medley and Salad Prawns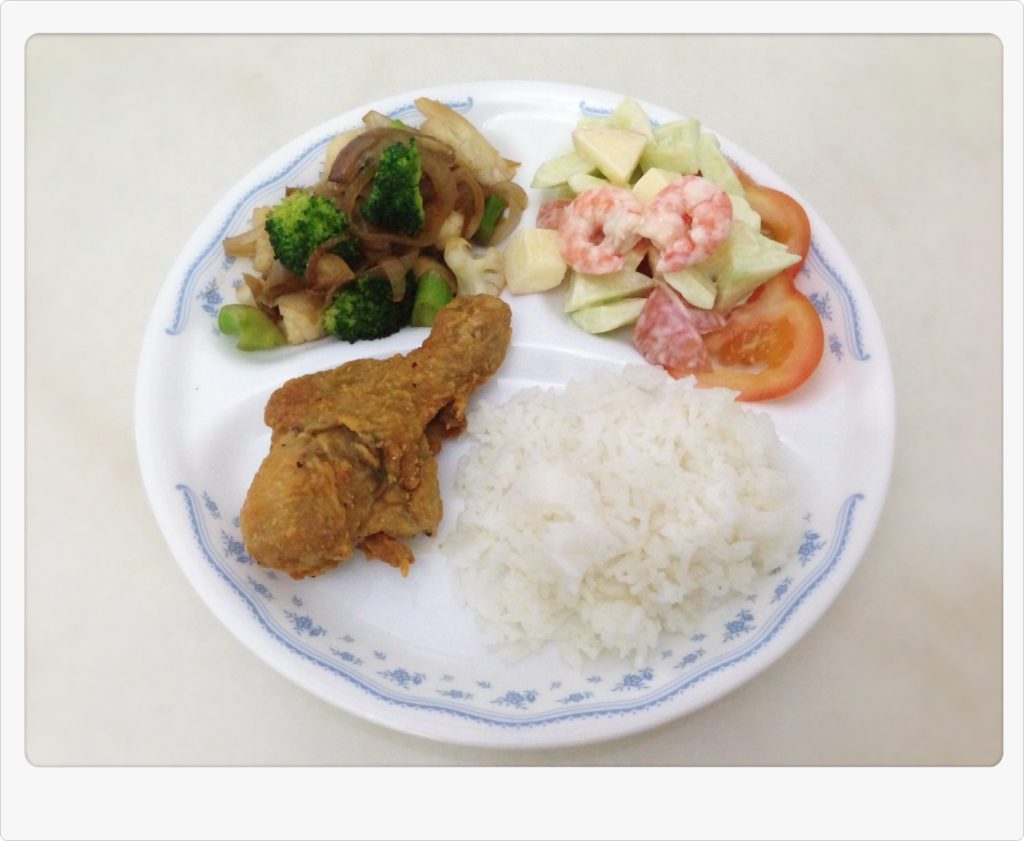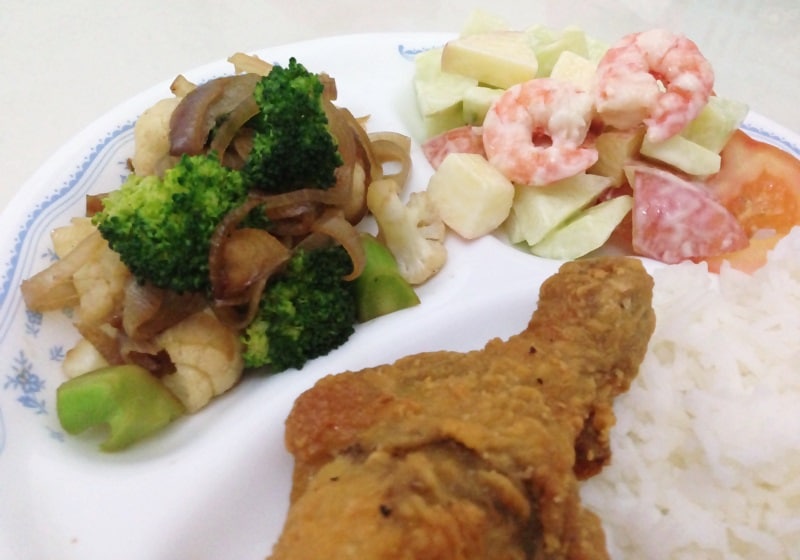 Guess which component of this dish I grew up eating? The fried chicken? Yes in a way, I'm such a fried chicken fan, but it is the salad prawn with Heinz salad cream that hits home here. This was a childhood dish. Ah mm used to make portions of chilled salad prawns with just three ingredients: cooked tiger prawns, cucumber and Heinz salad cream. Not mayo, not miracle whip, not just any salad cream, but Heinz salad cream.
I always looked forward to this dish, i.e, eat up all the prawns and leave the cucumber to everyone else cos I hate cucumber. Just kidding, though I secretly wished I could do that. My version for yesterday's lunch was with the addition of crunchy Fuji apples- they really do go well together. This was also a way to sneak some fruits into Ah-mm's diet- the only fruit I've seen her eat in a long time is the durian, so I try to cook with fruits if I can. Sometimes I add grapes, sometimes pear, but we had apples in the fridge yesterday.
The vegetable medley is delightful and very easy to whip up. I am addicted to broccoli and can polish off a whole head (or more) by myself in one sitting. The best way I like to enjoy my broccoli is have them boiled or steamed to just the right crunchiness, plain. Bliss, to me, is just me and my broccoli, for lunch or dinner. Unfortunately, my aunts don't really fancy lightly cooked vegetables. I still cook the broccoli and cauliflower cautiously though, but add a pat of butter and saute some sliced onions for flavour whenever they need some florets in their diet.
The fried chicken? I don't deep fry things but once in while (after I got the most amazing kitchen appliance in the world- the Airfryer), I buy pre-cooked packages of fried chicken and serve them with lots of greens as a treat for my family. With the Airfryer, I don't have to cook them in hot fat a second time, and additional fat actually gets forced out from the fried stuff. The evidence is collected at the bottom of the Airfryer everytime I reheat something deep fried. Trust me, I reheated a Cronut in there on Monday. The amount of oil collected was more than this fried chicken.
Serves 2
What I used:
1/3 broccoli
1/3 cauliflower
1 tsp butter
1 onion, sliced
4 tiger prawns
1 Fuji apple, cubed
1/2 cucumber, cubed
1 tbsp Heinz salad cream
1/2 tomato (optional, for added vitamins)
2 precooked chicken drumsticks
For the salad:
1. Boil prawns in hot water til just cooked.
2. Mix with cucumber, apple and salad cream, then chill.
For the vegetables:
1. Heat butter in pan, then add onions and saute til soft.
2. Add lightly blanched broccoli and cauliflower, mix well and cook for 2 mins.
3. Add a pinch of salt to taste. (you can leave this out. I didnt use soy sauce for this cos I needed this to be dry)
For the fried chicken:
1. Buy this, then airfry at 180degrees for 12 mins:
How much I spent:
$1.75 for drumsticks (2 packets of total 16 drumsticks- 1 for 1 at Giant for $13.50)
$1 for broccoli and cauliflower
$0.15 for tomato
$0.20 for cucumber
$0.40 for Fuji apple
$1 for prawns
Everything else from my pantry
Total cost per serving: $2.25
——————————————————————-
I usually serve a protein and a vegetable dish for every meal, but more vegetables are good for you and I have cucumber I wanted to use up. If it were just me eating, I'd leave out the rice, since the broccoli and cauliflower are really filling enough. I made this for my aunts yesterday when Jason was at work and they loved their lunch. Cant say the same for Jason as he cant/ refuses to eat/ has a phobia for chicken drumsticks. I know right, he's just really strange like that.