Braised Crusty Chicken Thigh with Mushroom Sauce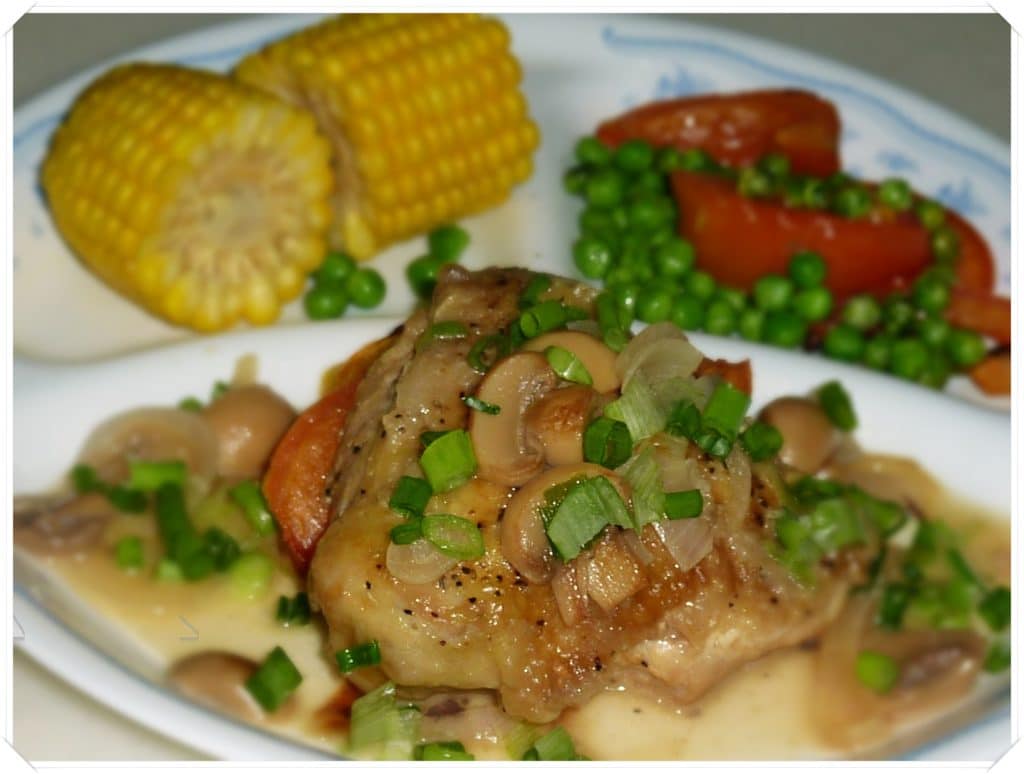 Ok, I swear I've been cooking other things apart from chicken, but I am very excited (yes by this chicken) and thought I should post this just in time for the weekend! Tender braised chicken thigh with a crispy skin, topped with mushroom sauce, served with corn and roasted tomatoes.. everybody should cook this tomorrow! Plus point is this dish was completed in 30mins, tops, including cutting, chopping, airfrying, braising, plating and washing up. This is the prettiest and one of the easiest chicken dishes I've cooked!

Makes 2 servings
What I used:
2 chicken thighs
3 tbsp corn flour
1/2 tsp salt
1/2 tsp black pepper
1/2 (small) can of button mushrooms, sliced– use fresh mushrooms (shitake, white, etc) if you have. I just forgot to buy it this week!
2 tbsp olive oil
100 ml white wine
300 ml chicken broth (alternatively buy no msg stock cubes and dissolve half a cube in hot water)
1 tsp Worcestershire sauce
1 sprig spring onion, chopped
1 onion, sliced
(Sides)- 1 tomato (I drizzled some olive oil and airfried them), green peas, corn. you can come up with whatever other sides you like! I suggest roasted or boiled potatoes!
1. Season chicken thighs with salt and black pepper, then dust with corn flour.
2. Airfry at 180 degrees for 10 mins skin side up, then turn up to 200 degrees and airfry for another 5 mins.
2a. If you haven't got an Airfryer, heat oil in a small pan over medium-high heat, then sear chicken thighs one by one, skin side down first (we want crispy skin!), for 4 mins each side. Remove chicken from pan. (*Use a saucepan that you use to cook instant noodles with which can fit both chicken thighs side by side when braising because we want the braising liquid (white wine and chicken broth) to come up til right below the chicken skin. If a large pan is used then you need to double or triple the wine and broth just to braise. Waste of money.)
3. In the same pan, add onions and fry til translucent and soft, about 4 mins. Add mushrooms and toss til browned. Return chicken to the pan.
4. Add white wine. Let it sizzle for 2 mins then add chicken broth, and Worcestershire sauce, making sure the liquid comes up to just below the chicken skin.
5. Braise for 10 mins. The liquid will be reduced and should now look like this: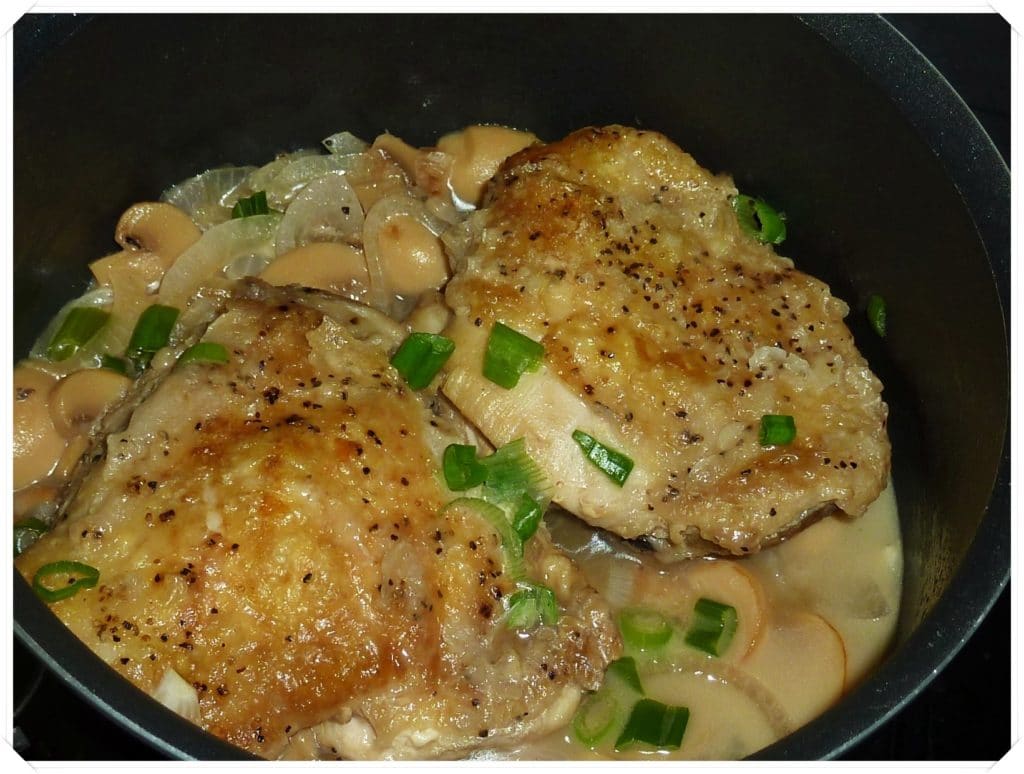 6. Carefully remove the chicken thighs and transfer each to a plate. Spoon remaining sauce, mushrooms, and onions over the chicken. Sprinkle lots of chopped spring onions all over.
$1.60 for chicken thighs (i bought "Frangosul" frozen chicken thighs 2 kg for $7.95 from NTUC)
$0.30 for tomato
$0.55 for corn
$0.50 for button mushrooms
Everything else from my pantry
Total cost per serving: $1.48
——————————————————————-
See what I mean when I said this is really simple to whip up? This dish looks and tastes incredible, and it being so easy, everyone can cook this.. wow your gf/bf or family this weekend :)