Cheaterbug Recipe: Grilled Sutchi Fish with Yeo's Sambal Udang Sauce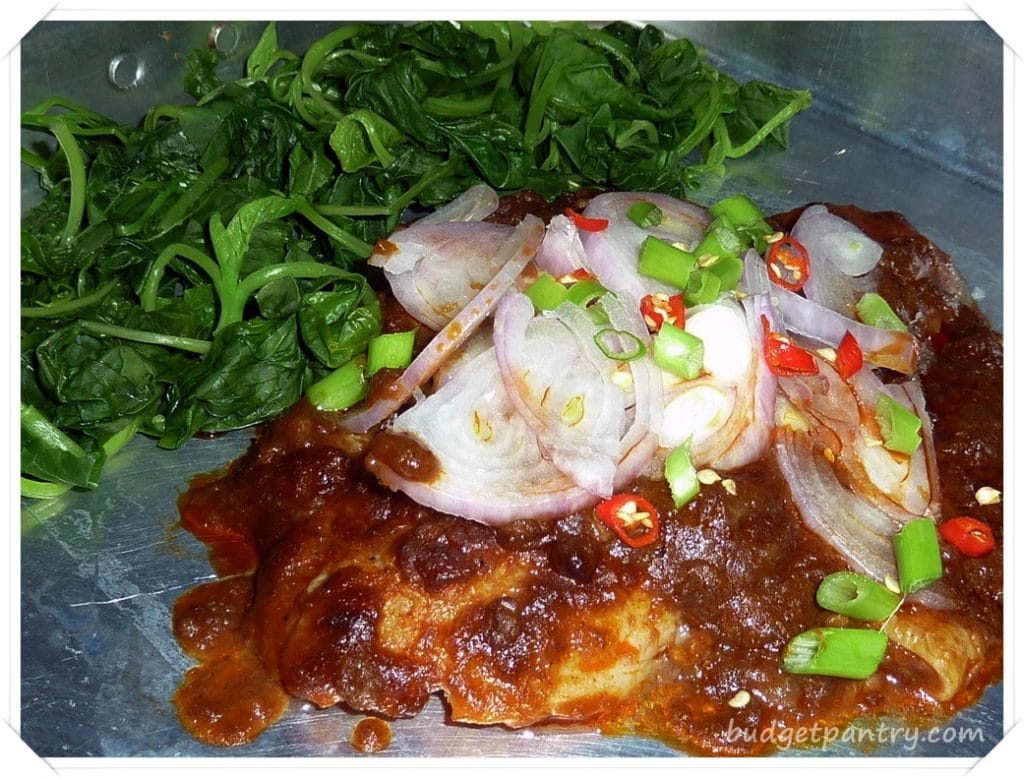 Anybody loves Sambal Stingray? We had a cheat version at home with white fish and glorious canned sambal sauce, topped with chopped onions, spring onions and chili padi! To "attempt" to make it healthier (don't eat canned food la), I served it with blanched spinach. So although this is very delicious and extremely idiot-proof, please don't cook it regularly because of the sodium content in canned food.
My secret: Yeo's Sambal Udang!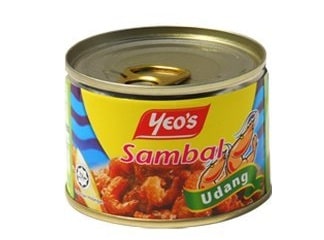 I haven't seen this in NTUC.. I get it from Sheng Siong for $1.45 a can. Jason introduced this to me because I don't usually eat canned food, and he said that he used to eat it just like that with plain rice. This is not just sambal, it is little shrimps cooked in sambal.. so it is a legitimate "side dish". I tasted it once but wish it was less salty.. I can't eat this alone with rice! So I thought of using this as a topping over fish.. and this easy recipe was created.
Makes 2 servings
What I used:
1 piece sutchi fish or any fish you like, serious!
1 can Yeo's Sambal Udang
1 purple onion
1 tablespoon chopped shallots
1 small teaspoon olive oil
Chili padi, spring onions, parsley for garnish
1. Preheat oven to 200 degrees. Place sutchi on an aluminum baking pan and bake for 15 minutes til cooked.
2. When fish is almost done, heat up oil in a small frying pan. Fry the shallots til fragrant.
3. Add the Yeo's Sambal Udang, combine and heat through. Switch off the flame once sauce is bubbling.
4. Pour over fish and top with chopped onions, chili padi, parsley, spring onions and eat immediately! Please have a side of vegetables to go with it. Broccoli is good too!
How much I spent:
$1.20 for sutchi fillet
$1.45 for Yeo's Sambal Udang
$0.30 for onions
Everything else from my pantry
Total cost per serving: $1.48
——————————————————————-
Eat with lots of rice (me asking you to eat "lots of rice"? this is coming from my Cylon clone. ) ! You can also use the sauce with prawns and other seafood.. they go well together. Try it and let me know how it goes :)