Braised Chestnut Chicken Casserole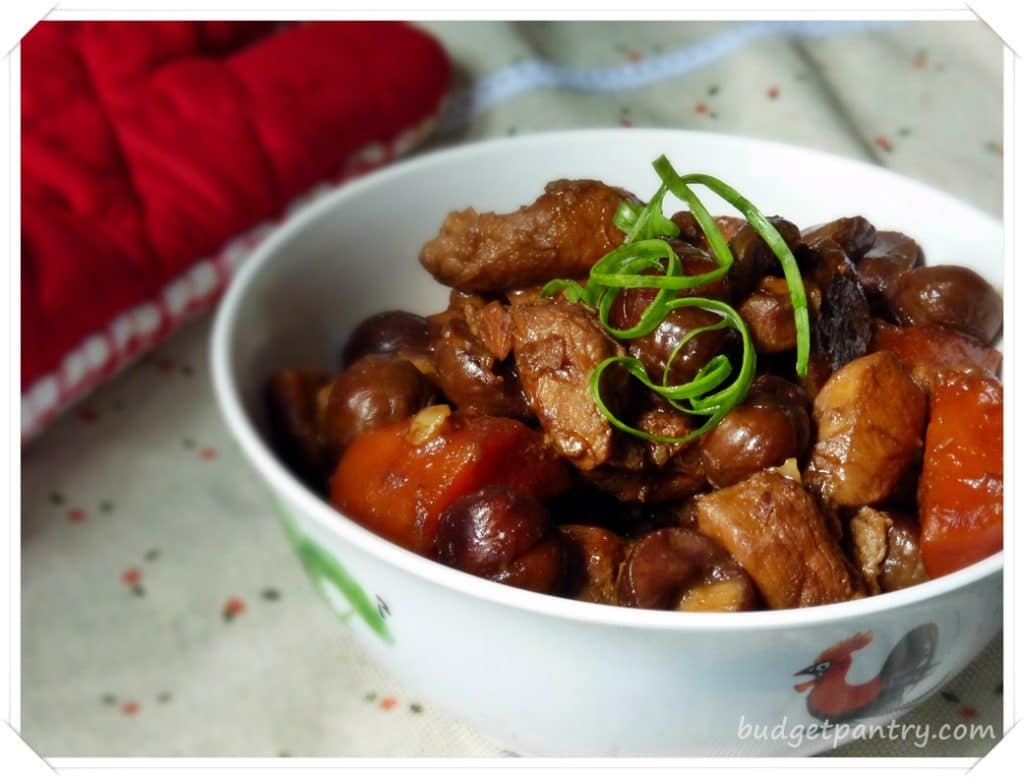 This is hot off the stove because I just cooked this for lunch, yes today! I used vacuum-packed, ready to eat chestnuts for convenience. One thing that puts most working adults off cooking is the prepping of ingredients. I'm not about to have you cut an "X" on the chestnut shells, roast them or boil them and spend the whole afternoon shelling them AND rubbing the tough membrane off them before you can prepare a warm meal.
If you insist on cooking erm, "authentically", I suggest you get peeled chestnuts from the chiller department of Sheng Siong. They're $2 a packet, uncooked, untreated, but already naked for convenience. I was gonna get them but they ran out. See what I mean about NO ONE wanting to get those nuts outta their shells manually? So I got the next best thing: ready-to-eat vacuum-packed chestnuts. The dish turned out great anyway.
I marinated the chicken fillet overnight because I don't like to spend a long time in the kitchen at any one time, prepping and prepping. It makes me feel like cooking is a chore, which it isn't, and I love cooking! If you don't usually cook and want to devote more time in the kitchen, simple marinate the chicken for 20-30 minutes on the day itself just before cooking. This dish is also great with chicken wings.. but I don't normally feed my family chicken wings for health reasons even if they do taste so good. Chickens are often injected with steroids at the neck or the wing.. so I believe that the level of steroids is higher at these areas. I'm not a doctor or healthcare professional, but this is the way I choose to eat! And chicken fillet has less fat and they still taste so good.
Makes 4 servings
What I used:
600g chicken fillet, cut into bite sized pieces, marinated with:
a) 1 tablespoons soy sauce
b) 2 tablespoons dark soy sauce (not the runny, very salty kind)
c) 1 satchet sugar
d) 1 tablespoon chinese cooking wine
e) 1 tablespoons corn flour
f) a dash of white pepper
g) 1 tablespoon finely chopped ginger
1 carrot, chopped to bite sized pieces
2 packets of vacuum-packed chestnuts
a few cloves of garlic, peeled and crushed lightly (optional)
1 tablespoon chopped shallots
2 slices ginger
1 teaspoon olive oil
700ml chicken stock (dissolve one chicken stock cube in hot water, then add 1 tablespoon oyster sauce + a dash of sesame oil)
1. Heat up your saucepan. Add oil and fry ginger and shallots til fragrant.
2. Add in the garlic pieces and chicken. Discard leftover marinate juices. Fry for 4-5 minutes then add carrots and chestnuts.
3. Add the chicken stock, sesame oil and oyster sauce. Bring to boil then lower flame to simmer for 20 minutes til chicken is tender.
How much I spent:
$4 for chicken fillet
$3 for chestnuts
$0.30 for carrot
Everything else from my pantry
Total cost per serving: $1.83
——————————————————————-
When I tasted this during cooking, I thought to myself.. "wow.. this is just like homecooked food!" Then I realise how silly that sounds cos this is homecooked food! If you're thinking of cooking something for your family today, why not try this simple dish? All the ingredients are combined together to cook slowly.. the chicken pieces become so tender and the chestnuts break down and lend a sweet, nutty flavour to the dish. Plus, if you choose to add garlic (I love them!), you'll get little surprises when you bite into one.
Because everything cooks together in one saucepan, there is minimal clean up and because this is a braised dish,you don't have to worry about temperature, whether the meat is overcooked or not. Nothing gets easier than this (erm ok except some of my idiot-proof recipes), and I promise, you'll get a sense of satisfaction dishing this up!