Juicy Oven-Baked Pork Chop in Char Siu Sauce (Airfryer option!)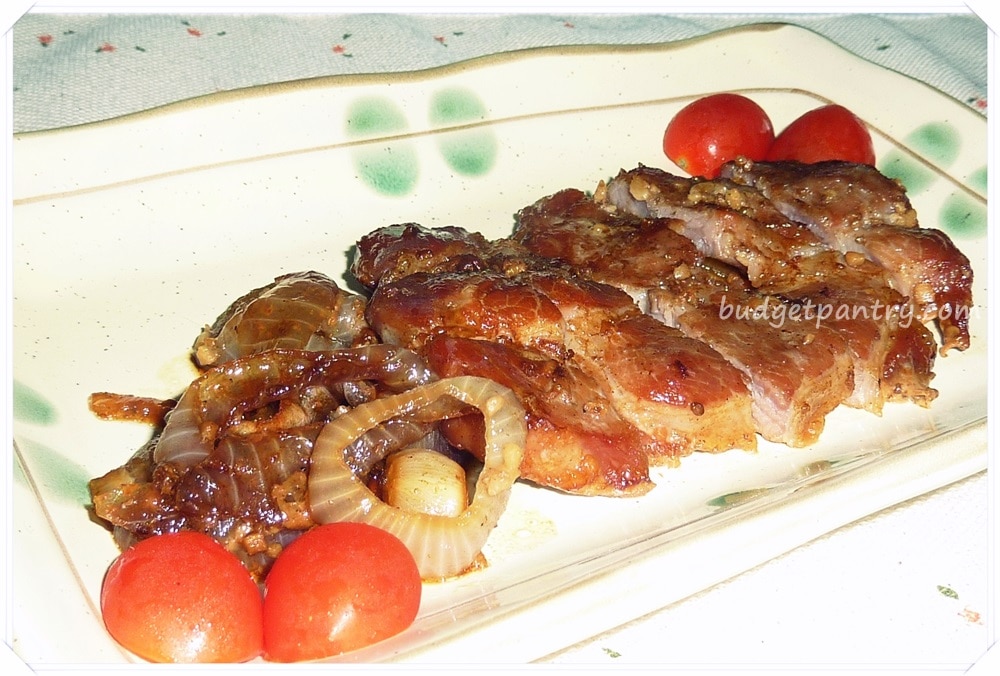 I experience major cognitive dissonance when it comes to pork chops. One part of my brain (the health freak part) tells me I should cook with pork loin chops, the lean meat that hardly contains any fat, and the other part (the understanding, indulgent twin) tells me I should always make pork chops with pork shoulder butt.

I don't particularly like the texture of pork loin because those that I've had outside tend to be a little dry as the meat is very lean. Some people love the texture though, but not me.. I love a juicy, succulent  piece of pork chop with some fat.. which the seasoning caramelises together with to form a savoury, sticky sauce that coats the meat perfectly. There isn't that much fat in reality.. it is ok to have some fatty meat (it's not that bad anyway) as long as you watch portion size. Everyone should make pork chops with pork shoulder!
I prepared this dish two ways- oven baked the first time as I was cooking a few pieces together, and airfried the next day for a single serving. Both were lip-smackingly tasty and tender. The airfryer version didn't have much gravy because I used the grill pan, but it was still very juicy. Because my table-top oven is small, I always cover chicken or pork with foil before baking so that the meats don't burn or dry up easily. To reduce the stock which I cook the meats in, remove the foil for the last 10 minutes and spray some cooking oil on top to get the glaze or crusty finish. The meats always turn out moist this way.
The picture above is making me drool.. I can even see the marbling of the meat! (click on the pic to enlarge it!)
Juicy Oven-Baked Pork Chop in Char Siu Sauce (Airfryer option!)
(budgetpantry.com)
Serves 2
Cost per serving: $1.45
What you need:
2 pieces pork shoulder (approximate size above- about the size of your palm)
2 tablespoons Worcestershire sauce
2 tablespoons minced garlic
1 tablespoon char siu sauce to coat (I used Lee Kum Kee)
A dash of black pepper
2 onion, sliced into rings
1 tablespoon olive oil
Approx 100ml stock or water (depending on the size of your baking dish)
Steps:
Marinate pork shoulder with worcestershire sauce, minced garlic, pepper and char siu sauce for at least 3 hours. Do not cut yet.
Preheat oven or airfryer to 200 degrees.
If using oven: In a clear pyrex/glass baking dish, scatter onions all round to line the bottom, then position pork shoulder on top of the onions so that they don't touch the dish so much. Add the stock or water til they come up to about 1/3 the level of pork chops, then cover the baking dish tightly with foil. Bake for 25 mins. When the 25 mins are up, remove foil, drizzle olive oil all over the meat, and bake for another 10 minutes. 
If using airfryer: AF on grill pan at 200 degrees for 12 minutes.
Cut into pieces and serve with cherry tomatoes.
How much I spent:
$2.30 for pork shoulder
$0.60 for onions
Everything else from my pantry