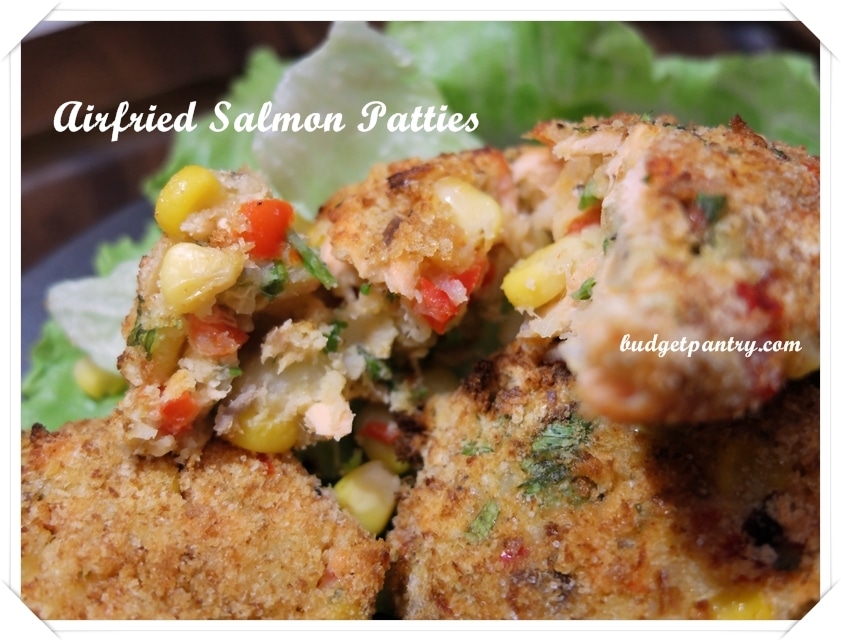 [Airfried Salmon Patties] is one of the earliest dishes I made in the airfryer, and it has appeared on our dinner table many times since. The dish is easy to prepare, budget-friendly, pretty healthy and chockful of flavour.
We usually buy our salmon frozen. They come in a packet of 6-7 salmon portions for about SG$22. You have no idea how much easier my dinner preparation has become because of them. All I do is this: remove frozen salmon from the freezer and transfer to the centre fridge compartment the night before, get home from work the next day, clean and dry salmon, season lightly (usually with home-made teriyaki sauce or lemon butter, and now I also have a favourite lemon-mayo + dill dip!), preheat my AF, and finally grill for 6 minutes at 180C.
In the meantime, I get some rice cooked and make a small salad. And dinner is ready in less than half an hour! Because I reach home at 6pm, I'm usually done with dinner preparations by 6.30pm max. Thank you Philips Airfryer. Because of you, we're eating more fish (I almost NEVER cooked fish because I hate the oil splatter, and I'm not a fan of steamed fish) and I'm spending less time in the kitchen. You have improved my life in more ways than you can ever imagine. You have my vote for BEST KITCHEN APPLIANCE EVER!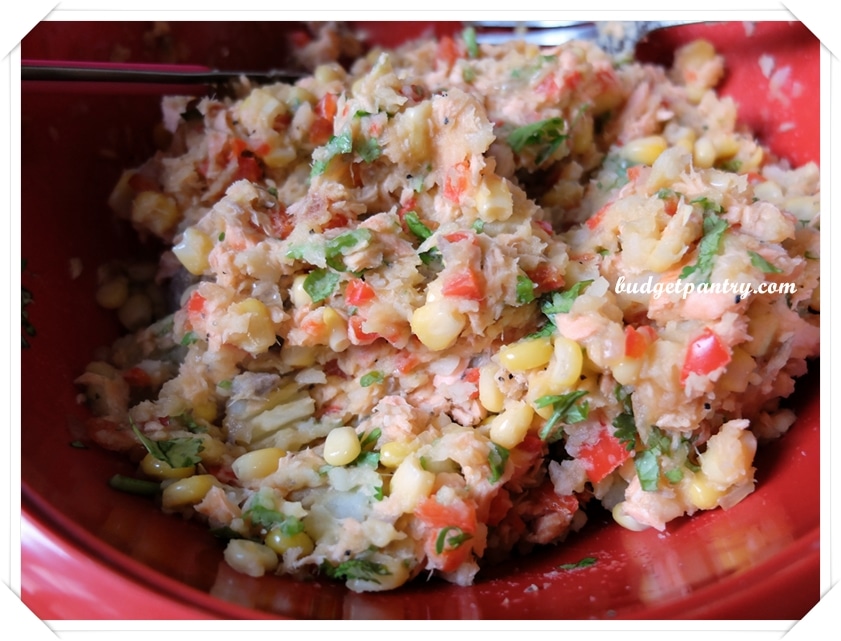 Although the AF makes really delicious and moist grilled salmon, I wanted to eat salmon in more ways than grilled all the time! This weekend, I thought that I would make the salmon-potato patty that Jason likes very much, although the preparation was just a tad more troublesome than simply seasoning and airfrying a salmon steak.
I mashed three large sized Russet potatoes as the base- they're the best for mashing because of their high starch content. To that, I added some mixed vegetables for crunch and colour, and some chopped parsley for a flavour lift. The seasoning was simple: just some salt, pepper and dill. And of course, I airfried a salmon portion and flaked it into the bowl before adding an egg and mixing them all up.
Shape into the size you like and coat with breadcrumbs. You could also shape these into little salmon balls (like finger food for the kids) instead of patties. Spray some oil before airfrying for 10 minutes to crispy, golden, perfectness.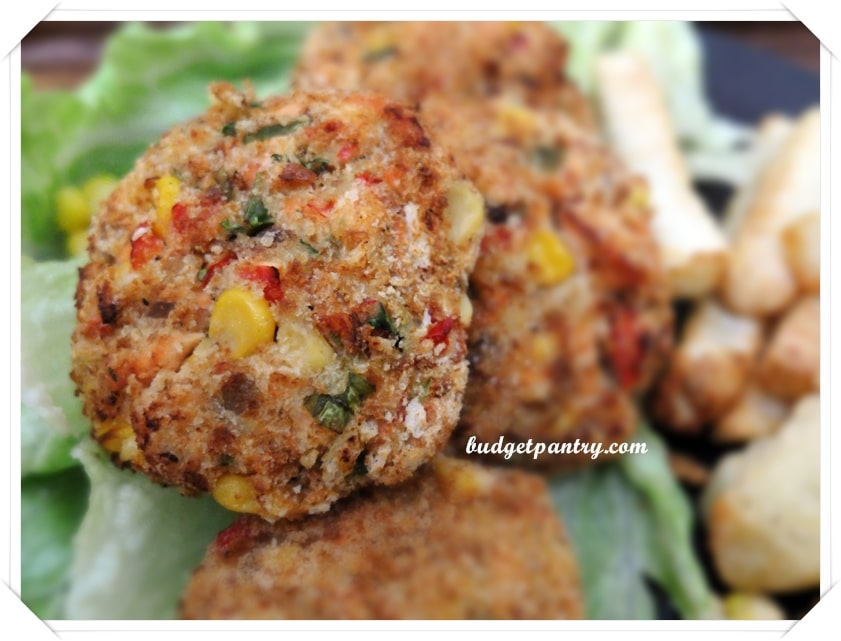 I served it with some mayo and lettuce leaves by the side. We loved it. I think you will too!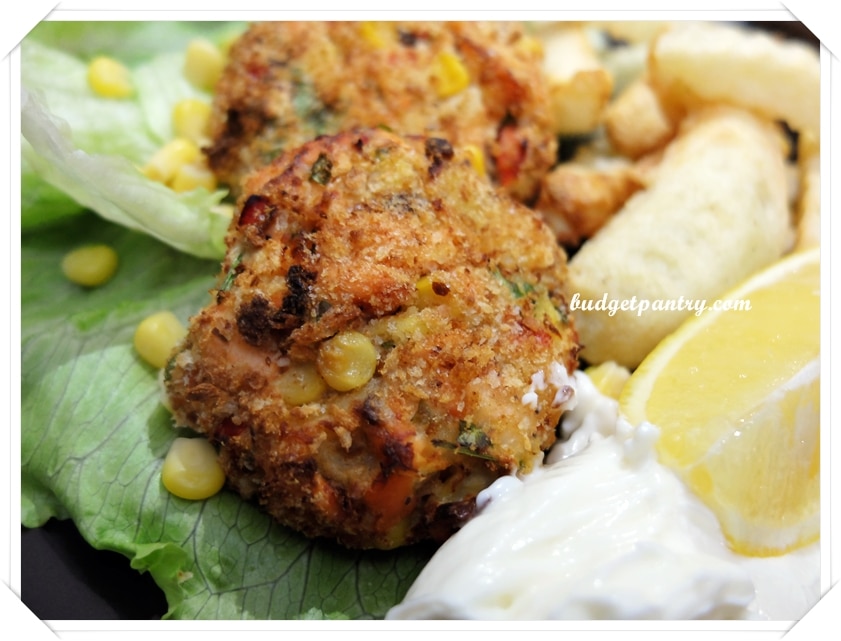 Airfried Salmon Patties (budgetpantry.com)
Makes: 6-8 patties
Total cost per patty: About $1
What you need:
3 large russet potatoes (about 400g total)
1 salmon portion (about 200g)
A handful of frozen vegetables (parboiled and drained)
Chopped parsley
2 sprinkles of dill (I used Masterfoods)
A few dashes of black pepper
Salt to taste
1 egg
Breadcrumbs to coat (you can use packaged panko or blend 4 pieces bread)
Olive oil spray
Steps:
Peel and chop potatoes into small pieces. Bring a pot of water to boil and cook potatoes for about 10 minutes or til tender. Remove water and return potatoes to the pot on low flame. Let the water evaporate (about 2-3 minutes), taking care not to burn the potatoes. Mash with a whisk and transfer to a large mixing bowl. Refrigerate til no longer hot.
In the meantime, prepare your breadcrumbs if not using packaged panko. Blend 4 pieces til fine but not overly so. Refer to my picture. Set aside.
Airfry the salmon. Preheat AF for 5 minutes at 180C, then grill salmon for 5 minutes. Flake with a fork and set aside.
Remove mash potatoes from fridge and add parboiled vegetables, flaked salmon, chopped parsley, black pepper, dill and salt. Do a taste test since everything is already cooked, and adjust seasonings to your liking. Add the egg and combine everything together.
With dry hands, shape into 6-8 patties or smaller balls. Coat with breadcrumbs, spray some oil (make sure the breadcrumbs get oil on them if not the colour won't be nice), and AF at 180C til golden (about 10-12 minutes). If using the grill pan, there is no need to line with aluminium foil like I did. If lining with foil, you need to flip halfway once the top is golden.
Serve with mayo and lemon with a salad on the side.
How much I spent:
$1.80 for potatoes
$3.70 for salmon portion (I used frozen)
$0.30 for egg
$0.60 for bread
Everything else from my pantry