Strawberry Soya Milk Cake
*I'm hosting a [GIVEAWAY] til 7 Jan '15 courtesy of Philips Singapore! Click on my Facebook post to participate! Good luck!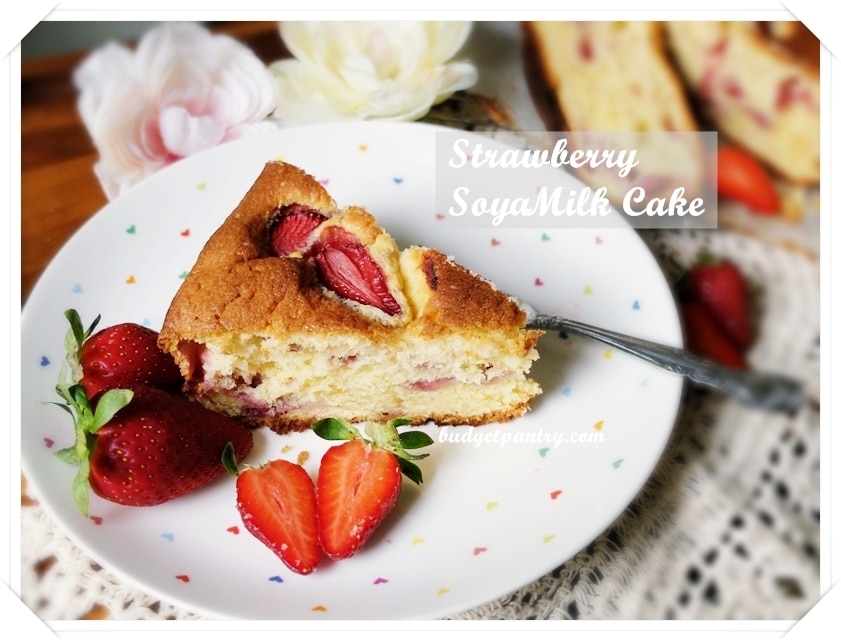 I love moist cakes. Cakes that are soft, bouncy with structure and not airy like chiffon. Don't get me wrong. I love chiffon, but even with chiffon, I like those from Prima Deli and Bengawan Solo which are moister than most.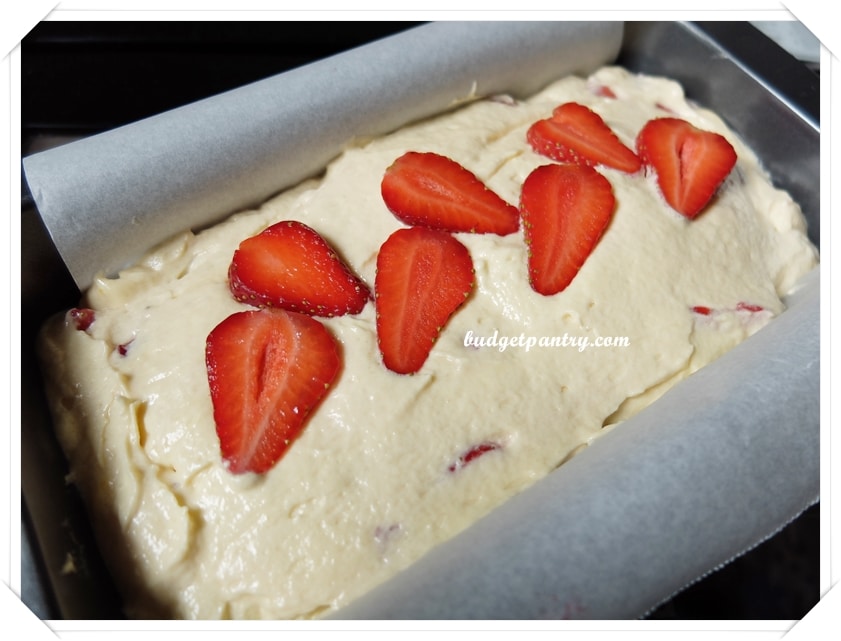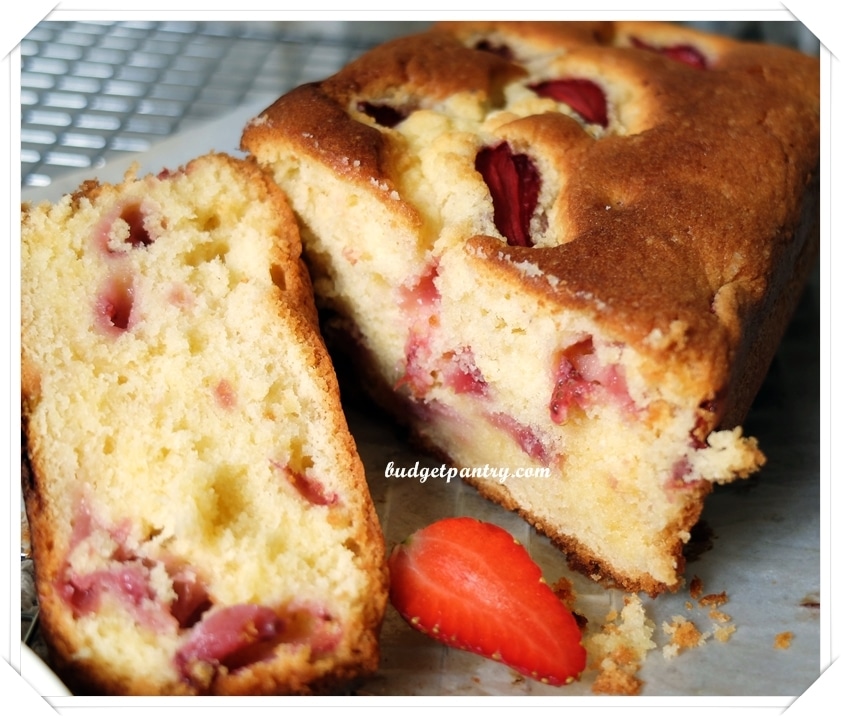 To up the softness in cakes, you'll need more fat and sugar. By softness, again I don't mean the sponge cake kind of softness, but moisture. For a cake to hold its structure, basically what does the work are your flour and eggs. If you have too much of your flour and eggs while reducing the butter and sugar (health reasons? I'll eat one slice of a proper cake than 3 slices of a reduced-fat cake anytime), you'll end up with a cake that is dry and hard.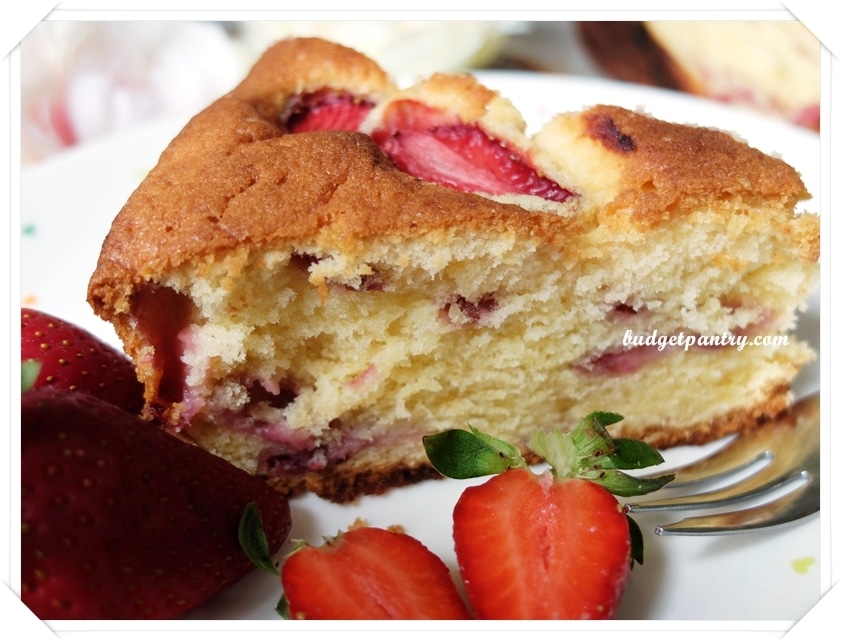 This cake isn't perfect – the temperature was too high and obviously I didn't wait for it to cool before slicing but it is delicious! I baked it at 170C and the top was a little too brown for my liking. In the recipe below, I have reduced the temperature to 160C and extended the baking time. As always, every oven is different. Mine is a small tabletop oven (with a faulty knob, if you have to know), so the temperature tends to rise faster. If you find that your cake is browning too fast mid-way, cover the top loosely with aluminum foil and continue baking until the middle is cooked.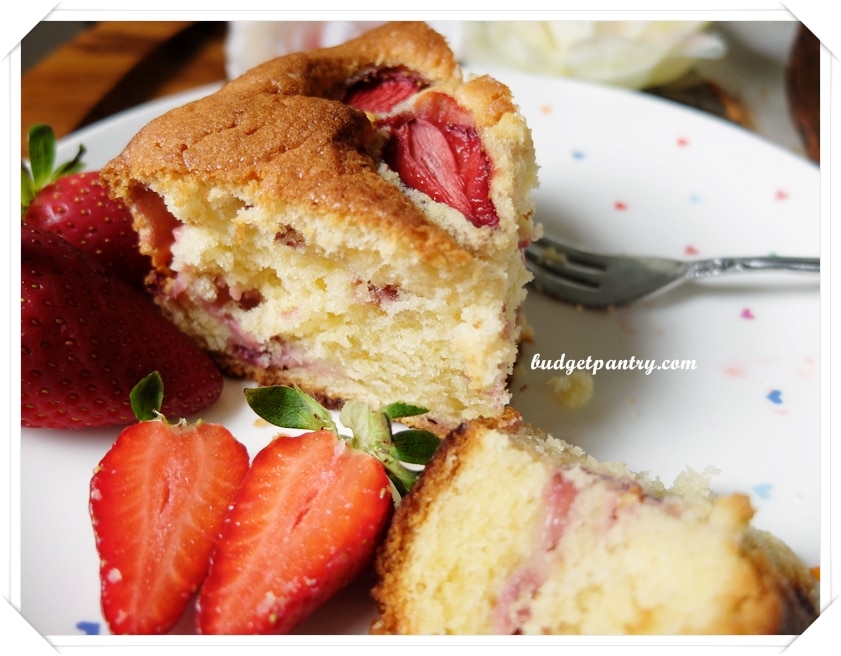 Using soya milk in place of regular (full-fat) milk makes the cake richer with a lovely, distinct soya scent. Combined with the slightly tart strawberries, even Jason, who doesn't really have a sweet tooth, had nothing but praises for it. I have a good mind to bake one this lazy Sunday!
Strawberry Soya Milk Cake
Makes: One 9 x 5 x 3 inch loaf tin
Total cost per cake: $4.84
What you need:
125g cold salted butter, cubed
110g fine caster sugar
3 large eggs (between 55g to 62g), separate whites and yolks in two bowls
120g self-raising flour
60ml soya milk (I used Drinkho- you can use any brand)
1 teaspoon pure vanilla extract
125g strawberries, cut into small pieces (set aside 4 strawberries and slice each into half)
Steps:
Preheat oven to 160C. Lightly grease a 9 x 5 x 3 inch loaf tin and line with baking paper.
In your stand mixer, beat egg whites til frothy (about 3 minutes). Add in the sugar and beat on high speed until stiff peaks and glossy. When done, keep in fridge til later use.
Beat butter til pale and creamy, then add the egg yolks, one by one (about 30 seconds before adding the next one), plus the vanilla essence.
Sift the flour. Add in two additions, followed by the 60ml soya milk. Scrape down the sides as you beat to combine.
Add the whipped egg whites and fold in til combined. Dust the cut strawberry pieces with a bit of flour first before folding them into the batter.
Pour the batter into your prepared tin and decorate the top with sliced strawberries. Bake for 50 minutes or until a toothpick inserted in the center comes out clean. Cool before eating, but I never do.
How much I spent:
$2.20 for butter
$0.90 for eggs
$1.74 for strawberries (I used half a box of 250g/$3.49)
Everything else from my pantry