Jamie Oliver's Chicken in Milk Recipe
I know, who needs another roast chicken recipe?
Actually, you do! I love roasting chickens whole not because like what others say, the juices are better retained etc etc, but because I don't have to chop the chicken into pieces.. very leh ceh (troublesome)! I like roasting chickens also because they're cheaper than other meats. Griller chickens between 800g to 1.2kg usually cost less than $4 (I recently bought 3 for $7.90 from Giant) and can feed my family of 4. Jason gets the breast meat, I take one thigh, Ah-mm takes the other, any 88 loves the chicken wings!

So I was searching for chicken inspirations the other day and came across Jamie Oliver's recipe: Chicken in Milk. Sounds yummy! Some bloggers who have tried the recipe went as far to comment that this was the best chicken they've ever tasted/in the world. The chicken is indeed pull-apart tender (look at the pics!), and the milk and lemon combi is creamy but not that creamy (I describe things so well, I swear!).. very fragrant and unlike any other chicken I've made.
I seasoned the chicken with butter, black pepper and rosemary, and browned it with my air fryer before placing it in a pyrex dish to be roasted in the oven. If you don't have an air fryer, please get one/have someone get you one for Christmas. If that's not possible or if you wish to wait for next year's Christmas for I don't know what reason, you can also brown it in a dutch oven or large pan. Next, you grate the zest of one lemon all over the chicken, place half a lemon inside the cavity, pour in the milk, scatter some garlic cloves, and basically, your job is done.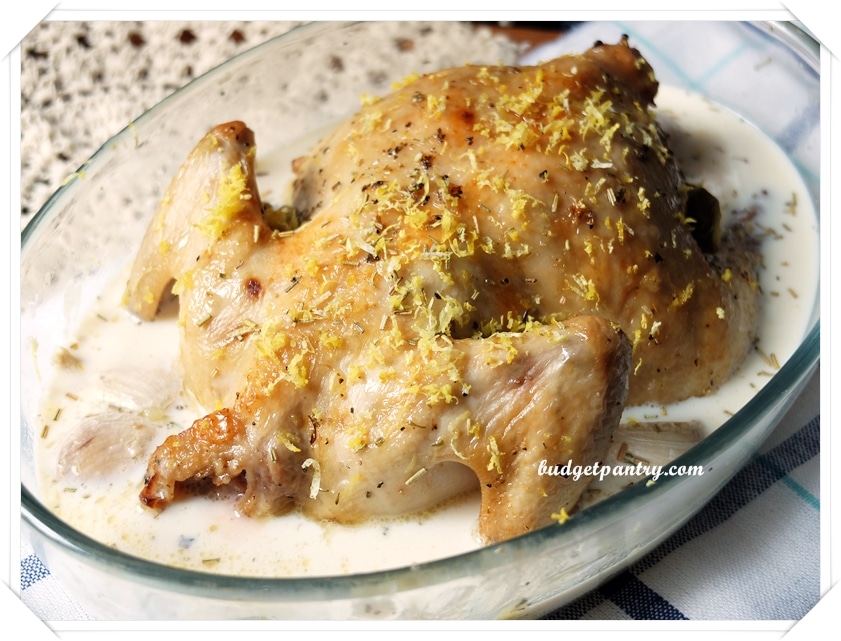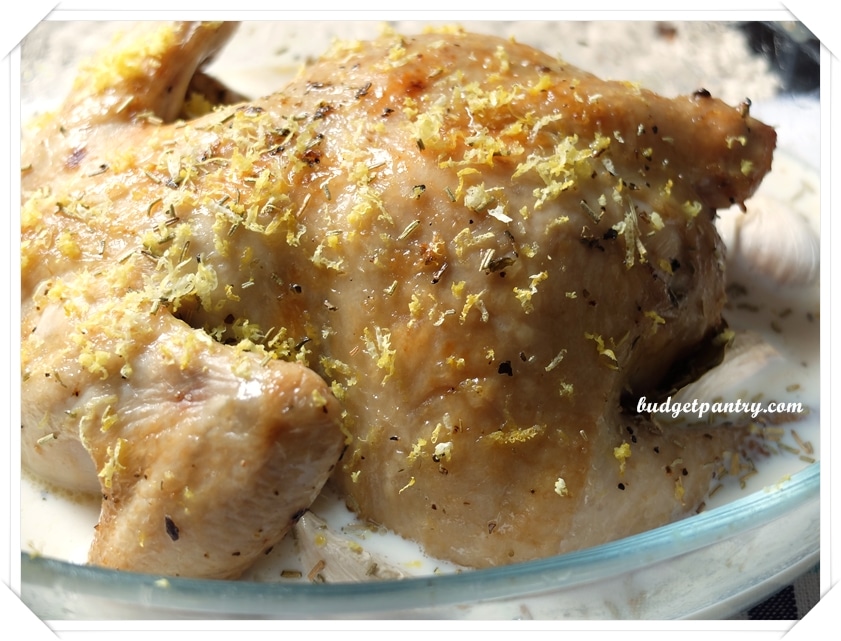 Although the recipe didn't call for it, I covered the baking dish with aluminium foil before baking, so that the chicken would be moist and tender. I removed the foil in the last fifteen minutes for the skin to become slightly crispy. There are a few sides I can think of to serve this with: mushrooms, beans, cabbage, carrots, potatoes, asparagus.. even rice. I chose to saute some shitake mushrooms and french beans in garlic and spooned them over the chicken when the roasting was done.
One of the best chicken dish I've tried.. not THE WORLD'S BEST, but very good, although the combination of milk and lemon sounds weird. =) I varied the recipe as I didn't have sage and cinnamon, but it was still delicious. Try it, quite fool-proof! See how tender the meat is.. you won't go wrong!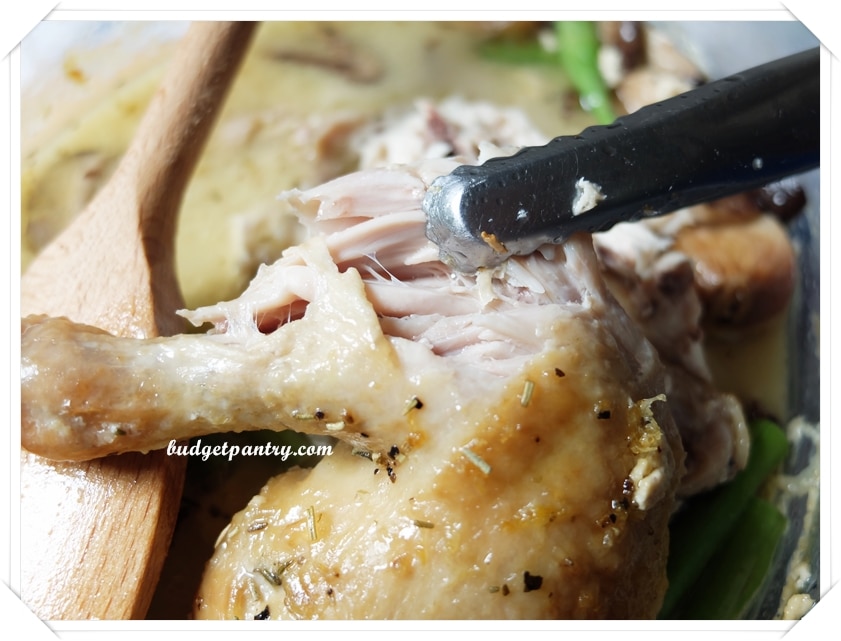 Jamie Oliver's Chicken in Milk
Serves: 3
Cost per serving: $1.45
What you need:
1 800g-1.2kg chicken griller, washed and pat dry
500ml milk (I used Farmland packet UHT)
50g salted butter
8 cloves garlic, crushed with skin on
1 lemon (zested and then halved)
Coarse black pepper
A sprinkle of dried rosemary
Shitake mushrooms and beans cooked in olive oil and garlic(optional)
Steps:
Preheat oven to 190C. Preheat air fryer to 200C (if using).
Rub butter all over chicken, season with black pepper and dried rosemary.
Airfry for 10 minutes til skin is browned, or you can also brown the chicken all over in a large pan. Don't worry about it being uncooked- we just want the colour at this stage.
Remove the chicken from the air fryer/pan and pop the half lemon into the cavity. Place chicken in a pyrex or baking dish.
Pour in the milk and top with lemon zest. Scatter the garlic all over inside the dish.
Cover tightly with aluminium foil and bake in the oven for an hour. Remove the foil after an hour and continue to roast for the remaining 15 minutes. Spoon gravy over chicken and top with cooked mushrooms and beans before serving.
How much I spent:
$2.65 for spring chicken (on promotion 3 for $7.90 from Giant)
$0.70 for lemon
$1 for milk
Everything else from my pantry