Top 3 baby essentials that saved my sanity
First-time-moms have at least one thing in common: we buy things which we end up not using! I don't feel guilty about those purchases though.. we don't buy we don't learn. Right? RIGHT?! And if anything, there's carousell! (I've realised that selling baby/nursing stuff on carousell is generally pain-free because mommies. I don't want to be reminded of the time I tried to help the husband sell his spare phone…..)

I've bought a few items which I've regretted – not a lot, but there are some. Like the infant insert, nursing wear from Taobao which are way too short, too many long-sleeved rompers (buy footed pyjamas instead!), her baby cot (true story)…. but there are also purchases that have helped preserve my sanity. Now that the baby girl is 5 months old, I've done a "stock-take" of everything baby-related that I own, and here's my top 3 essentials:
1. THE KOKADI FLIP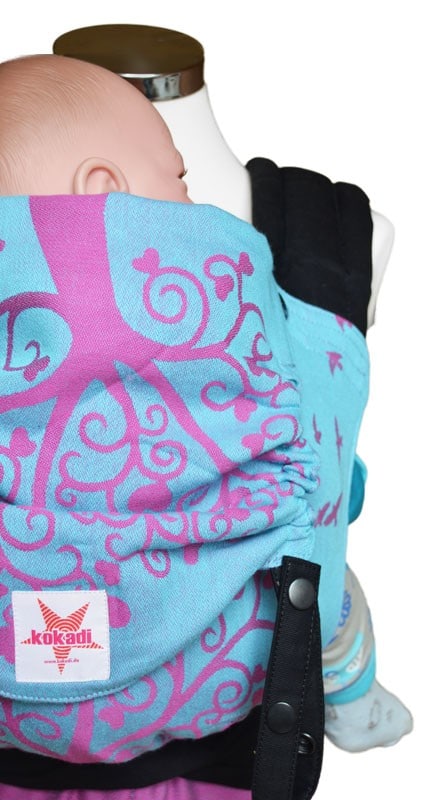 Like many new moms, one of the first things I bought when still pregnant, was a baby carrier. A Tula, to be exact, because the prints are so pretty! I also got the infant insert because anything under 7kg just use the insert right? Except it didn't really work out for me.
Cbb is a relatively easy baby, even from the start. But there were times in the beginning where nothing I did could sooth her. Sometimes she could accept being in the insert (like 2% of the time) but most of the time, she would have none of it. Being a clueless new mom, I was exhausted, helpless and frustrated.. until the Kokadi came along.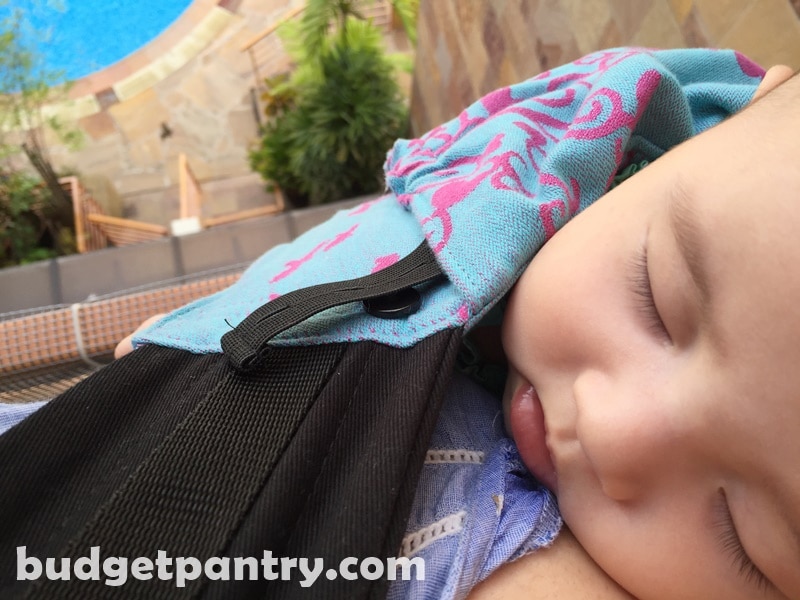 Truly, my life instantly turned around. Lots of baby dust suddenly was sprinkled all over cbb, and she slept the best she has ever slept in her Kokadi. It is adjustable and super easy to figure out, and it is a cinch to achieve the M shape so that her spine and hips are properly supported. I dare say the kkd saved me from going nuts in the early days, and I use it even now! She loves being in it.. it makes her feel safe cos she's close to me, and it allows her to look around curiously one minute, then shut everything out and just sleep the next. Just 10 minutes is all it takes for cbb to drift off to dream world. Just to prove I didn't imagine the sleeping dust: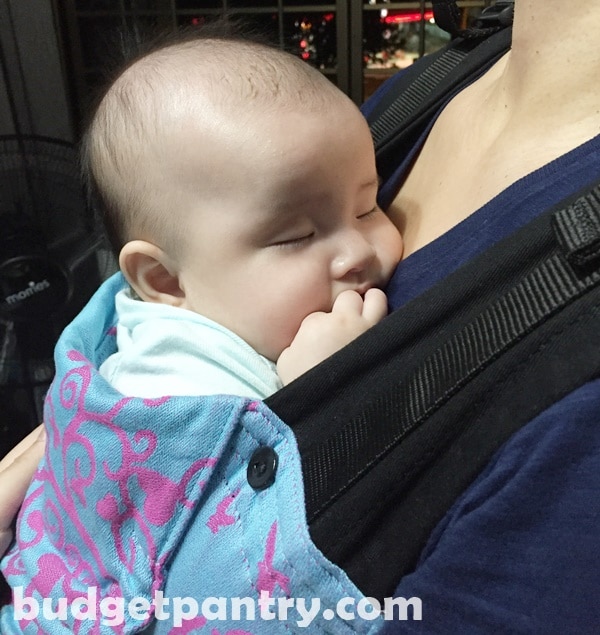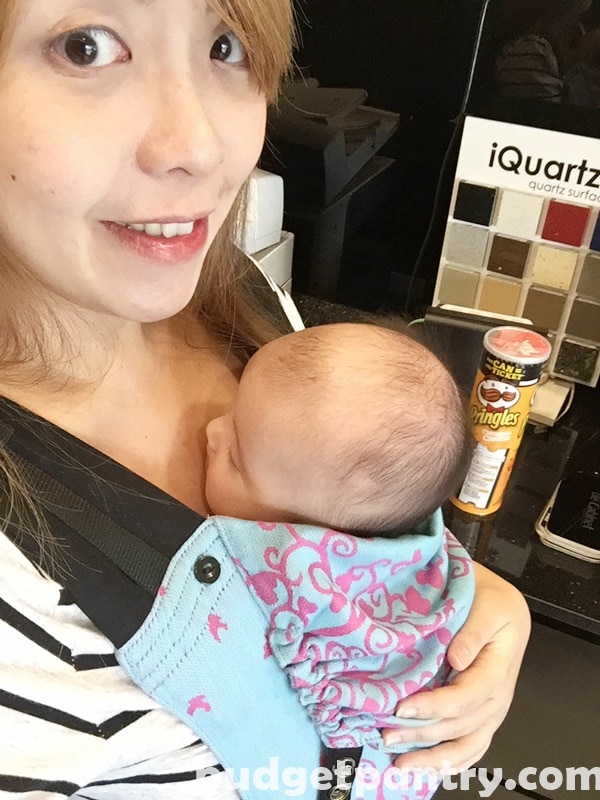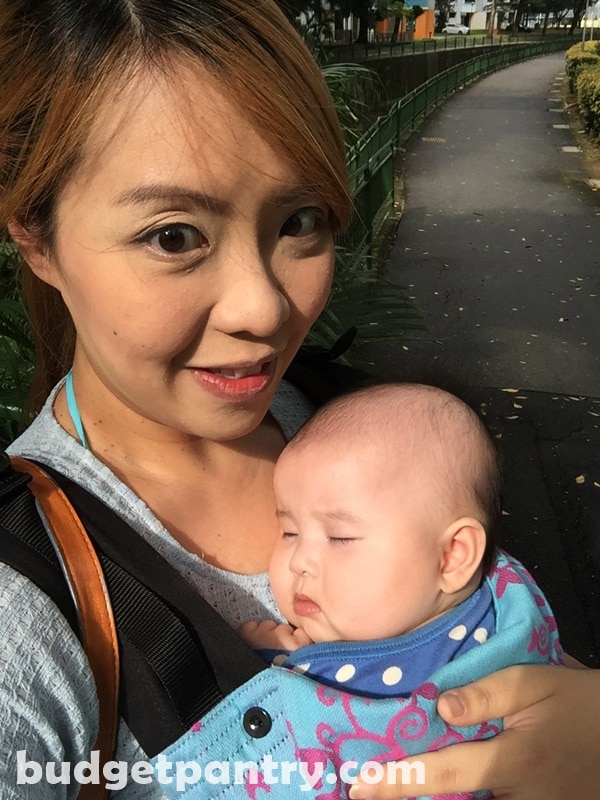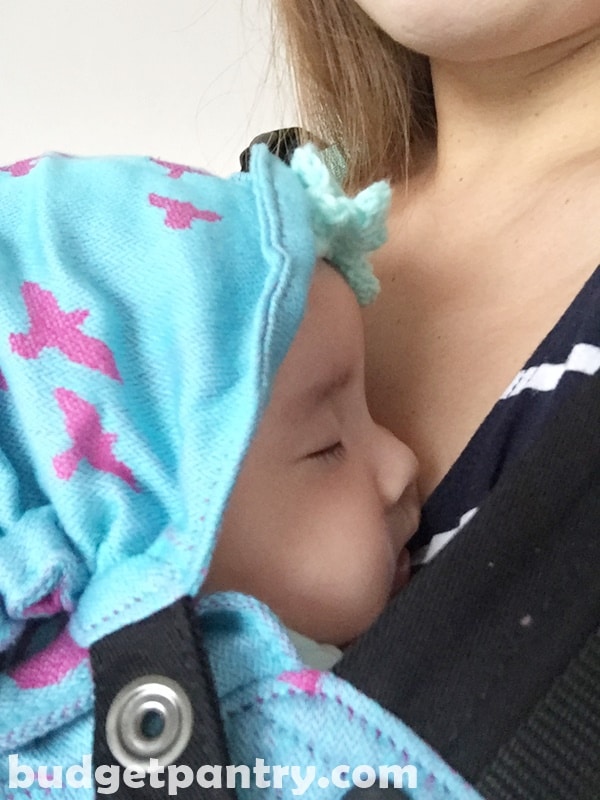 2. HANIL UV STERILISER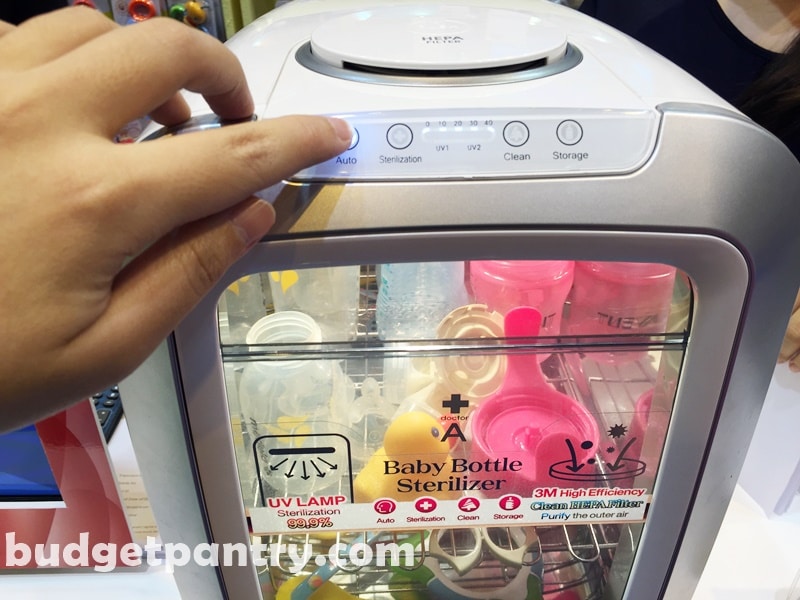 I love the convenience of the Hanil UV Steriliser so much that I already blogged about it in June! Compared to traditional sterilising, using this saves so much time and it doubles up as a storage device. Plus, HANIL is also the only UV Sterilizer in Singapore that is tested and certified by PSB Singapore. Read my review here and apply my promo code "bpantry" on www.gaia.com.sg to purchase it at a special price AND get a complimentary GAIA gift. Valid from now till 31 December 2016.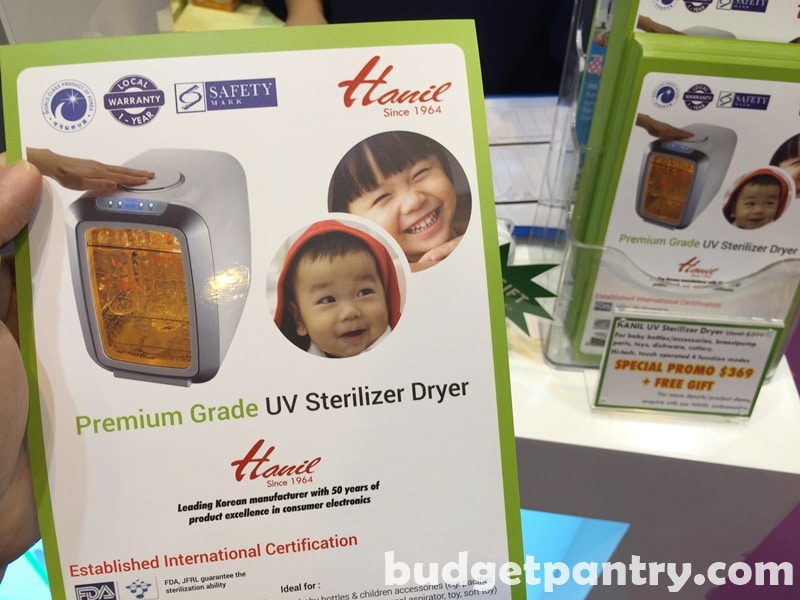 3. DOONA: THE NEXT GENERATION CAR SEAT
A car seat is the ONLY place for your baby in a moving car. Yep, the only place your baby should be in. Not in a baby carrier, not in your arms. Your Tula or ring sling will not protect your baby from the impacts of a car crash! More info: http://thecarseatlady.com/will-a-babybjorn-or-other-soft-infant-carrier-protect-a-child-in-a-taxi/
I babywear cbb when taking public transport or when walking around in the mall or park, but she's 100% in her car seat when travelling in cars or cabs. It is non-negotiable. Because we don't own a car, having a portable car seat cum stroller is super important for us. There are travel systems (car seats mounted on top of strollers) which also protects your baby, but the Doona car seat/stroller is so much more convenient especially for me when I travel alone with baby. Imagine being able to skip crowded lifts when in a mall (just transform stroller into car seat and take the escalator!), and there is no need to transfer a sleeping baby from the stroller to a separate car seat. An uber driver (who's also a new parent) saw our Doona in action and commented that this alone is worth the price!
The Doona can be used from birth (and we have used it since cbb was a few days old) up to 13kg. It has indeed taken our baby girl from newborn to now! Just a few days old:
One month old: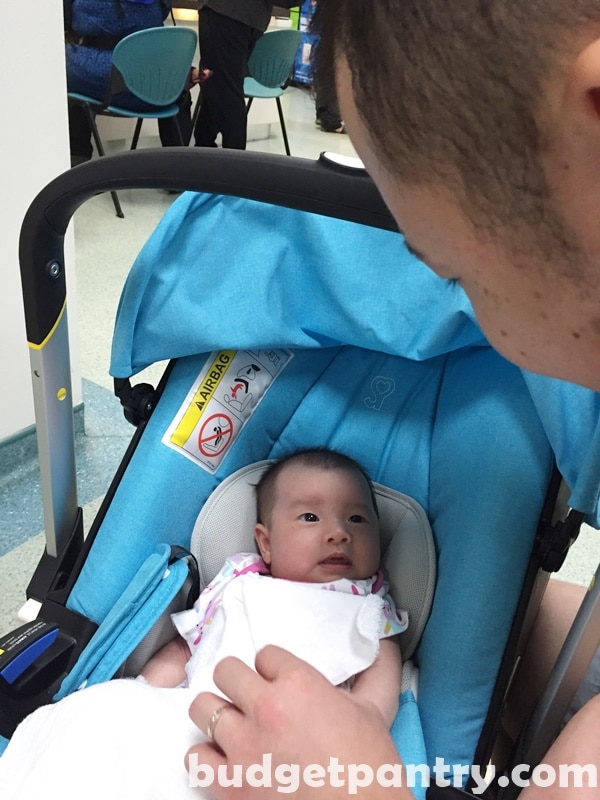 Two months!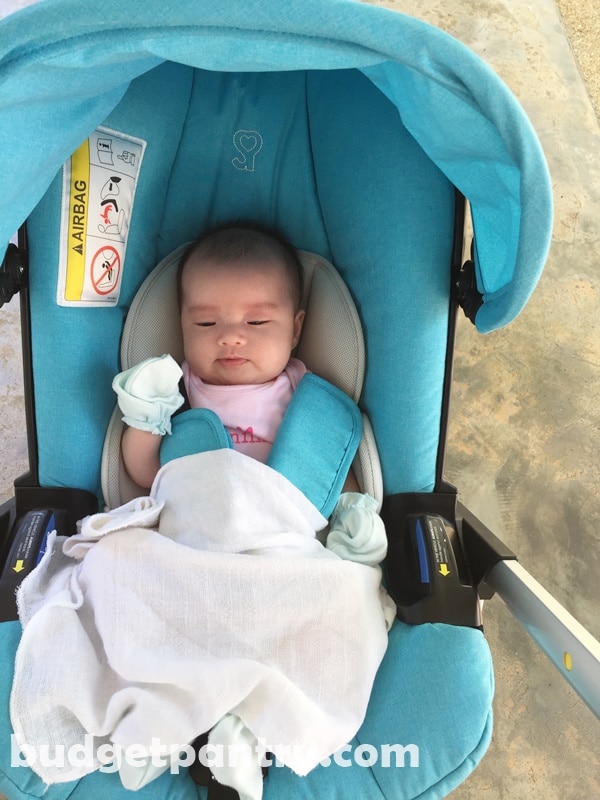 Three: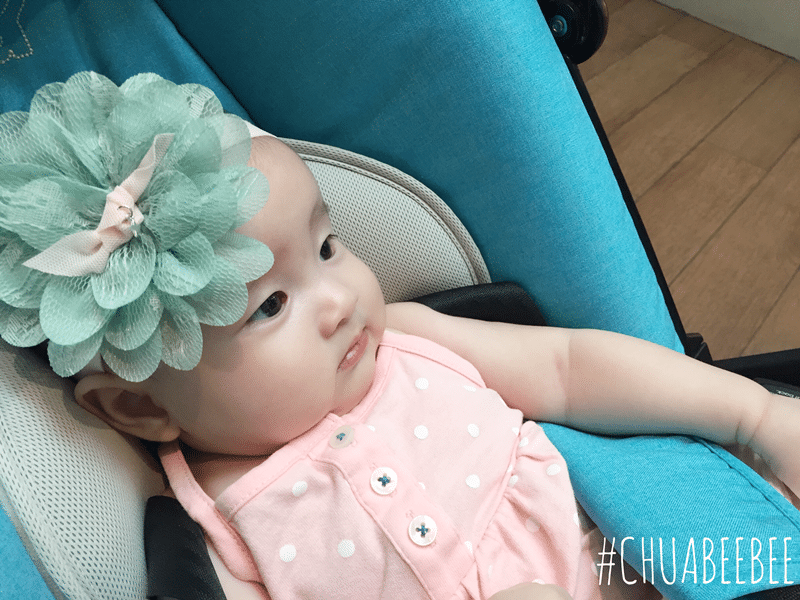 Four months (want to box me cos of the hat I made her wear!):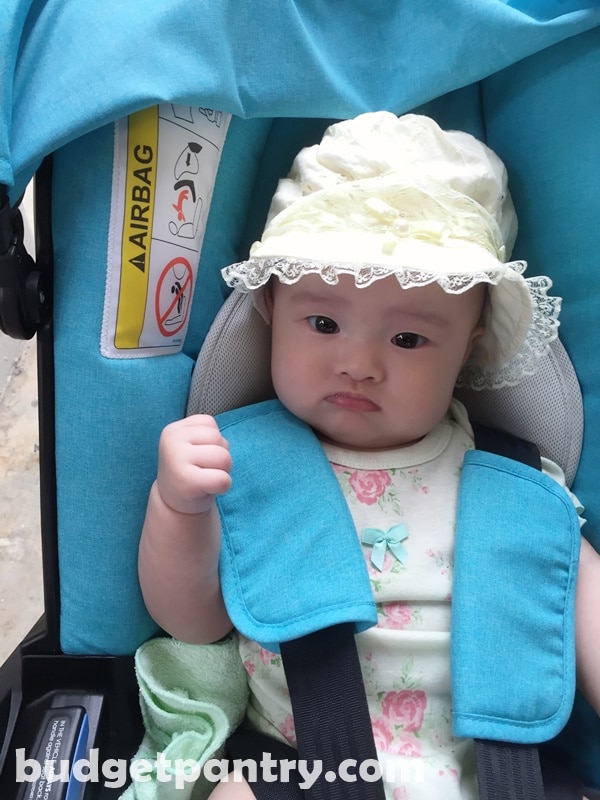 5 months. She can party in it!
Err and emo in it too: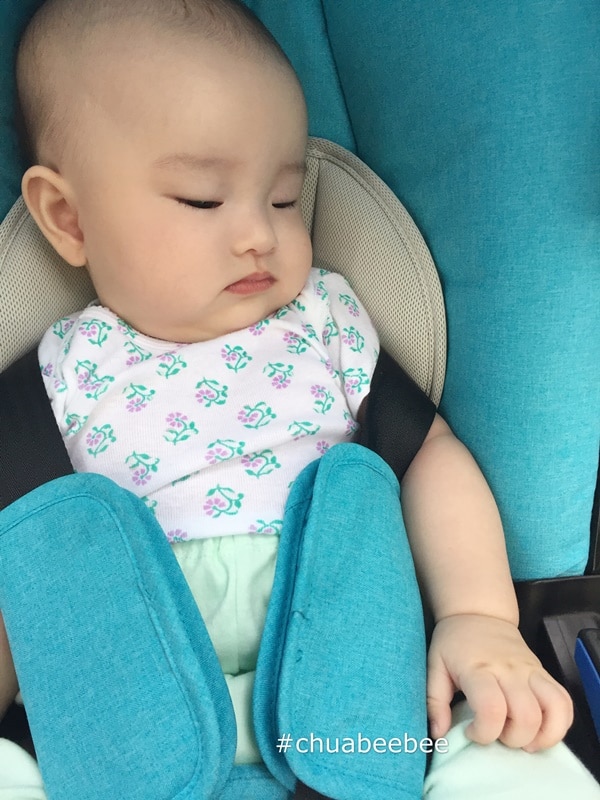 When she outgrows this, I'll be looking around for another travel system, because a car seat is the ONLY place for a baby in a moving car. Also, read why you should be choosing a rear-facing carseat for your baby instead of one that's forward facing.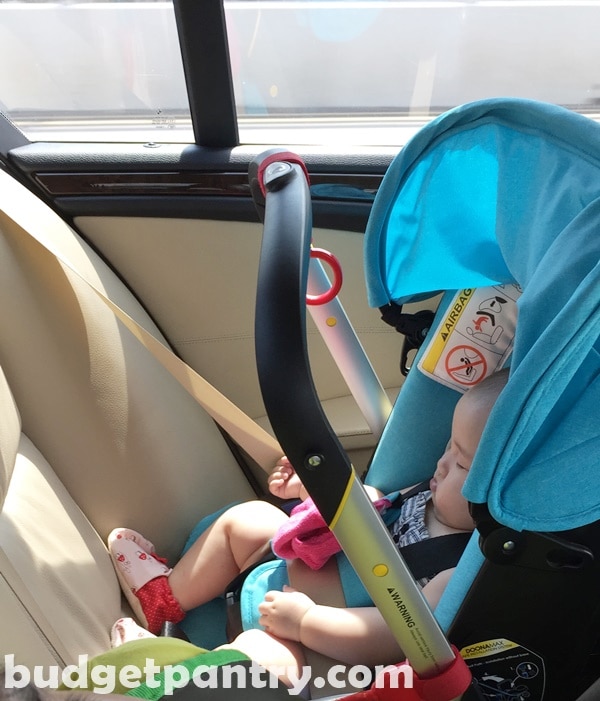 Read more about Doona here and watch the video that completely sold us this!
———————–
So these are the three baby items that I can't do without over the past 5 months. What are yours?