Korean Sweet Potato Noodles with Sliced Pork (Japchae)
Who loves Japchae? Me me me! Japchae is a Korean dish made of sweet potato noodles, mixed vegetables, beef (sometimes) and flavoured traditionally with soy sauce and sugar. The sweet potato noodles are QQ, chewy and transparent. They look kinda like glass vermicelli but are rounder and thicker – more satisfying as a main dish and not as heavy as noodles or pasta. I love it!

When I was still ingesting carbs freely, I often ordered Japchae at Korean stalls in food courts (West Mall's foodcourt has a Korean stall with yummy food but the attitude of the Korean woman is another matter altogether). I loved it so much that I've starting cooking this at home. BEST DECISION EVER. This homemade version is so yummy and easy to make!
When talking to a Korean ex-colleague about Japchae, she told me that traditionally, all the ingredients like carrots, mushrooms, spinach, onions and meat are fried individually, removed from the pan, then combined BY HAND with the noodles later (yes mix the noodles and ingredients together with your hands). As in, fry the carrots, dish up, fry the meat, dish up, fry the onions, dish up, fry the spinach, dish up…… Knowing me, this won't happen in my kitchen. I do a quick stir fry of all the ingredients then toss them with the noodles at the end. I just don't think it makes a difference.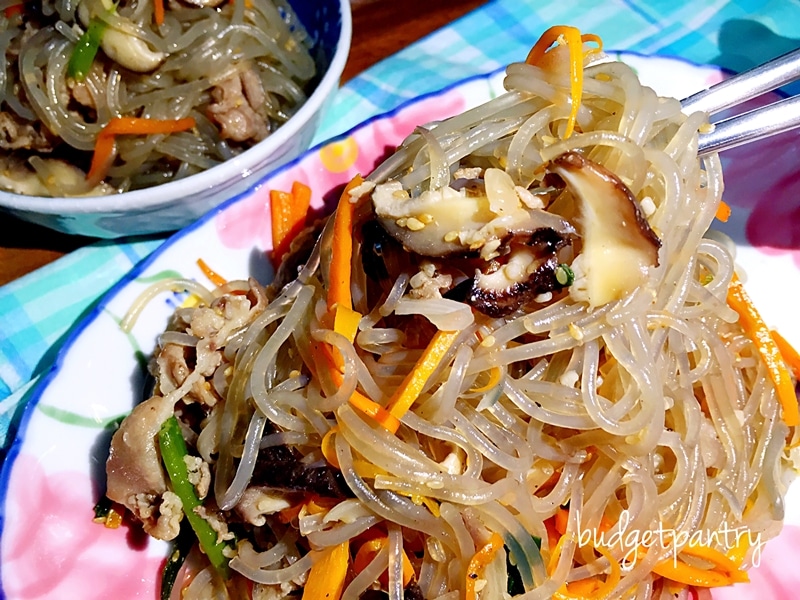 For this recipe, I used thinly sliced pork collar instead of beef, but it's your preference. I got the shabu shabu style pork collar that is frequently used for steamboat and sliced them further into smaller pieces. I think the texture goes wonderfully with Japchae. The seasonings are really simple – traditionally just soy sauce, sugar and sesame oil, but I like to add some mirin as it creates a lusher, glossier and more savoury texture, if you know what I mean. If using mirin, reduce the sugar. I also didn't have spinach so I left it out, but it'll be best if you add some.
This is one of the tastiest and easiest recipe on the blog. My 'no carbs' rule can wait!
Korean Sweet Potato Noodles with Sliced Pork (Japchae)
(budgetpantry.com)
Serves: 4
Total cost per serving: $1.65
What you need:
200g uncooked Korean sweet potato noodles
150g thinly sliced pork collar – I used shabu shabu style (or you can use sliced beef)
8 fresh shitake mushrooms, sliced thinly
1 small carrot, julienned
1 small yellow or red onion, sliced thinly
Handful of spring onions, sliced into 1.5 inch length
1 teaspoon minced garlic
1 tablespoon toasted white sesame seeds
Dash of black pepper
3 tablespoons olive oil
Seasonings for pork
2 teaspoons soy sauce
1 teaspoon sugar
1 teaspoon sesame oil
Seasonings for noodles (combine together in a bowl)
3 tablespoons soy sauce
1 teaspoon sugar
1 tablespoon mirin
1 tablespoon sesame oil
Steps:
Marinate the pork in the seasonings for 15 minutes. Set aside.
Cook noodles according to package instructions, then rinse under cold running water and drain. Add some olive oil to prevent the noodles from sticking together. Set aside.
In a wok or large frying pan, heat up 2 tablespoons of oil and fry the onion and spring onions till fragrant. Add the garlic, carrots and sliced mushrooms, followed by the pork including the marinate. Stir fry together till pork is cooked. Dish up and set aside. Clean the wok with kitchen paper.
In the same wok, add the remaining oil and add the noodles. Loosen the noodles and add the noodle seasonings. Mix well with a pair of chopsticks. Return the rest of the ingredients to the wok and mix everything well. Top with a sprinkle of white sesame seeds and dash of black pepper to serve.
How much I spent:
$2 for sweet potato noodles (I buy a big packet for $3.90 and used about half)
$3.50 for pork
$1 for mushrooms
Everything else from my pantry