Ready in 5 minutes! Tofu Block in Mushroom and Tau Cheo Gravy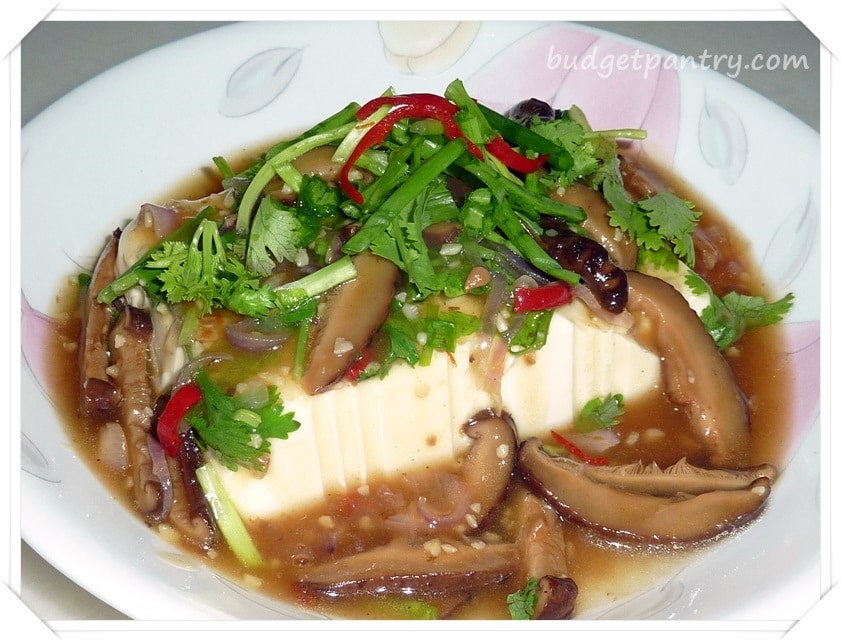 So after posting the Char Kway Teow recipe two days ago, I decided to redeem myself by putting up something meatless and healthy tonight.
This dish usually involves steaming the tofu and mushroom for 5-10 minutes but because I am not going to wash my Tefal plastic 3-tiered steamer just for one tofu dish, I microwaved the tofu instead to heat it up. I know right, super lazy but very fast and still delicious!
Makes 2 servings
What I used:
1 block tofu (I used Fortune Silken Tofu with Omega 3)
3 dried chinese mushrooms (stems removed), soaked and sliced
A handful of parsley
Spring onions, sectioned
1 red chillies, sliced
3 shallots, sliced
1 teaspoon minced garlic
1 teaspoon oil
1 tablespoon tau cheo (chili bean sauce, sometimes also called hot bean paste or spicy bean sauce)
Mix the following seasonings together:
1 teaspoon hua diao jiu (chinese cooking wine)
1 teaspoon oyster sauce
8 tablespoons water or chicken stock
A dash of pepper
1 teaspoon sugar
1 teaspoon corn flour
1. Heat up your pan, add the oil then fry shallots and garlic for 1-2 minutes. Be careful not to brown them.
2. Add in the mushrooms and tau cheo and fry for a few minutes.
3. Add in the combined seasonings and bring to boil. Lower the flame and cook til thickened.
4. Microwave the tofu for 1 minute and pour boiling gravy over. Top with chopped parsley, spring onions and sliced red chillies.
How much I spent:
$0.80 for tofu
$0.30 for parsley, spring onions and red chillies
Everything else from my pantry
Total cost per serving: $0.55
——————————————————————-
Enjoy with a steaming bowl of rice for a meatless meal. You can also add in some minced meat together with the mushrooms, and double the portion of gravy to spoon over blanched noodles if tofu is not your thing. This is a quick and simple recipe for a wholesome meal. Please don't tell me you have no time to cook!