My tips and easy recipes for weaning and feeding a fussy infant
Once your baby reaches six months old (or at the age recommended by the pediatrician), it's time to introduce solids on top of regular milk feeds. This is called the process of weaning.
As a first-time mum, i did a lot of trial and error when I started weaning my child when she was six months old. Believe it or not, although Amber is a total foodie now, my first few attempts at feeding her solids were pretty challenging!
As I experimented with different food textures and tastes, I discovered what Amber didn't like, what she didn't mind eating and what she absolutely loved. In this post, I will share some steps on how I made weaning painless for us.
From my own experience and stories from friends, babies also start to become fussier towards food when they're 9-12 months old. This stage is when they are exposed to eating food other than simple purées and cereal (if you do choose to give them cereal).
So these are my five clever tips on weaning and three easy recipes for a fussy baby!
Five clever tips on weaning your fussy infant:
Choose a good time of the day
Pick a time of the day when your baby is satisfied and comfortable. For example, after he's taken his nap. This way, your little one is more likely to focus happily on the new task: eating.
Make eating social
Babies are copycats! Set up your baby's high chair around the dining table while the family has their meals too. They love to watch us and mimic our behaviour, and meal times can be more enjoyable when there's fun interaction.
Make root vegetables your base
Puréed root vegetables such as pumpkin, carrot and sweet potato are excellent as a gravy base for pasta, noodles and rice. They also go well as a meat sauce, lending a natural sweetness and creamy consistency that makes eating more receptive for a fussy eater.
Reintroduce food in different textures
In the initial stages, I found that texture – rather than taste – determined whether Amber could accept the new food or not. Being new to eating solids, she was more inclined towards smooth foods slightly thicker than milk.As she got older, at around eight months, I discovered that she preferred eating food with some texture in them, and slowly started to expose her to chunkier food, like shredded chicken and a variety of chopped (instead of blended) vegetables, which she loves till today.
Try a variety of food
It's tempting to stick to that one ingredient once your picky eater displays signs of even remotely liking it. But don't fall into that trap. Introducing different foods to your baby makes them more inclined to try new things, and results in them being more receptive to a wider variety of food in terms of colour, tastes, texture and even temperature.
Once babies graduate from eating the simplest fruit and vegetable purées, it's time to expose them to other foods. Here are three quick and easy recipes that would get their nod of approval.
---
3 quick and easy recipes for babies (9 months and up)
Salmon Shepherd's Pie
Ingredients:
1 salmon fillet, about 150g
2 medium potatoes, peeled and cut into chunks
3 stalks celery, diced
1 small yellow onion, diced
1 tablespoon full cream milk
A sprinkle of dried dill
2 tablespoons olive oil
Steps:
Boil potatoes in a pot of water for about 20 minutes, until soft enough to mash with a fork. Set aside.
In a pan, add oil and fry salmon for 3-4 minutes on each side. Flake with a fork and sprinkle some dill flakes.
Fry the celery and onion for 15 minutes under low heat until soft. Add the full cream milk and cook for another 1-2 minutes. Combine the salmon into this mixture.
Assemble and bake: Fill a small tin pan or baking dish with the filling, then top with mashed potato. Spritz with a little oil and bake at 190C for 10 minutes.
---
Eggless pear and banana pancakes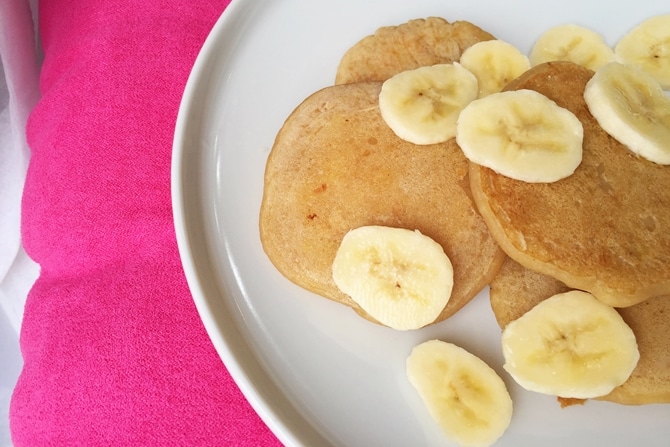 Ingredients:
1 large banana (about 5-6 inches), mashed
3 tablespoons pear purée (fresh or bottled)
2 tablespoons flour (you can use plain, wheat, oat or buckwheat)
1 tablespoon water
Half tablespoon oil
Steps:
Mash banana in a bowl and add the pear purée. Stir in the flour, then add the water and combine.
Lightly oil a non-stick pan and heat up using low flame. Put a tablespoon of batter into the heated pan and cook for 3 minutes until small bubbles appear or till the base is firm enough to flip. Cook the other side for another 3-4 minutes. Be careful not to flip the pancakes too early – these take a bit longer to set.
Cut into bite-sized pieces for your baby to self-feed.
---
Silky steamed egg with minced meat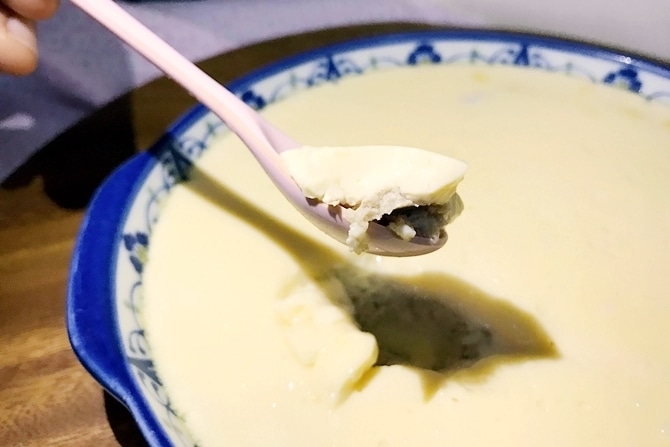 Ingredients:
2 eggs (55-60g)
200ml water or homemade stock
150g minced meat of your choice
Steps:
Beat the eggs in a large bowl. Add the water or stock and combine.
Place minced meat in a thin layer at the bottom of a plate. Hold a sieve on top of the plate and pour in the egg-water mixture. Sieving ensures that the egg turns out silky smooth. Check that there are no bubbles and cover the dish with food-grade cling wrap.
Steam on medium heat for 20 minutes.
---
To know more about early childhood nutrition for your little one, visit: http://www.healthhub.sg/earlynutrition for more details!
This article also appears on theAsianparent: https://sg.theasianparent.com/tips-easy-recipes-weaning-feeding-fussy-infant//
---
If you like my posts and updates, or would like to be informed of baby/cooking-related giveaways and promos from time to time…..
Like my Facebook page or follow @budgetpantry or @chuabeebee on Instagram! Yes, I just started an Insta account for CBB too!