Teochew Braised Pork Belly rice/ Lo Bak/ 卤肉饭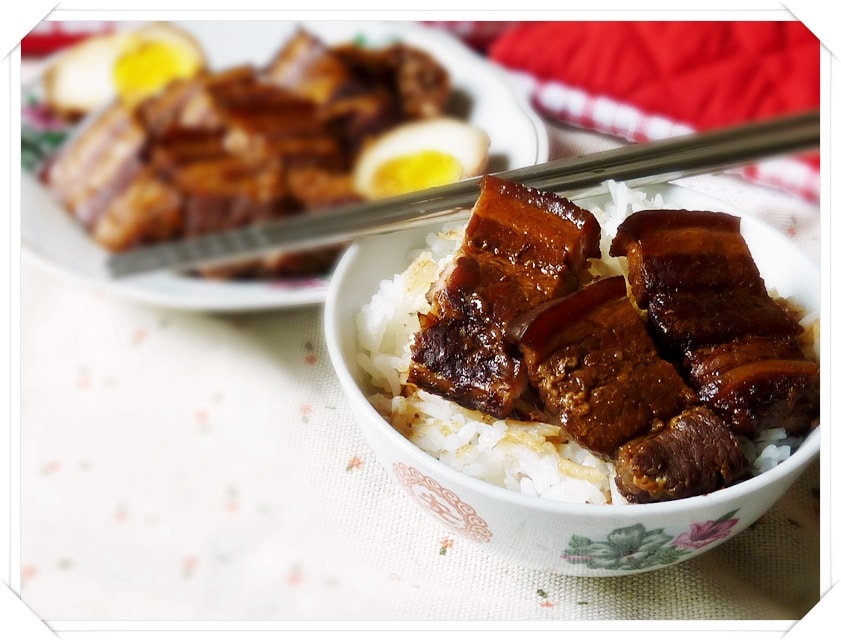 It's been a long while since our family had lo-bak. Ah-mm used to cook a big pot with pork belly, extra pieces of lean meat (I don't like those. haha!) and lots of eggs every 2-3 weeks when we were all still living together. At one time, there were 11 people in our household including our helper.. and dinner (and home) was always fun, interesting, and something to look forward to. The house was almost never quiet. Ah-mm would be watching her TV til late at night (as she does now), and Cheng Lip would be flying down the stairs to cook packets of instant noodles for supper. Alex and Michelle would be chilling in the adjacent room, and when Slimer was awake- and he rarely was- he would be plonked in front of his computer 打 game-ing. I still remember the "biu-biu-biu!!!!!!!!!!" that blasted on his speakers whenever he fought those enemies. And more distantly, I remember the time Slimer put Cheng Wu into the washing machine because the pesky toddler just wouldn't shut up.
My family is a bit different.. but we have wonderful sibling relationships, even if Slimer refused to spend recess time with me on my first day of school in Primary 1 (he was in Primary 3). Well technically he fulfilled his duty, because Mom just told him to "meet" me during recess and made sure I knew where to go. So he just brought me to the tuckshop, made sure I was eating, and told me, 10 seconds later, "Ah-ger 你留在这里啊" while he ran off very quickly to play catching with his friends.
Whenever I think of my family, I think of home-cooked food. And whenever I think of home-cooked food, I think of Ah-mm, our Masterchef. And as I cooked this version of lo-bak for her yesterday, it made me happy that she took a bite and said, "好吃,好吃" and defended my cooking when 88 said it wasn't salty enough. "lo-bak 都不用太咸", she said. We called it "lo-bak" and not "lorrrr-bak" because we're Teochew.
In other news, 88 everything also not salty enough la, but I cannot go against my principle by serving her sodium-laden food!
Teochew Braised Pork Belly rice/ Lo Bak/ 卤肉饭

(budgetpantry.com)
Serves: 4
Total cost per serving: $2.05
What you need:
500g pork belly
4 hard boiled eggs
8 tau pok pieces (fried tofu puffs) or use tau kwa (firm tofu) if you prefer
1.5 tablespoons sugar (6 sugar sticks)
2 tablespoons olive oil
Combine the following (A):
1 litre stock or water (more if needed later)
2 tablespoons dark soy sauce
1 tablespoon light soy sauce
6 tablespoons hua diao jiu (Chinese cooking wine)
Spices (B):
12 cloves garlic, unpeeled
1 star anise
1 cinnamon stick
4 cloves
*You can get the star anise, cinnamon and cloves at Giant. They have this little packet with all you need for $0.55 (quite expensive by my budget standards but I don't see myself using large amounts of these spices so $0.55 is still cheaper I guess). Picture after the recipe.
Steps:
Heat up the oil in a deep saucepan and melt sugar on medium-high flame. After 3-4 minutes, sear pork belly pieces on both sides til slightly brown (about 4 minutes each side).
Remove the pork and pour away excess oil. Return the pork to the pan together with garlic, star anise, cinnamon and cloves.
Depending on your pot or saucepan, pour in enough liquid in (A) and bring to boil, then lower flame to smallest and simmer 1.5 hrs until meat is tender. Stir occasionally. Watch the stove every 10-15 minutes to make sure the pot doesn't dry out. When water level goes down, add more water to just cover the meat.
At the last 5-10 minutes of simmering, add in hard boiled eggs, tau pok or tau kwa. (Leave overnight in the fridge for better taste!) If you can't wait, slice pork belly into pieces and serve hot with rice or steamed buns.
How much I spent:
$5.60 for pork belly
$0.55 for spices
$1 for tau pok
$1 for eggs
Everything else from my pantry
Here are some pics to help you along. The spice packet that I bought- star anise, cinnamon, and cloves:
Braise the pork belly in whole pieces, then slice only after cooking: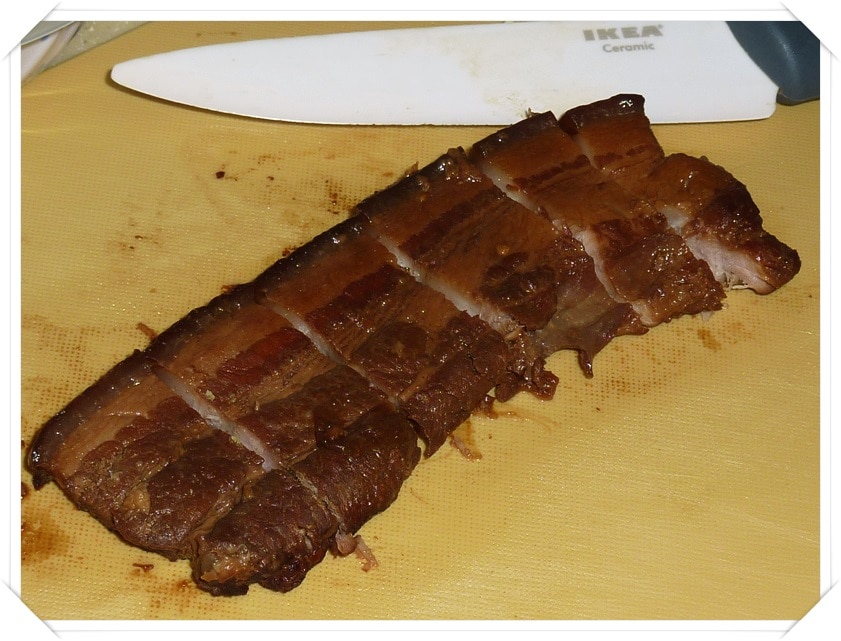 Some tips:
-Use pork belly which is already sliced length-wise and not too thick. When cooking, cook the whole piece together and only slice into smaller pieces when ready to eat. Choose pork that is not too fatty since the texture will be melt-in-your-mouth anyway. I got the pork belly from Sheng Siong. They're sliced fresh and come in nifty packages. The packages are then sold by individual weight.
-When covering the pot with water, do not add too much water. The water level should come up to just above the ingredients. You wanna braise the meat, not boil it.
-Pan-searing the meat in caramelised sugar enhances the taste and creates the melt-in-your-mouth texture. Some recipes skip this step but you don't want to!
-If you're serving the whole pot, remember to remove the star anise and cinnamon sticks before serving. What? You've never accidentally bitten on a star anise?
-Erm last tip: Remove the topmost fatty part including skin before eating. That's how I eat pork belly. And it still tastes good!
——————————————————————-
The preparation time is worth it when you bite on a piece of melt-in-your-mouth pork belly that YOU cooked. This dish is not difficult, and definitely doable for a kitchen noob. Feel free to ask me any questions, and I have a confession: this is the first time I've cooked this, too!