Tau Chiam Noodles in Hor Fun Gravy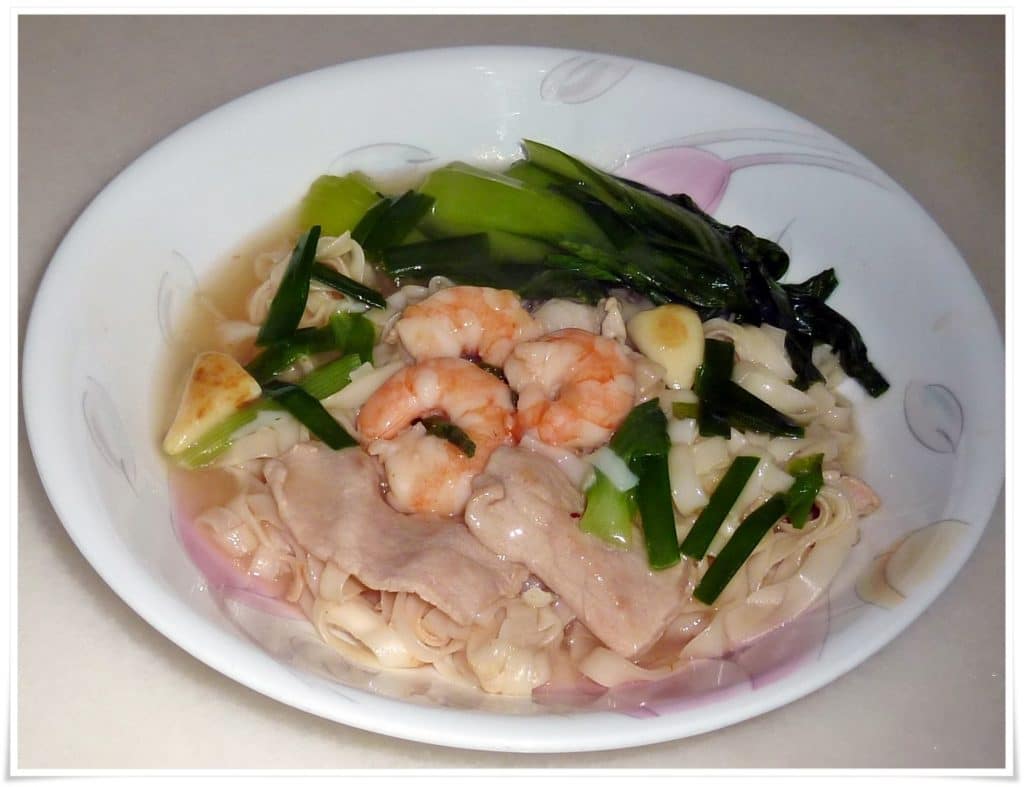 I know right, what a contradictory title. And being always contradicting, I cooked these noodles for lunch even though I have never a) liked Hor fun style gravy nor b) been a fan of Tau Chiam noodles. I don't even like the name of these noodles to begin with. In my (Teochew) family, we refer to bean vermicelli (glass noodles) as "Tau Chiang", or "Dao Qiang", if you will, in hanyupinyin. Then one day, Jason bought these Singlong noodles and called them "Tau Chiam", which caused widespread panic and confusion. I spent much time calming those nerves. From that day on, I've secretly resented these noodles because 我们是不会承认你的。
But it is not Jason's fault because what he simply did was call a packet of noodles a packet of noodles:
The small wordings under "Bean Mee" read "Tau Chiam"- the noodles just would not back down. Anyways.
I decided to cook this last week because Ah-mm and 88 love their gravy over carbs. Ok, so I lied. I cooked these last week because I wanted to do a one-dish meal to escape stir-frying the shanghai greens BECAUSE I hate cooking leafy greens. And also because Ah-mm and 88 love their gravy over carbs. I'll prove it to you- they slurped up their Seafood Mui Fan dinner tonight. Evidence coming up soon in another post.
Back to the noodles. I did a light version without eggs because I felt that the noodles were heavy enough. They almost have the texture of ban mian.. not quite there, but still starchy. I soaked them to remove some of the starch which nobody needs to eat. A gravy that is not too heavy would work better here.
Makes 2 servings
What I used:
3 bundles of "Tau Chiam" noodles (Singlong brand), soaked in hot water til soft, then rinsed with cold water.
2 tbsp olive oil
4 cloves garlic, peeled and smashed with the back of your knife
4 tbsp light soy sauce
A dash of sesame oil
A dash of chinese wine- hua diao jiu
6 prawns, shelled
Pork Slices
Leafy greens & spring onions (optional)
300ml chicken broth
Cornstarch solution (2 tbsp corn starch mixed with 4 tbsp water)
1. Heat up your cooking pan. Make sure the flame is at its highest. Add olive oil and wait til oil is hot, about half a minute.
2. Add garlic. Fry for a few seconds then add the pork and prawns. Stir fry for 2 minutes til prawns turn pink.
3. Add in the noodles, 3 tbsp soy sauce, sesame oil and chinese wine then swirl to combine. Remove from pan.
4. In the same pan, pour in the chicken stock and bring to boil.
5. Add the veggies, reduce flame, then gradually mix in cornstarch solution and remaining 1 tbsp soy sauce.
6. Turn off the flame and ladle over prepared noodles.
How much I spent:
$0.50 for noodles
$1.50 for prawns
Everything else from my pantry
Total cost per serving: $1.00
——————————————————————-
I pre-fried the noodles for maximum flavour as I haven't used a crazy amount of seasoning in the gravy. You can add in some fish cakes, crab sticks, carrots, or change your selection of carbs (ee-meen would be nice!). Add an egg if you choose a less starchy carb and let me know how it goes.
#tip: the addition of fish sauce is veryy good with this type of gravy. I'll post up my (a bit different from this) mui-fan recipe next week.