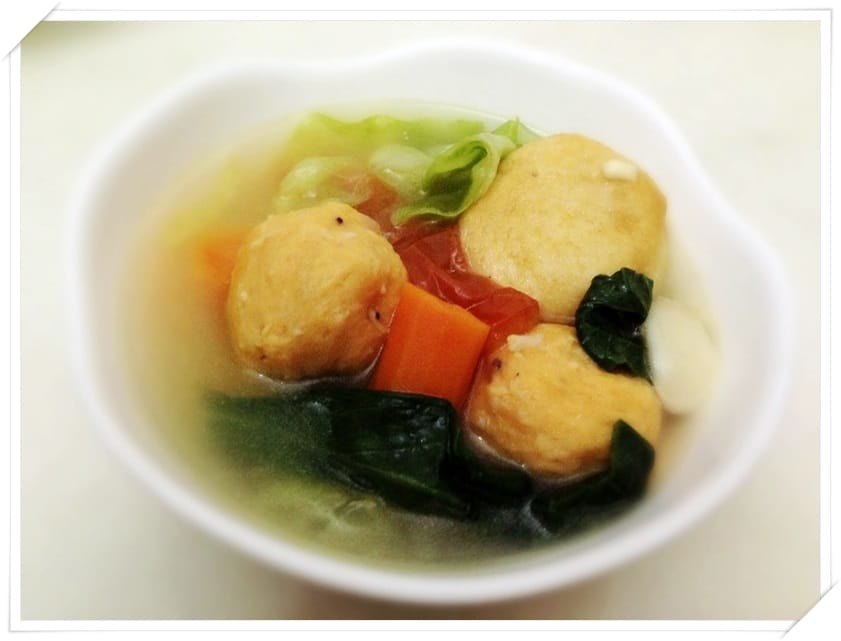 Most people learn many things from their mother. How to sew a dress, how to "choose" a good husband (I don't think this is teachable), how to be a good wife, how to live. From my mother, I learnt how to make soup.
I don't know my mother very well and mostly see her once a year during Chinese New Year. This year I will see her more than once because of my wedding in November. I am not close to her but we do have conversations going when we do meet. We talk about cooking most of the time. She is a brilliant cook and baker.. her roast leg of lamb, roast pork with crackling skin, mixed vegetables (yes, even that!), steamed fish in HK style, sambal prawns and scallops, and her BUTTER CAKE, ohhh that butter cake, as Gary would say (hi!), is da bomb.
She taught me how to make a basic veggie soup with four core ingredients: onion, ginger, garlic and ikan bilis stock cube. From there you can add some noodles (I love spaghetti in soup. it is good, promise!) and turn the soup into a simple lunch, add some veggie variations and some fishballs/ crab sticks/ cheese tofu (like I have done above) and eat it just like that or with rice. This soup played a huge part in my life when I was on my no-carb diet. I looked forward to eating it everyday because it is so good and comforting.
Makes 3 servings
What I used:
One red onion, wedged
4 garlic cloves, peeled and smashed/pressed with the back of your knife
A piece of ginger, about 2 cm thick and an inch across
1 ikan bilis stock cube (I used Knorr's)
1 carrot, cut into chucks
1/3 of a cabbage
1/2 a tomato, wedged
Green leafy vegetables
Cheese tofu or what you like!
1. Place carrot, onion, garlic, and ginger in pot and fill with water. Bring to boil then reduce fire. Simmer 15 mins then add tomato.
2. Cook 10 mins then add cabbage, cheese tofu or other yong tau foo pieces, and stock cube. Bring to the boil (I usually add broccoli at this point. I ran out of them that day), turn off fire and you're done.
How much I spent:
$0.20 for onion
$0.40 for cabbage
$0.15 for tomato
$0.30 for carrot
$0.50 for cheese tofu
Everything else from my pantry
Total cost per serving: $0.52
——————————————————————-
If this isn't easy I don't know what is. There is no need to add any oil, salt, sauce, as the vegetables become really sweet after simmering and the onions, garlic, ginger and stock cube really do their job very well. This is also a great way to add more lovely vegetables to your family's diet. You must use ikan bilis stock cube though. I have tried using chicken stock cube but it just doesn't bring out the flavour of this soup.
I usually cook this with cabbage, carrots and broccoli (and crab sticks!) and leave out the tomato because it adulterates the soup. But that day, I decided a hint of tangy tomato flavour would be great for a change. I break the rules of this soup (and of life) sometimes, and why not? You probably should too.
Thanks mom!