Why I supplemented my child with infant formula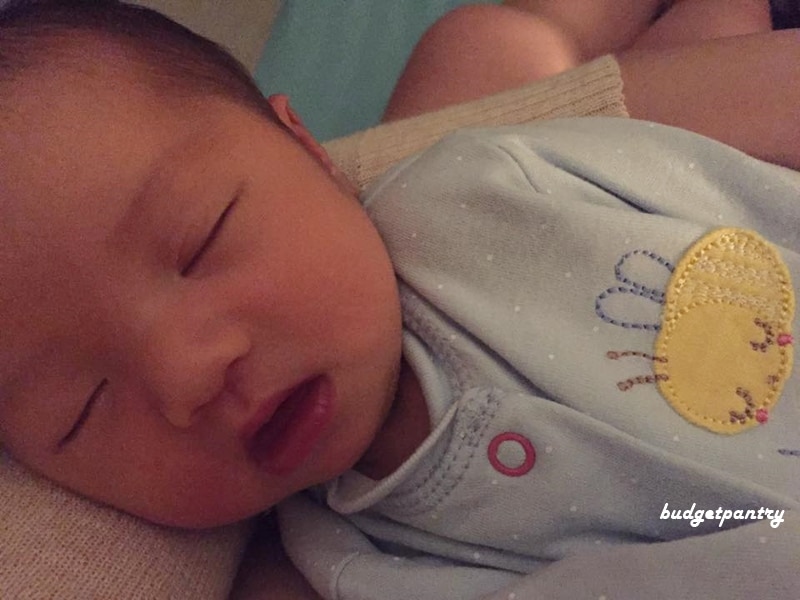 Before I go into this article, I have to say upfront that there is nothing I would love better than to be able to fully breastfeed my baby.
That is what I have always assumed I would be able to do, to breastfeed my baby for as long as I can. It doesn't mean that this 'aspiration' is better than others. I mix-fed my baby till she was six months old before fully transitioning to formula.
Being a first-time mom, I took the ability to breastfeed for granted. I read up extensively on breastfeeding, attended countless breastfeeding seminars, joined breastfeeding groups on social media and talked to experienced friends months before Amber was born, so that I could prepare myself when she arrives.
Never has the thought of not having sufficient milk crossed my mind.
'Your milk will come in'
From breastfeeding seminars and mummies in online groups, I was confident that my milk will come in and be sufficient for my baby, and that I will just have colostrum in the initial days. I should latch baby to stimulate milk production and ensure that baby has a certain number of wet and soiled diapers a day. Once the number of wet and soiled diapers are met, then it signifies that my colostrum/milk is enough for her tiny tummy.
All was fine in the hospital, although the pediatrician mentioned on the day of discharge that she would have preferred it if Amber had an additional wet diaper, but overall she was still fine. Upon discharge, Amber's weight loss was still within the limit, so I went home happily, confident that my milk will come in in the next few days.
She wasn't putting on weight well
We saw her pediatrician 3 days after she was discharged. In the three days, she was barely hitting her wet and soiled diaper count and I was starting to think if something wasn't right. The PD monitored her weight gain and noticed she wasn't putting on weight well. Her blood test also revealed a much higher jaundice level as compared to when she was discharged. Her doctor suggested I pump to see how much was available for her to drink.
I got the shock of my life when I produced less than 10ml, both sides combined, three hours after the last latch.
Well-meaning advice
'Breastmilk jaundice is normal!'
Your pump output isn't reflective of how much milk you produce'
'Your doctor should never have asked you to pump!'
'Just keep latching!'
Friends and readers offered comments and encouragement during my initial struggling days (or weeks). But I couldn't have followed 'text-book' advice and gone by what worked for others when 1) my baby wasn't putting on weight and 2) she wasn't meeting her diaper count.
That was when I took the step to supplement her with formula feeding. It wasn't a choice – my baby had to be fed.
I was determined not to give up
I continued latching and pumping while supplementing her with formula. I pumped eight times a day for 30 minutes each time, and remembered jumping for joy when I finally managed to yield 60ml combined, 4-5 weeks after she was born. It was tough, but I was determined not to give up.
But as months passed, the hope of fully breastfeeding her dwindled. I was extremely disappointed that I couldn't breastfeed her 100%, but as time went by, I learnt to let go of that guilt, because I know I have really tried my best. And no, I've never considered donor milk – it's a personal choice.
50+ml was my average output before latching, 3 hours after the last pump, even six months down the road:
These were all the things I tried out:
Saw a massage lady to assess my boobs and clear blockage (if any)
I saw a massage lady during confinement when I was pumping probably 20ml both sides before latching. She assessed that I just didn't have milk yet and there was nothing to clear. I saw her again when Amber was 2 months + old and I was still pumping 30ml, and I was told the same – there was no lump, blister, blocked ducts, etc – there was no blockage to clear.

Pumped eight times a day for 30 minutes each time
The only way I could get breastmilk into her was to pump several sessions a day and combining milk from these few sessions to make up one feed. If I had latched her, one latching session wouldn't satisfy her and she would be screaming in frustration because there was just nothing coming out.
Power pumped
The most milk is produced in the middle of the night and that's the best time to power pump to increase milk supply. Power pumping did help me increase my supply to 80ml in those sessions if I was lucky, but the amount wasn't consistent.
Took milk boosters and supplements
Chinese herbs, salmon, Australian Milo, lactation cookies, doctor's supplements, fenugreek, goat's rue, more milk special blend… you name it, I've probably tried it. The only thing that remotely worked for me was the more milk special blend, but it basically helped me to get my supply up from 30ml to 55ml and stayed that way. Still thankful though!
Saw a lactation consultant
I saw a lactation consultant when Amber was seven weeks old. She said that my baby's latch was good, and also determined that I had no blockage to clear. We even did weighed feeding, where my baby was weighed before and after a latching session. It confirmed that she was hardly taking in enough milk. The lactation consultant introduced a supplementary feeding system where formula milk is fed through a tiny tube while my baby latched, so that she could stimulate milk production by latching while being fed at the same time. In theory, it should work. But the system was frustrating to use – you had to tape the bottle/tube to your body while trying to get the other end of the tube into her mouth and STAY in her mouth WHILE she latched. It just didn't work out for me.
Doing my best
And so, I decided to continue doing my best. By then, Amber was already drinking 160ml per feed, 6 times a day. There was no way that my 400ml a day pump output would be enough for her. As my supply further dwindled when my period came back at the 6-month mark, I knew it was time to transit her fully to formula. The time I spend on pumping every day could have been better spent on cuddling and playing with her. I also still let her latch on until my supply totally ran out, and that was when she fully weaned too.
Looking back, I still would have spent all the time and dedicated all the resources and money on trying to breastfeed her. It was a trying period, but I have no regrets because I know I have done my best.
And to my readers: Thank you for your words of encouragement during those tough times!
—————————————————————–
If you like my posts and updates, or would like to be informed of baby/cooking-related giveaways and promos from time to time…..
Like my Facebook page or follow @budgetpantry or @chuabeebee on Instagram! Yes, I just started an Insta account for CBB too!