Mum review on a handy app: Keep track of your child's health information with HealthHub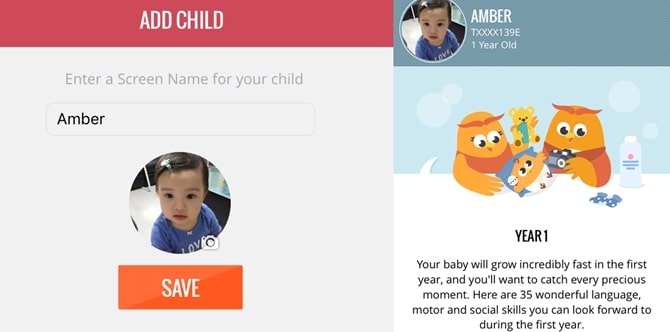 As a parent, one of the things I find myself struggling with is keeping track. Keeping track of what? Of everything! Thankfully, ever since I discovered HealthHub, a load has been taken off my shoulders because the app is all I need to access my child's health records.
Recently, I was able to access my baby's blood test results from when she was hospitalised nearly eight months ago in December 2016. All the medical information I need is clearly recorded and easily accessible at my fingertips – no worries about misplacing lab reports, or forgetting the various vaccinations she has received.
And that's not all! There are so many features to explore in the app. Let me take you through the personalised categories in the new "Children's Health" section that I find useful as a parent with a young child.
What is HealthHub?
HealthHub is a one-stop web portal and mobile app for Singaporeans to access a wide range of health content, rewards and e-services. Not only does it provide information on useful health topics like HFMD and dengue fever, the new "Children's Health" section on both their website and app is personalised and catered specifically to your child!
What do I mean? Imagine it like an internet banking app – once you log in (with your SingPass), you will be able to access personal records by adding your child with their birth certificate number. These are the features I especially like for younger children below six years old:
"Growth Charts"
Enter your child's height, weight and head circumference to monitor and track their growth.
"Milestones"
Record your child's developmental milestones. For example, when they can sit up, when they start speaking and so on. Milestones will help parents remember the little important moments as their child grows up.
"Immunisations"
Check your little one's immunisation and vaccination records, and also see upcoming appointments (only at public healthcare institutions).
For children above six years old and below 21, these features would be interesting to explore:
"Health Assessment Summary"
View your child's health assessments from school including health check-ups, eye check-ups and more that were done in school.
"Lab Test Results"
View results such as blood tests or radiological tests from your child's visits to public healthcare institutions.

How to use the app: Let's go for a test drive!
Step 1: Download the HealthHub app from the Play Store or App Store or go to the HealthHub website (I prefer to use the handy app!)
Step 2: Go to MyHealth section and sign in with your SingPass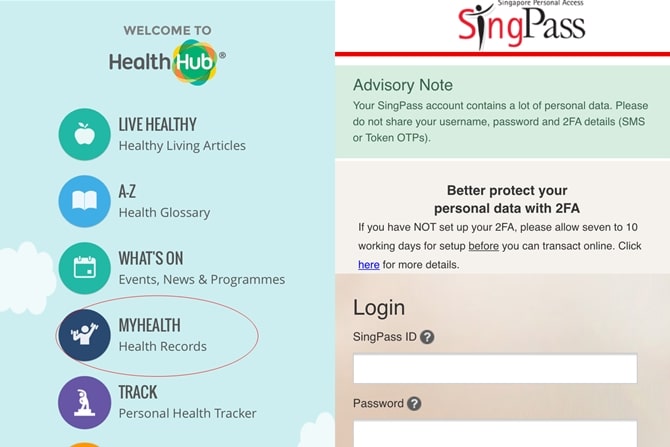 Step 3: Under the 'Children's Health' section, add your child using their birth certificate number (children below 21 years)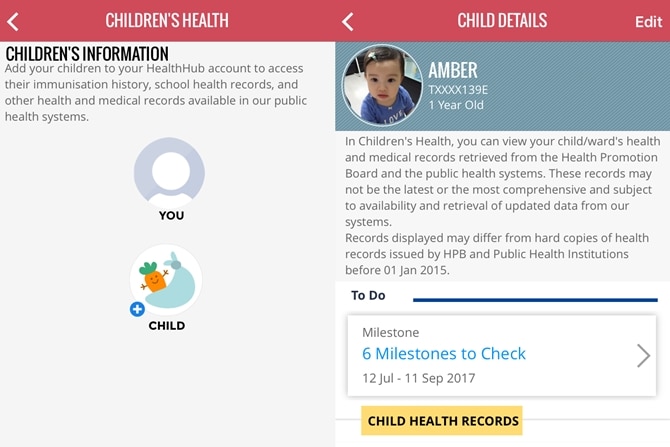 Step 4: Explore the different sections!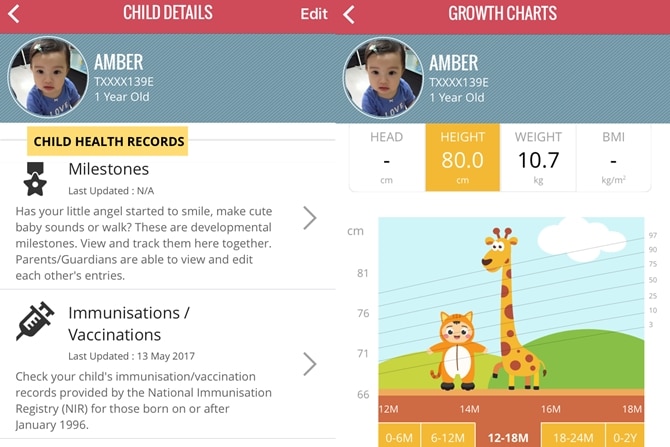 In Children's Health, you can view your child's health and medical records retrieved from the Health Promotion Board and the public health systems.
Under "Growth Charts", you can input their current height, weight and head circumference and the app will provide recommendations based on their age.
You can also track the milestones that your child has accomplished or needs more time to achieve. The milestone categories include Personal Social, Fine-Motor Adaptive, Language and Gross Motor. Parents are able to track milestones up to age six.
And then there is the extremely useful Immunisation/Vaccination section which keeps records of when your child has had their shots. With the app, you are able to check your child's immunisation records provided by the National Immunisation Registry for those born on or after January 1996.
My experience using the app
Before using HealthHub, I thought that it was an app that provides useful, but generic information about children's health. As I explored the app further, I was pleasantly surprised to see that it is personalised to my baby's development.
What's really useful to me is viewing the immunisation records. I am able to see every single vaccination that Amber has received since birth, as the information is retrieved from the National Immunisation Registry (NIR). It's really helpful that the app consolidates all these records under one roof, and I can get the details I need at my fingertips. No more flipping through her health booklet to get the information I want!
I also love the "Milestones" section. Previously the only way I could track my daughter's milestones was through the physical health booklet, or from online sources– if I bothered to search. With HealthHub, I can now go through the checklist and monitor if I should be paying special attention to any areas of development as she reaches a certain age.
At the same time, the HealthHub app also provides other health information as general knowledge and can be personalised for the rest of the family. I see myself continuing to use it as a useful companion to keep track of my family's wellbeing!
Don't forget to download the HealthHub app from Android or Apple store or go to http://www.healthhub.sg/childrenhealth website today!
This article first appeared on theAsianparent: https://sg.theasianparent.com/mum-review-handy-app-keep-track-childs-health-information-healthhub/
—————————————————————–
If you like my posts and updates, or would like to be informed of baby/cooking-related giveaways and promos from time to time…..
Like my Facebook page or follow @budgetpantry or @chuabeebee on Instagram! Yes, I just started an Insta account for CBB too!