Soy-Garlic Korean Chicken in Sweet and Sticky Sauce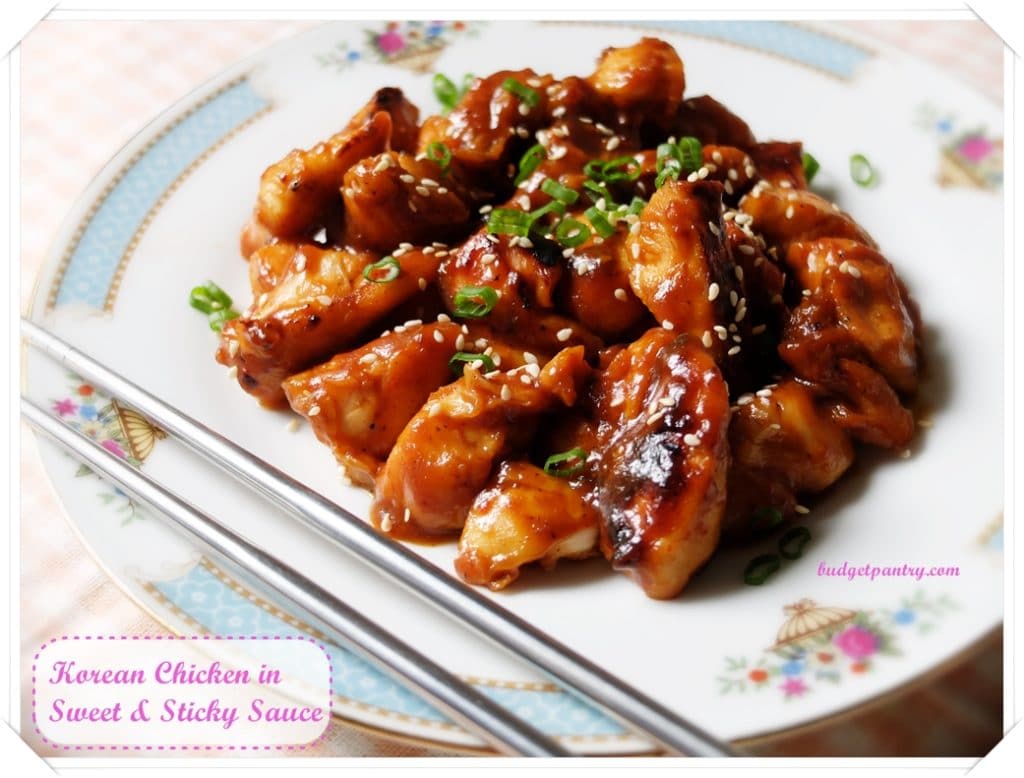 How pretty are these plates?
I recently purchased a massive (read: 50+ pieces) collection of vintage crockery from a lovely seller halfway across the country. Of course I made it sound like a big deal but if you're living in Singapore like I am, "halfway" across the country really means 30-minutes by car. These exquisite blue beauties are no longer in production. You have no idea how quickly my heart palpitated when I saw that Fareena was letting these go. I couldn't believe it. I picked up a huge plate for serving fish, medium side plates, little ones for teacakes, petite soup or sauce bowls, deep dishes, medium dishes, curved plates, classic spoons and many more for very little money for what they're worth.
I knew that I had to cook something today to show them off. The plates, not the dish. I decided on a sticky Korean Chicken recipe using chicken fillet. Korean Fried Chicken has taken Singapore by storm these couple of years and I never understood why. I mean, the crispy fried chicken are delicious, but I couldn't justify paying $9.95 for 6 pieces of little drumettes and wings which essentially translate to 3 chicken wings. And have you experienced the waiting time? More than an hour for sweet and sticky chicken wings? Are we insane?
And so, I decided to make these at home. You could fry (or airfry!) a batch of mid joint wings and coat them with the sticky sauce for the ultimate fried chicken experience, but today I decided to make a chicken fillet version. I marinated the chicken fillet in corn starch and my secret sauce (it's not so secret anymore since it's ending up here), then panfried it before topping it with toasted white sesame seeds and freshly cut spring onions.
They're very addictive if you ask me. I have a good mind to cook the fried chicken version on TV nights. Yes, we have TV nights at home, Jason and me, and that really means cosying up in front of the computer watching The Walking Dead. Only it is a long way til October. Season 5, please come soon.. I feel incomplete without you!
The star of this dish is of course the sticky sauce, but such a beautiful sauce needs perfectly marinated chicken to match. The bite-sized chicken is so tender, you won't believe it is chicken breast. I used cornstarch and water, and I know about Chinese restaurants that use baking soda for that bouncy and soft texture, but I've always been squeamish about using baking soda. I don't know why. I associate baking soda with "chemicals", and yet I bake with them. Women. Don't bother figuring us out.
Soy-Garlic Korean Chicken in Sweet and Sticky Sauce
Serves: 3 as part of a Chinese meal
Total cost per serving: $0.98
What I used:
500g chicken inner fillet (about 8 to 9 strips), cut into bite-sized pieces
Toasted white sesame seeds
Cut spring onions
Olive oil for frying
Marinade:
1 tablespoon cornstarch
1 teaspoon fermented bean paste (this is optional and not usually used, but I like to add it)
1 tablespoon ketchup (I made a non-spicy version but you can use Korean red peppers chilli paste)
2 tablespoons light soy sauce
3 teaspoons minced garlic
1 teaspoon minced ginger
1 tablespoon balsamic vinegar
1 tablespoon honey
1 tablespoon mirin
1 tablespoon brown sugar
2 tablespoons water
Steps:
1. Combined chicken fillet with marinade for an hour. When the hour is up, pick out the chicken pieces, leaving the marinade behind.
2. In a saucepan or frying pan, heat up a little olive oil and fry chicken til browned. Set aside.
3. In the same pan, pour in the rest of the marinade. Cook til reduced to a glaze. Toss in the chicken and coat well.
4. Sprinkle white sesame seeds (I airfry at 160C for 3-4 minutes) and cut spring onions on top and serve with warm, fluffy rice.
How much I spent:
$2.75 for chicken fillet
$0.20 for spring onions ($0.20 from the wet market = $1 from the supermart = plus plenty of leftovers)
Everything else from my pantry