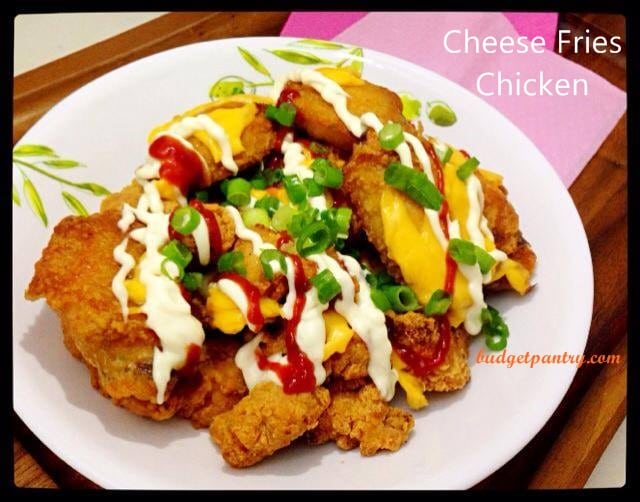 I wasn't thinking of posting this "recipe"– that explains the makeshift photos– but I'm quite intrigued by it.
This was tonight's dinner. I was in a lazy mood with no plans to cook anything but the husband needed to eat. He "ordered" a #friedchickenparty from his personal chef (me) and I, being the very challenging wife wife who's always up for a challenge, gladly took it up.
I had some marinated mid-joint wings that I was going to cook for tomorrow's dinner, maybe simply airfried without batter or coating, but I decided that this chicken was going to come to good use tonight. I coated the wings with some self-raising flour, potato starch, five-spice powder and salt, and airfried it til super crispy. And to make it a fried chicken platter, I airfried some frozen tom yum pop corn chicken I had in the fridge.
All this while I had NO IDEA this was going to turn out the way it did.. all I knew was that I had to dress it up. How to serve anyone plain brown chicken? I opened the chiller and saw cheddar cheese– I was going to melt it– and then I saw my new squeezable bottle of Heinz mayonnaise, and I was going to use it. And of course there was Lee Kum Kee's cutesy squeezable ketchup and loads of spring onions. This was it.. cheese fries chicken!
The hubby went, "WAH!" when he saw the creation.. but he had three words for my "cheese sauce". "Play cheat one!" he said. Ingrate!!
Haha! I hope you enjoy making this and that your husband was as amused as mine was! p/s- you could use frozen pre-cooked chicken all the way instead of marinating it and cooking it fresh.
Cheese Fries Chicken
Serves: 3 as part of a multi-course meal
Total cost per serving: $1.97
What I used:
8 mid-joint wings (marinated in 1 tablespoon oyster sauce, light soy sauce, 1 teaspoon sugar and 1 tablespoon corn starch for at least an hour)
Frozen pop corn chicken (250g)
2 tablespoons Self-raising flour
2 tablespoons Potato starch
Half teaspoon 5-spice powder
A sprinkle of salt
2 slices President cheddar cheese singles
Mayonnaise
Ketchup
Spring onions
Steps:
1. Preheat airfryer to 180C.
2. In a curved plate, combine the five-spice powder, salt, self raising flour and potato starch (1:1 ratio).
3. Coat the wings with the flour mixture and shake off any excess. Spray on some cooking oil. Airfry at 180C for 10 minutes, then 200C for 5 minutes. If using pop corn chicken, airfry them after the chicken wings are done.
4. Return the fried chicken into the airfryer and top with cheddar cheese. Airfry til cheese melts, about 2-3 minutes.
5. Arrange on a plate and dress with mayo, ketchup and spring onions. Have fun eating!
How much I spent:
$2.40 for mid-joint wings
$3.50 for frozen pop corn chicken (I used about half a packet- 250g- where the 500g packet costs $7)
Everything else from my pantry