Panfried Lotus Root Burger
Lotus root is one of my favourite food because I identify with it. What? Yeah. Lotus root looks tough on the outside but when you cook them, they release such delicate flavours that makes you wonder if they're the same entity as the "before cooking" version.
I usually use lotus roots in soups or a quick stir-fry, but I also like to make lotus root chips in my Philips Airfryer. Slice them up real thin and spray on some cooking oil. They become the most amazing snack in 15 minutes. Today I'm going to make burgers out of them. I got the idea of a lotus root burger from Nami, and slightly changed the recipe to include chopped prawns and water chestnuts and I also omitted the sauce. I could eat 20 of these because they're so good, so delicately crispy and light, with the sweetness of pork, prawns and water chestnuts in every bite.
You can make a sauce to go along with these. Combine 80ml water with 2 tablespoons soy sauce, 1 tablespoon sake, 1 tablespoon sugar and 1 tablespoon mirin and cook til simmering. Add cornstarch solution (half tablespoon corn starch with 1 tablespoon water, mixed) and stir to combine. This will yield a sweet sauce that you can pour over the burgers. I omitted this step because I just felt like eating these with chilli sauce and ketchup, like finger food. They're quite darn good!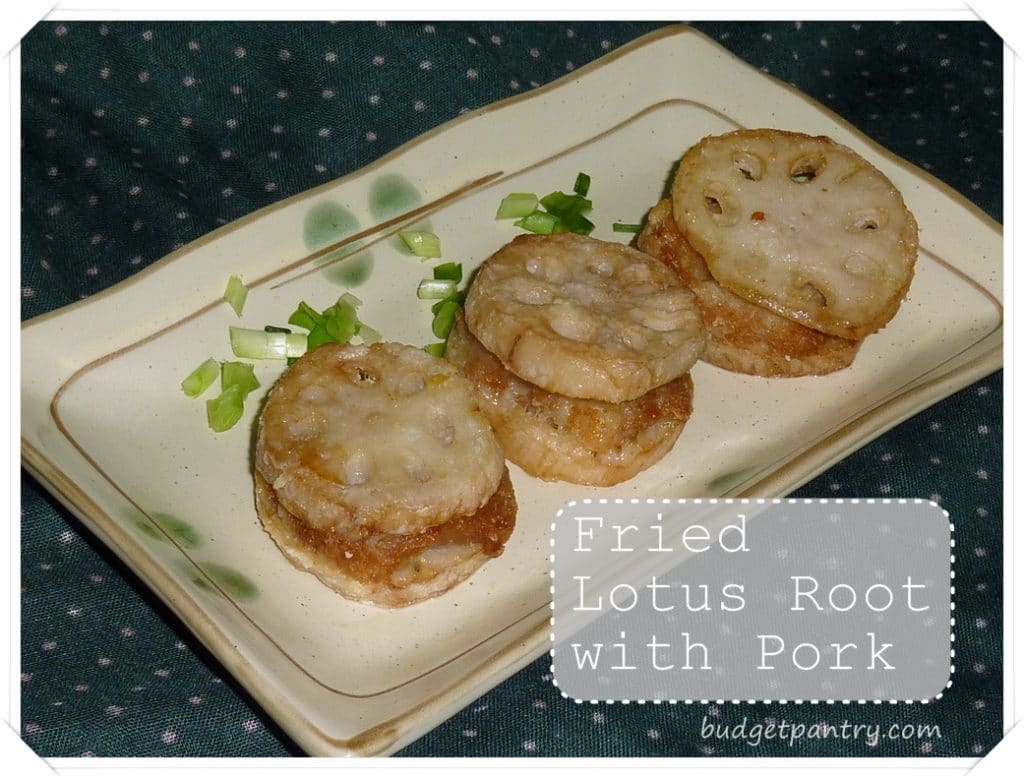 Panfried Lotus Root Burger (Adapted from Just One Cookbook)
Serves: 2-3
Total cost per serving: $2.10
What you need:
1 packet lotus root, sliced (I bought them for about $2 at NTUC. You can use the price as gauge)
200g minced pork (you can use chicken)
100g prawns (roughly chopped)
15 waterchestnuts, chopped
12 tablespoons corn starch (for frying)
2 stalks spring onions, cut into little circles with scissors (I used chives that day but spring onions will be better)
Olive oil
Seasonings:
2 tablespoons corn starch
1 teaspoon light soy sauce
1 teaspoon white wine or sake
1 teaspoon garlic powder
Steps:
In a large bowl, combine the minced meat, prawns, spring onions, corn starch and seasonings. Mix well til it becomes sticky and set aside.
On a slice of lotus root, spread the meat mixture and sandwich it with another slice of lotus root. Repeat til all the lotus root and meat are used up.
Heat up the olive oil in a frying pan. In the mean time, coat all sides of the lotus root burger in corn starch and shake off any excess.
When the oil is hot, cook lotus root burger on both sides til meat is cooked and lotus root is nicely browned. Drain the oil on paper towels and serve.
How much I spent:
$2 for lotus root
$2 for minced meat
$1.50 for prawns
$1 for water chestnuts
Everything else from my pantry!