Recipe for kids: Salmon rice cakes with 16 grains
What is your child's absolute favourite food?
Mine's rice for sure.
She can eat an entire bowl of plain rice if I let her! To balance her love for rice with better nutrition, I often let her have more protein (fish, beans) than rice during meal times. In this recipe, I added airfried salmon seasoned with garlic powder and mixed herbs, plus 16-grains, corn and edamame. The optional ingredient is cream cheese. It adds flavour and acts as a binder. It's so good that even adults love this!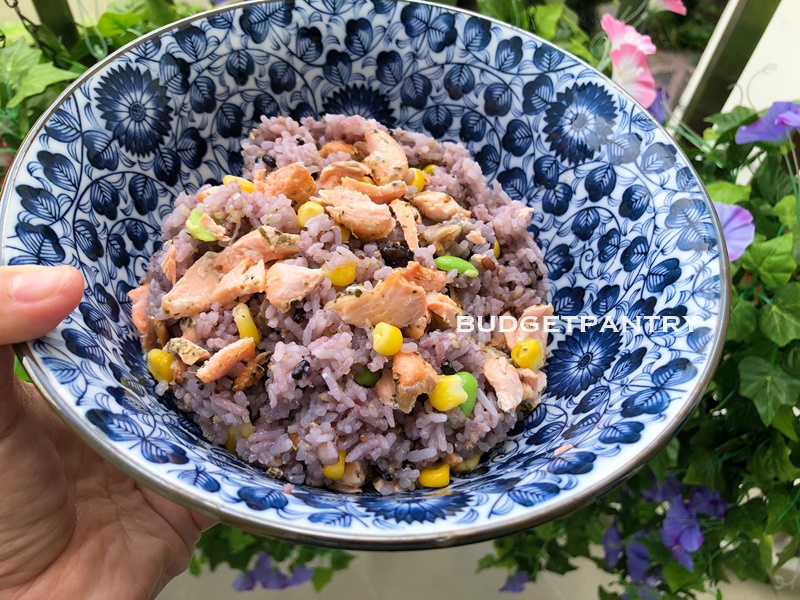 I have a picture of the multi grains I use over in this blog post. The last time I checked, it was still available on Redmart.
This recipe is really easy and requires no effort at all. Just cook rice, add in ingredients, bundle up in cling wrap for a minute or two and serve! Although it's just rice, kids usually find finger food more fun to eat. Mix and match your kids' favourite ingredients in this! Some ideas: prawns, scrambled or hardboiled eggs, peas, carrots, pumpkin all work well.
Leave me a note if you're making this!
Salmon rice cakes with 16 grains
(budgetpantry.com)
Makes 7-8 rice cakes
What you need:
3/4 cup uncooked rice
2 tablespoons 16-grains or mixed grains
150g salmon slices or chunks
Sprinkle of garlic powder
Sprinkle of mixed herbs or dill
2 tablespoons cooked corn/edamame beans
1 tablespoon cream cheese (optional)

Steps:
Cook rice and grains in the rice cooker – normal white rice mode.
Season salmon with garlic powder and herb flakes. Either panfry or airfry till done. I used salmon slices and airfried at 175C for 5 minutes. Set aside.
When rice is done, spoon into a bowl to slightly cool. Add in salmon (break them up with your fingers while checking for bones), corn, edamame and cream cheese. Mix well.
Spoon two tablespoons onto a sheet of cling wrap and bundle up tightly for 1-2 minutes. This is to help the shape stay. Remove cling wrap before serving.