Wholesome salmon miso soup with mushrooms and vegetables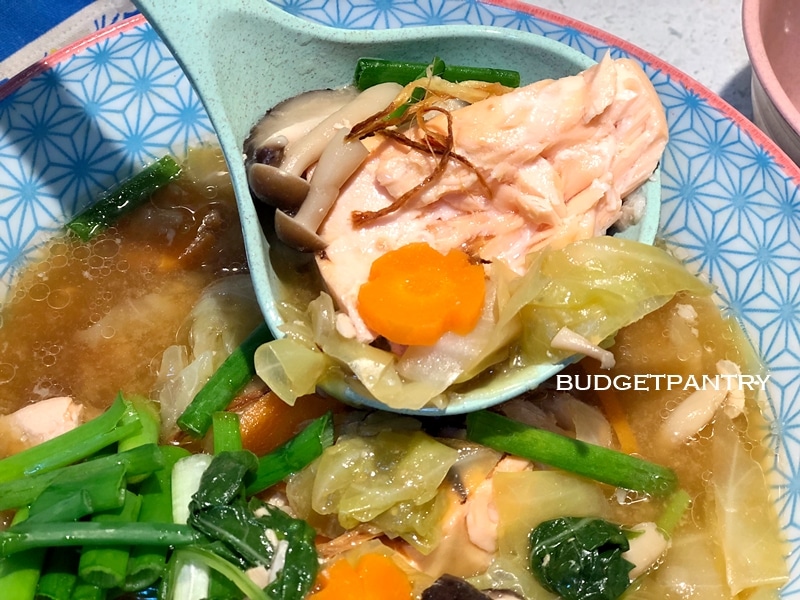 I was craving salmon soup so bad on Sunday morning that I told myself I must MUST cook it that night. I blame the chilly weather.
Now at 20 months, cbb often eats the same thing as us at meal times. A plus point for us is that we end up eating less salty and less processed. When I cook dishes like these (miso helloooo so salty), I just don't serve her the soup and 'wash' her portion in hot water before giving it to her. She laps it up all the same.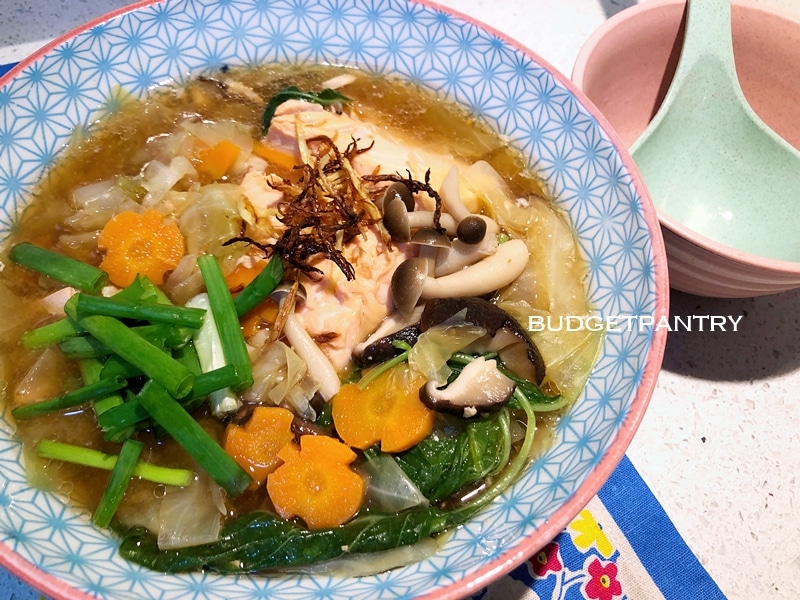 You can slice the salmon before cooking if you prefer, but I like to keep my salmon fillet whole and cook it till about 80% done. Without being overcooked, the flesh is so creamy soft, it's incredible! Here's the recipe, I hope you enjoy it!
Tip: Click here to see my other baby food recipes. Will be adding more soon :) Like my Facebook page or follow @budgetpantry or @chuabeebee on Instagram to be updated on new recipes!
Wholesome salmon miso soup with mushrooms and vegetables
(budgetpantry.com)
Serves 2-3
What you need:
300g fresh salmon fillet
100g cabbage, chopped into small pieces (I used Beijing cabbage as I had some in the fridge, but do use Napa cabbage as it's sweeter)
1 stalk leek, sliced into small circles
1 knob ginger, about thumb sized
2 pieces lime leaves
100g daikon, peeled and sliced into bite-sized
Half small carrot, peeled and sliced into bite-sized
1.5 tablespoons miso paste (use white or yellow miso)
Handful of shimeiji or shitake mushrooms
1.5 litres water
Half tablespoon salt, to prep salmon
Fried ginger shreds, as topping
Spring onions, for garnish

Steps:
Clean salmon and feel for bones. Remove them and pat the fillet dry. Salt both sides and leave aside for 30 minutes.
After 30 minutes are up, boil water in a pot and immerse the salmon fillet for a minute. Remove and pour away the water. This is to get rid of the gunk and fishy smell. Run the salmon gently under tap water, then pat dry with kitchen paper.
In a fresh pot of water, add the leek, ginger, lime leaves, daikon and carrot. Bring to boil and simmer for 20 minutes. Add the miso and mushroomss.
Finally, add the salmon fillet and cook till just turning pink, about 80% done. I did not slice the fillet because it's easy to overcook the salmon this way – but if you prefer, you could slice them before cooking. Garnish with spring onions and fried ginger shreds before serving.
TIP: Add more vegetables like spinach or other leafy greens to make it an even more nutritious meal!