Toddler-friendly rice cooker mushroom chicken rice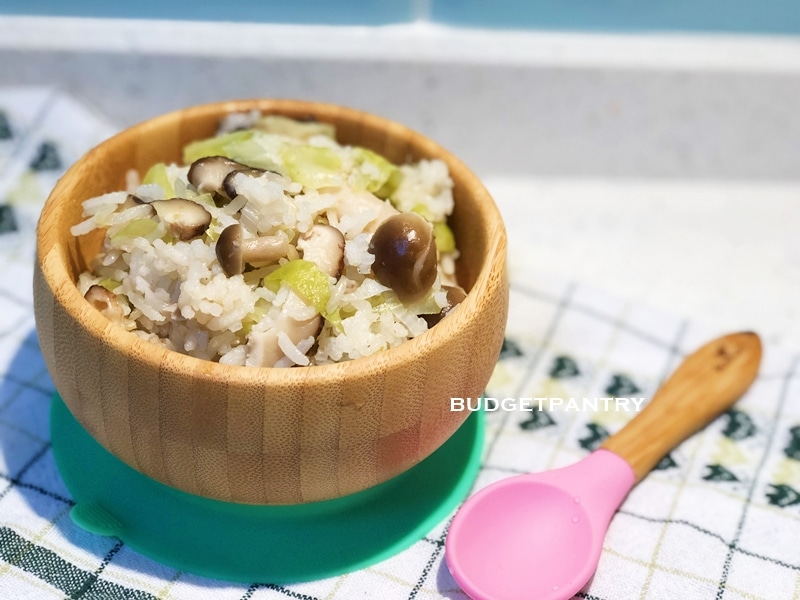 When it comes to preparing meals for cbb, there's one method I especially like: Throw everything into the rice cooker, press 'Cook', and walk away!
This is another of those one-pot rice cooker recipes that satisfies all nutritional needs in a meal: meat, vegetables, rice. To ramp up the flavour, I like to use chopped up leeks (the white part) and a bit of ginger-garlic paste. I often cook this for dinner for the entire family… I don't add salt to our portions also, but you could if you wish.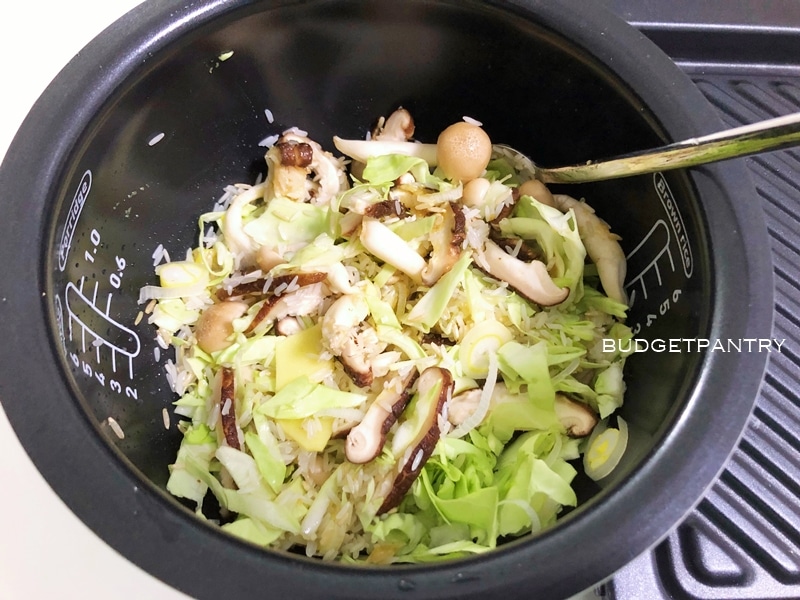 I've got many pms asking me which rice cooker I am using. I can't live without our Tefal Spherical Pot Rice Cooker. It's super easy to use and practically fool proof. I can cook one-pot meals like this, or make a comforting porridge or congee. The included steamer rack also means that I can steam fish/meat/eggs while cooking rice. Saves me so much time! I reviewed this product last year, along with a recipe of multi-grain rice. Click on this link to read more.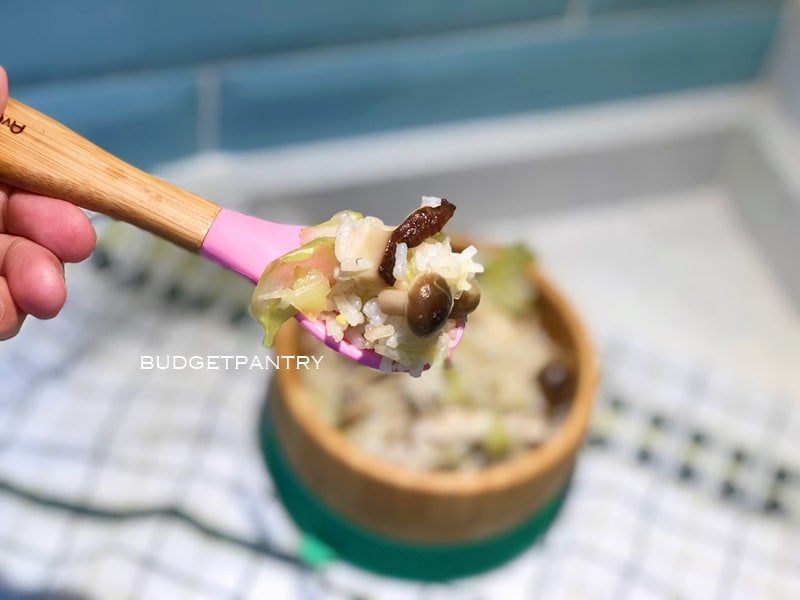 It's not a super-must to add leek, but I had some in the fridge that day and used them. I must say it really enhances the flavour a lot. This recipe also calls for ginger-garlic paste. You can make your own by blending 2 cloves of garlic with 3 slices of ginger in the food processor, or simply smash the garlic and grate the ginger. It's more work but it means less things to wash. Or you could use store-bought paste, preferably with no salt added.
Tip: Click here to see my other baby food recipes. Will be adding more soon :) Like my Facebook page or follow @budgetpantry or @chuabeebee on Instagram to be updated on new recipes!
Toddler-friendly rice cooker mushroom chicken rice
(budgetpantry.com)
Serves 2
What you need:
1 cup uncooked rice
100g chicken fillet, minced or chopped into small pieces
Handful of shimeji and sliced mushrooms
Handful of thinly sliced cabbage
Japanese leek, white part only (about a 4-5″ section), sliced thinly
1 tablespoon ginger-garlic paste (blend 2 cloves garlic and 3 slices ginger in food processor with a bit of water, or use ready-made)
2 slices ginger
Drizzle of sesame oil
Water for cooking rice

Steps:
In the rice cooker, combine rice grains, ginger-garlic paste and sesame oil. Stir in the chopped leeks.
Mix in the chicken, mushrooms and cabbage. Place the ginger on top and add water till it just about reaches the ingredients (about the same level as the ingredients, not over!). Press the 'white rice' function on your rice cooker, or simply cook as you would regular rice, if your cooker doesn't have specific functions.
Once done, fluff up the rice, let it sit for another 5-10 minutes and serve.
TIP: Add salt to the adults' portion if you'd like!