20-minute hearty bean and vegetable soup in an instant pot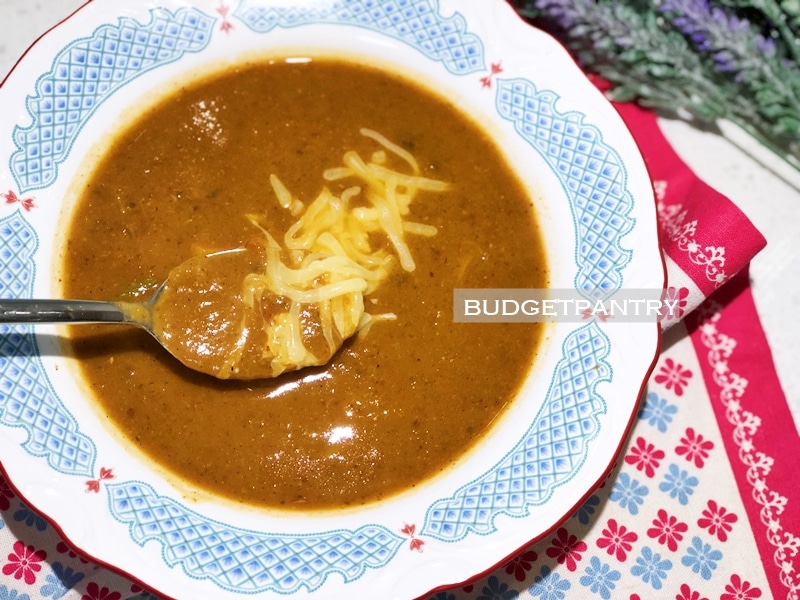 Yup, this amazing soup is cooked in 20 minutes in my Philips All-in-One cooker, my current obsession. I can cook everything in it!! I love the saute function, and I always saute or brown my ingredients before using the 'pressure cook' mode. I save more than half the time using this as compared to using a traditional stove-top pot. Just yesterday, I cooked oyster sauce chicken with carrot and potatoes in 15 minutes. The meat was fall-off-the-bone! What a life-saver this is. I did a short introduction to the all-in-one cooker recently. Click here to read.
Back to the recipe. This is a super versatile soup/stew which I like to make in a large batch and freeze.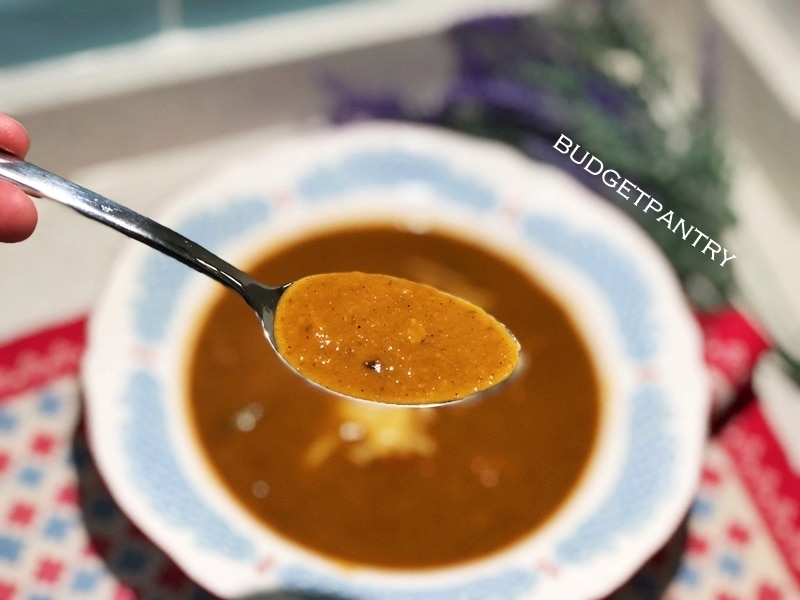 The thing I love about this recipe is that it can completely be customised. Although I meal-prep, I don't have to eat the same meal every day. I can jazz up this dish every day with different ingredients – an egg today, some fish slices tomorrow, or a handful of cabbage the next. These pictures show the creamy soup version. I use my hand-held blender to blend the vegetables into this consistency at the end of cooking. If you prefer a chunkier soup, you don't have to blend the entire pot. Maybe half the pot or a bit more?
It's hard to believe, but ALL of these ingredients are blended into the soup:
I didn't use flour to thicken the soup because there's no need to. The potatoes and beans are starchy enough to make this really creamy and satisfying.
I'm gonna let you in on my secret ingredient: I add a tablespoon of garlic/ginger paste into this. Yes the Hainanese Chicken Rice paste. I choose one without preservatives, but to be honest, one tablespoon in a giant pot of goodness won't kill you. You can use any brand from any supermarket. I think it really adds oomph to this dish! Alternatively, you can use grated ginger.
Ready to give this one-pot wonder a try? Let's go!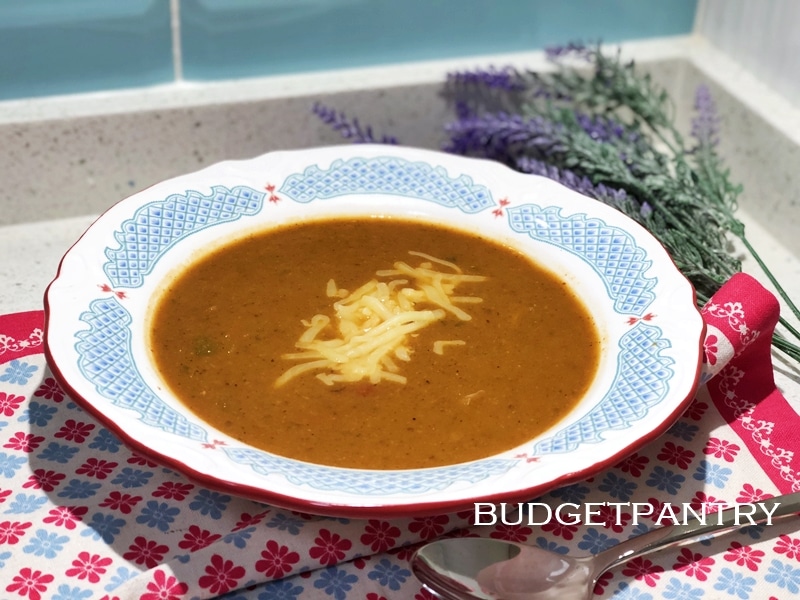 Tip: Click here to see my other baby food recipes. Will be adding more soon :) Like my Facebook page or follow @budgetpantry or @chuabeebee on Instagram to be updated on new recipes!
20-minute hearty bean and vegetable soup in an instant pot
(budgetpantry.com)
Serves 6
What you need:
6-8 stalks celery
1 large carrot
1 large yellow onion
1 yellow pepper
1 russet potato
2 stalks leek
1 round eggplant
1 can peeled or diced tomatoes
1 can beans (you can use kidney beans/black beans/white beans,etc)
2 handfuls red lentils
1 tablespoon garlic ginger paste or grated ginger
1 teaspoon cajun seasoning
1 teaspoon salt
1 teaspoon Worcestershire sauce
200ml water
2 tablespoons oil
Shredded cheese, optional (for garnish)

Steps:
Peel and dice the celery, carrot, onion, pepper, potato, leek and eggplant.
If using an instant pot or all-in-one cooker:
1. Select the 'Saute' option.
2. Wait for the pot to heat up and add the oil. Toss in the white part of the leek, garlic ginger paste or ginger, onion and pepper for 5 minutes.
3. Add the celery and saute everything together for 10 minutes. Follow with the potato, eggplant, carrots, green part of the leek, tomatoes, beans, lentils, cajun seasoning, Worcestershire sauce, salt and water.
4. Seal the pot and select 'Pressure Cook' for 20 minutes.
5. Once the pressure is released, wait for the stew to cool down before blending with a hand blender to the consistency you like.
If using a regular pot over the stove:
Follow steps 2 and 3 above. Add water until it just about covers all ingredients. Simmer, half covered for 1 hour. Watch the pot and top up water if needed. Once cooled, use a hand blender to blend into the consistency you like.
Garnish with shredded cheese and serve with a crusty bread roll.
TIP: You can use this as pasta sauce too!