[When I eat out] Saigon Vietnamese Delicacy – not your usual Vietnamese fare!
Invited Review
What is the first dish that comes to mind when you think "Vietnamese food"? Phở? Spring rolls? Baguette? Bánh mì?
For most, Phở must be the most famous Vietnamese export but a Vietnamese friend told me that that they really don't eat this street food as much as we do, as there are lots and lots and lots more Vietnamese food for them to choose from!
I was quite looking forward to trying out the different types of Vietnamese dishes at Saigon Vietnamese Delicacy and actually asked if we could not have Phở that day. To which the boss, Boon Kiat, gladly obliged and said, "That's my purpose, recommending Vietnamese food beyond Phở." This is one guy who loves his Vietnamese cuisine!
We set out for the eatery near Geylang Lorong 39, just 2 minutes from City Plaza and away from the red-light district. Despite being cosy, the restaurant was well ventilated with great air-conditioning and ceiling fans.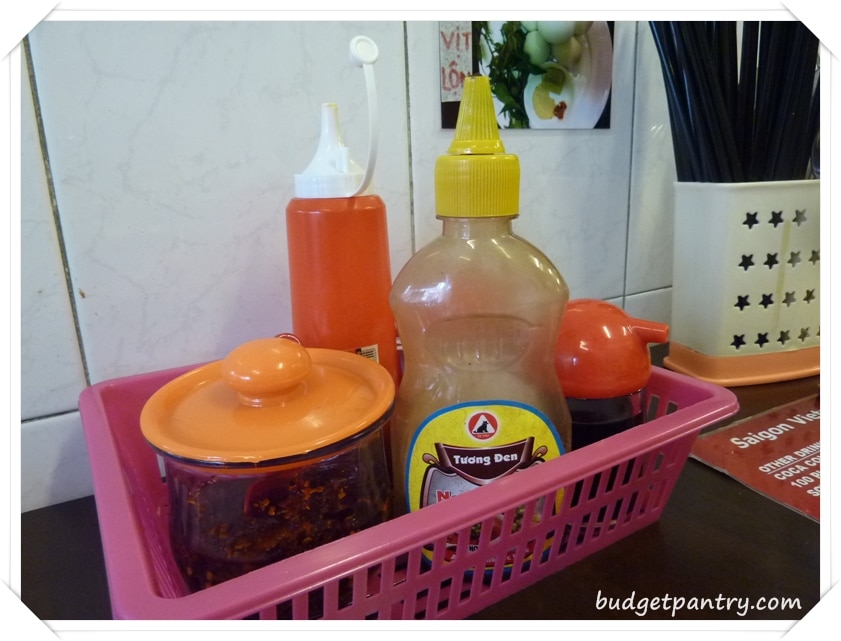 Every table had a condiment basket which included soy sauce, fish sauce and chilli paste, and any Vietnamese would tell you that a Vietnamese restaurant without the array of condiments on its tables does not have them fully set.
We first had the Sour Spicy Mango Salad (Goi Xoai), $4.50, which came with loads of tangy green mango, dried shrimps, crushed peanuts and keropok. Before this, I had always associated "Mango Salad" with Thai food and Thai food only. I actually prefer this Vietnamese version because the ingredients are more simple and intricate- the dried shrimp provided a salty, fragrant contrast to the tart mango and lifted the dish effortlessly. It wasn't spicy though.. I don't remember tasting chilli and I think the dish would have tasted even better with it.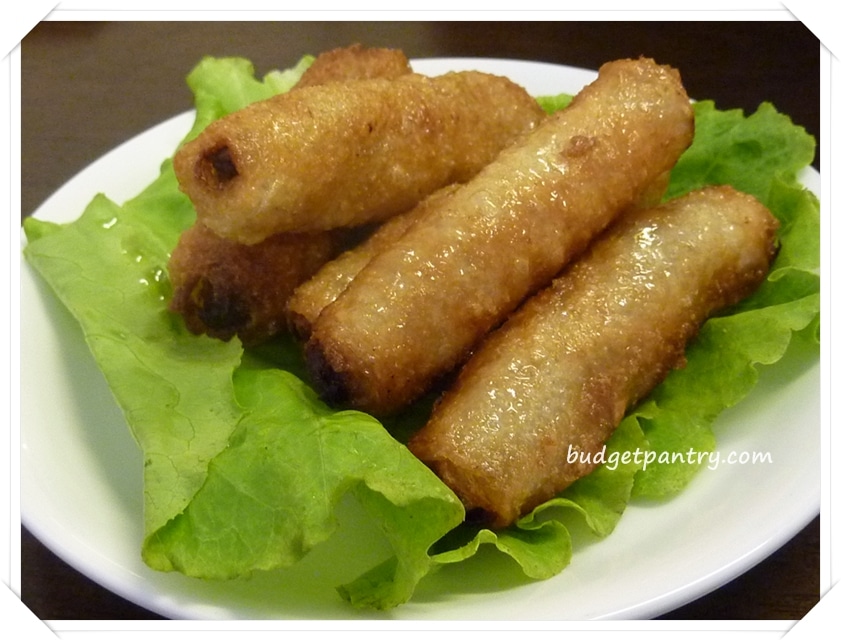 I love fried food, so even though this was a common enough dish, I just had to "Say YES to the dish" when Boon Kiat recommended it. The Fried Spring Rolls (Cha Gio), $4.50, was stuffed full of minced meat and vegetables, but spring rolls are spring rolls- I would order something else from the extensive menu next time!
The next dish we had made us sit up! It is a crab meat thick noodle (bee tai mak) kind of dish with cabbage, beansprouts and greens cooked in a light tomato-ey seafood broth. I am sorry I forgot the full name of this (forgot to take a photo of this item on the menu!) but it is item 54 and costs $7, I think. It does not look very substantial but the crab meat was fresh and broth quite addictive. It can't fill Jason's stomach for sure but it gave him more reason to order more dishes. He ranked this #2 out of the 4 dishes we tried. What's #1?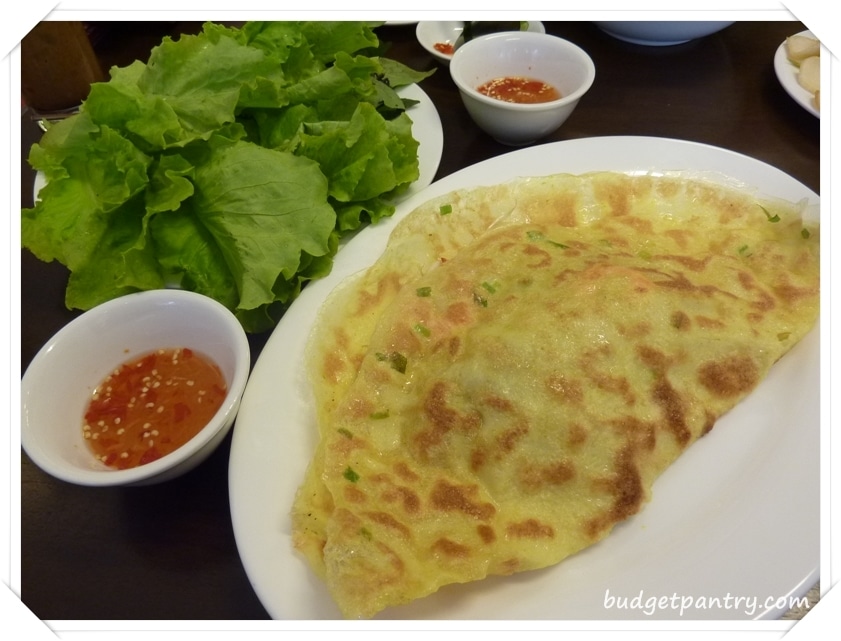 THIS! This Vietnamese Pancake (Banh Xeo), $7, was our favourite dish of the day!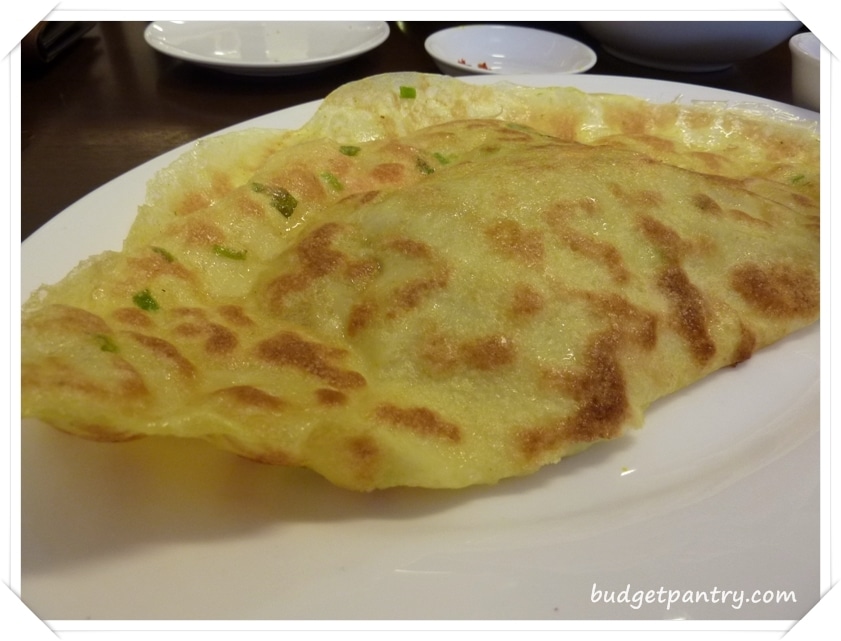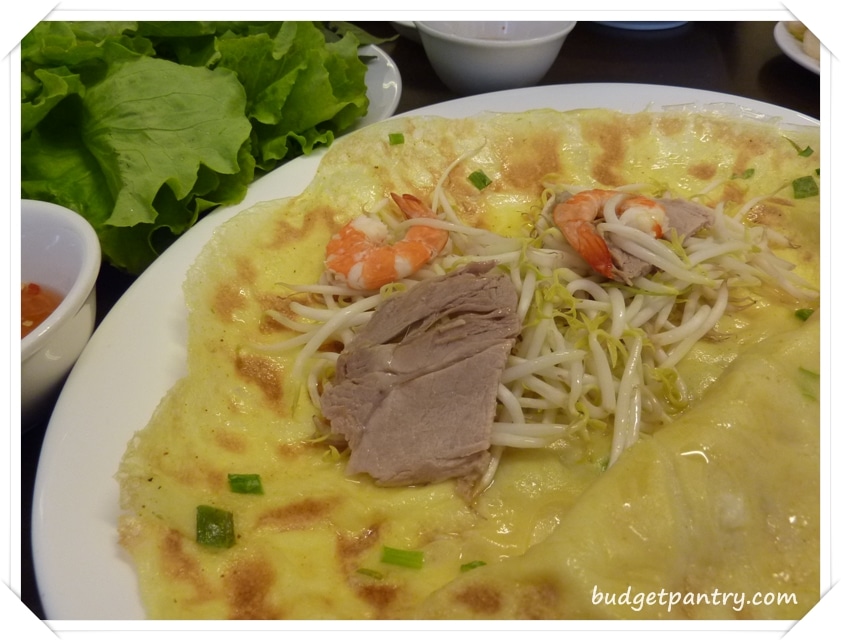 The ingredients might look simple and uninteresting but the meat is very well marinated and prawns extremely fresh. The pancake is immaculately pan-fried, and stayed crispy (and slightly chewy in the middle!) as we devoured it between us. You take a portion, add some basil if you like (we left them out), and roll it with lettuce leaves (which could do with a bit more soaking to get rid of allll the dirt, though!), then dip it in Nước chấm (fish sauce with lime juice, white rice vinegar, sugar, fresh chilies, garlic) before popping it into your mouth. Let my part time model show you how it is done: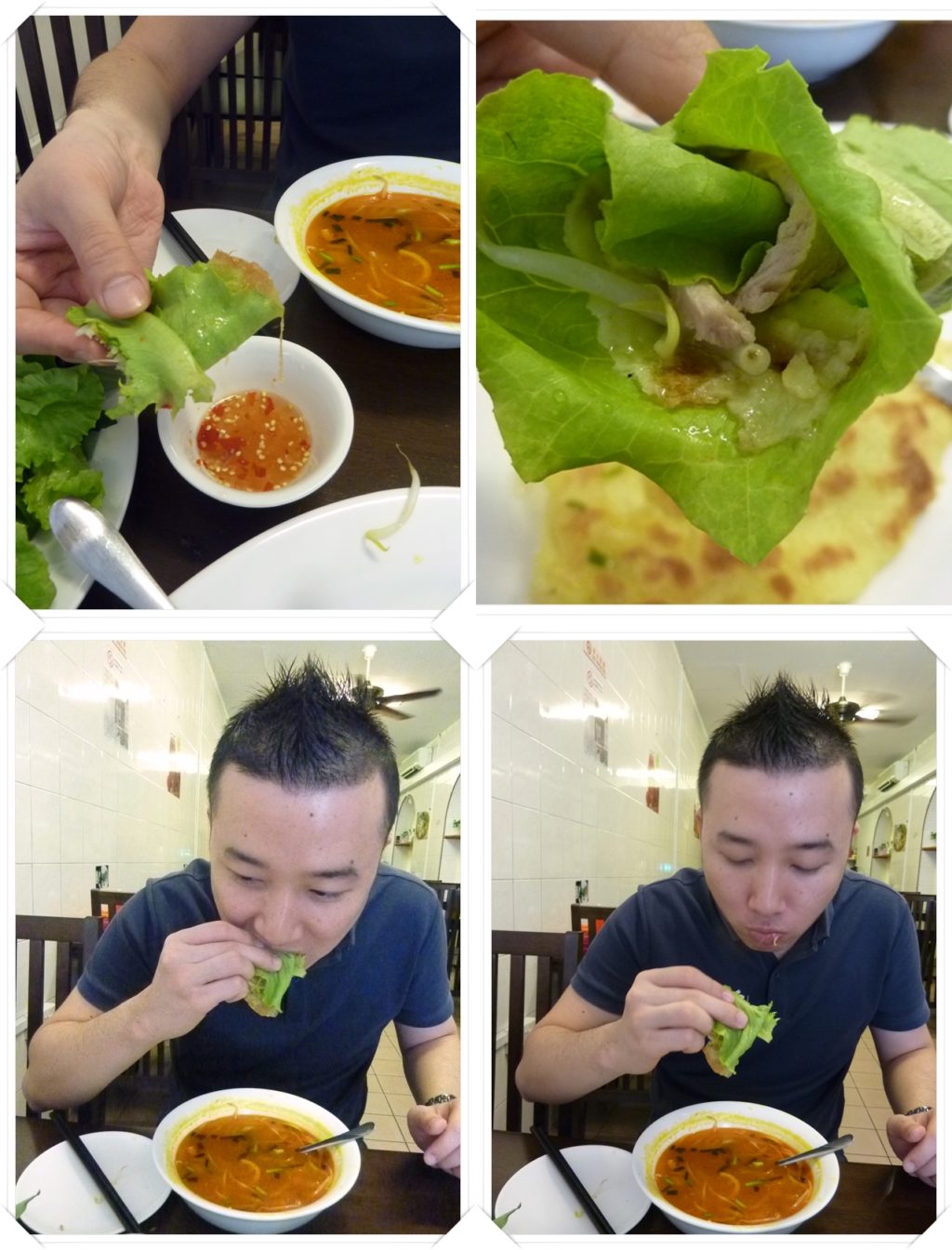 Please order this! Must order! V-I-E-T-N-A-M-E-S-E P-A-N-C-A-K-E!! Remember this!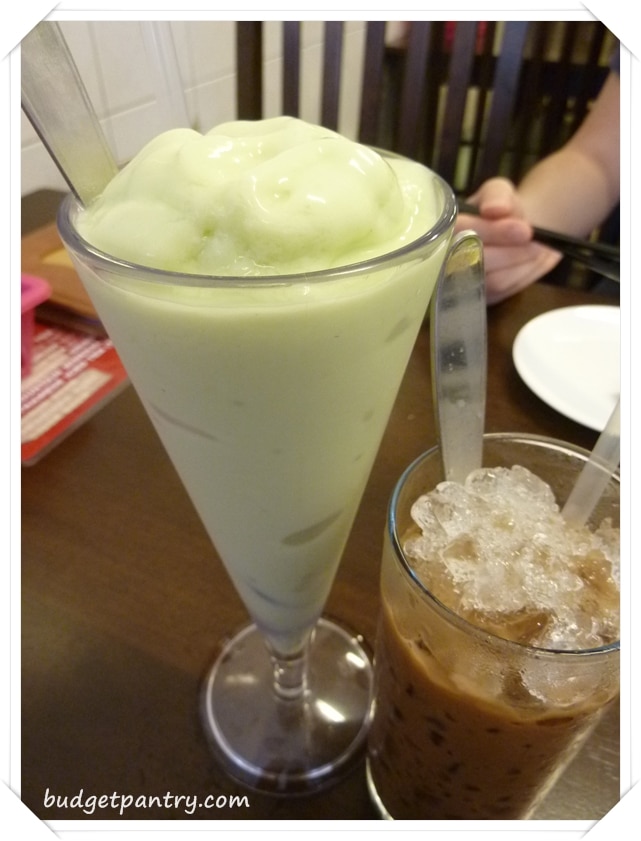 We also had an Avocado Milk Shake and Vietnamese Iced Coffee, both of which did not disappoint us. I love Vietnamese coffee!! The boss also recommended the Tender Beef Shank with Thick Rice Noodle (Bun Bo Hue), $6, but we didn't have the chance to taste it that day. Please eat it for me and let me know how good it is, ok? Some picks from the menu: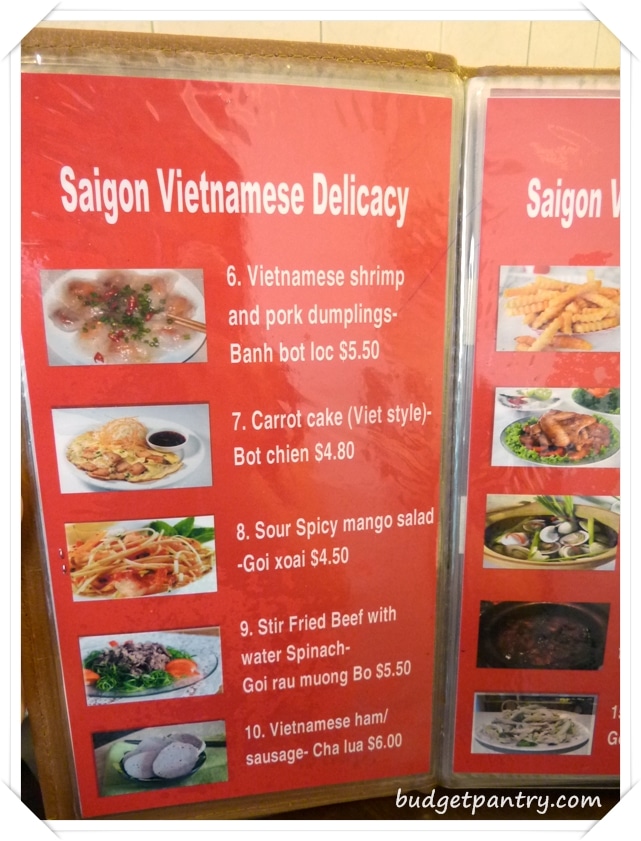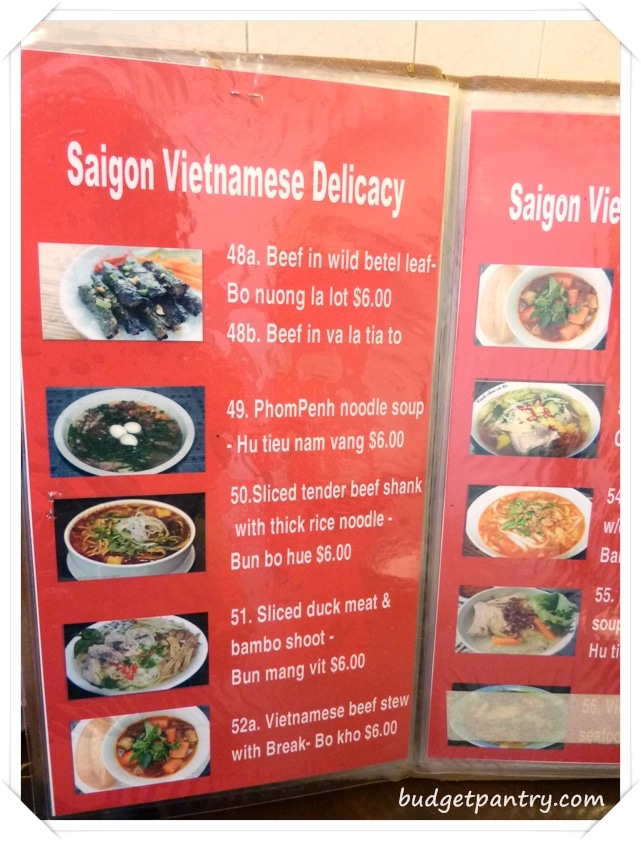 The kitchen is helmed by Boon Kiat's wife, Michelle, which explains the time and effort placed into each dish. When you're running your own business as opposed to simply being an employee, you cook with your heart, no? A nice little eatery which we will pop by ourselves when we are in the area next time. City Plaza is not just about Arnold's Fried Chicken! :)
Saigon Vietnamese Delicacy
https://www.facebook.com/SaigonVietnamDelicacy
749, Geylang Road (Near to Lorong 39)
Singapore 389655
Opening Hours: Mon-Sun, 1pm to 4am (yes, A.M.!)