We were at Cold Storage, King Albert Park the other day thinking of what to cook for dinner when Jason said, why not yam rice? Okkkkk although I have not cooked it before, I have seen my mom cook it. It shouldn't be too difficult! I did a mental stock-take of what I had at home to ensure that budget-wise, the dish is "cookable" (I'm not exaggerating, he will sometimes "order" hokkaido pan-seared scallops and cod fish out of the blue!) and recalled that I had some chicken fillet, chinese sausages and mushrooms, and all I had to grab were a medium sized yam and some spring onions.
If you have a rice cooker at home like most Asian families do, this dish is easy-peasy. By the way, "yam" in this case means "taro" and does not refer to sweet potato. I know some countries use these two terms interchangeably, but for this recipe, pick taro. I'll have a picture of what it looks like in the recipe box.
Yam Rice
Serves: 4
Total cost: $5.50
Total cost per serving: $1.10
What I used (listed in order):
400g purple yam
3 cups rice
3.5 cups water
3 strips chicken fillet, sliced into bite sized pieces
6 dried chinese mushrooms, soaked til plump and sliced thinly at an angle (so you get a bigger piece per slice)
1 chinese sausage
1 tbsp dried shrimps (I used the cheaper sakura ebi but you can use regular ones)
3 shallots, chopped finely
3 cloves garlic, chopped finely
Fried shallots and spring onion, for garnish
Sauce seasonings:
2 tbsp thick soy sauce (you can use either sweet soy sauce, in which case, omit the sugar below)
3 tbsp light soy sauce
1 tbsp oyster sauce or abalone sauce
1 teaspoon sugar
1 tbsp cooking wine
A dash of pepper
1 tbsp olive oil
Steps:
1. Soak chinese sausage in very hot water for 5 minutes so that the casing is easy to remove. Slice into little rounds.


2. Peel yam and dice into cubes.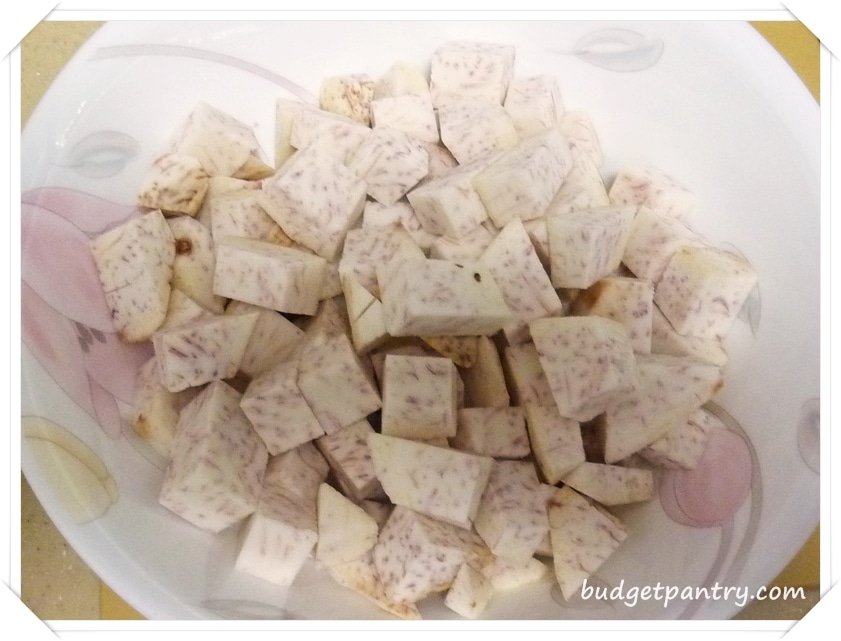 3. Wash rice, rinse, and set aside.
4. Fry shallot, garlic and dried shrimp in the olive oil til fragrant, then add mushrooms, yam and chicken pieces. Fry for a few minutes, then add all seasonings.
5. Add the rice grains and "dry fry" until they are coated with the seasonings. Transfer mixture into your rice cooker and add the water.
6. Cook it as you would regular rice. When ready, stir with serving spoon and let it sit for 10 minutes in the rice cooker.
7. Garnish with fried shallots and spring onions and serve!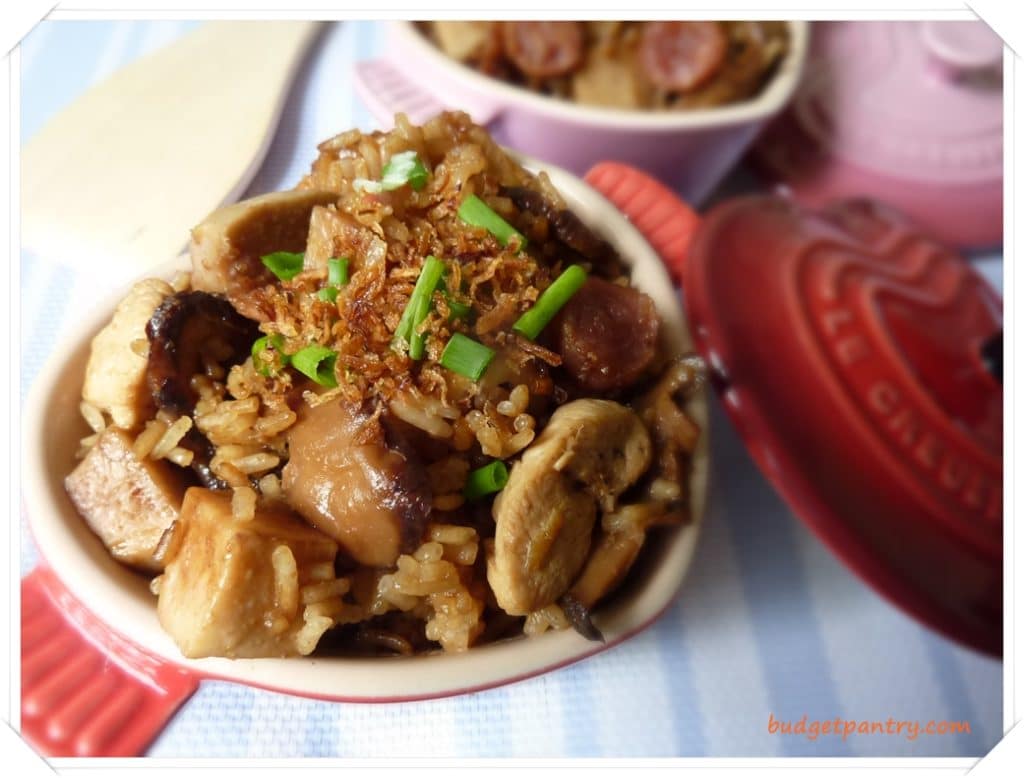 How much I spent:
$2.10 for yam
$1.20 for chicken fillet
$1.50 for mushrooms
$0.70 for spring onions
Everything else from my pantry

I don't know about you, but yam rice has always given me the "very traditional" feel.. as not many people bother to cook it anymore nowadays. I thought that the steps would be more complicated, but maybe I feel this way because I had a rice cooker to help me. We had this with a clear vegetable soup on a windy day.. this simple meal warmed more than our tummies that night and I hope you try it!