Happy Call "Hotplate" Tofu with Prima Taste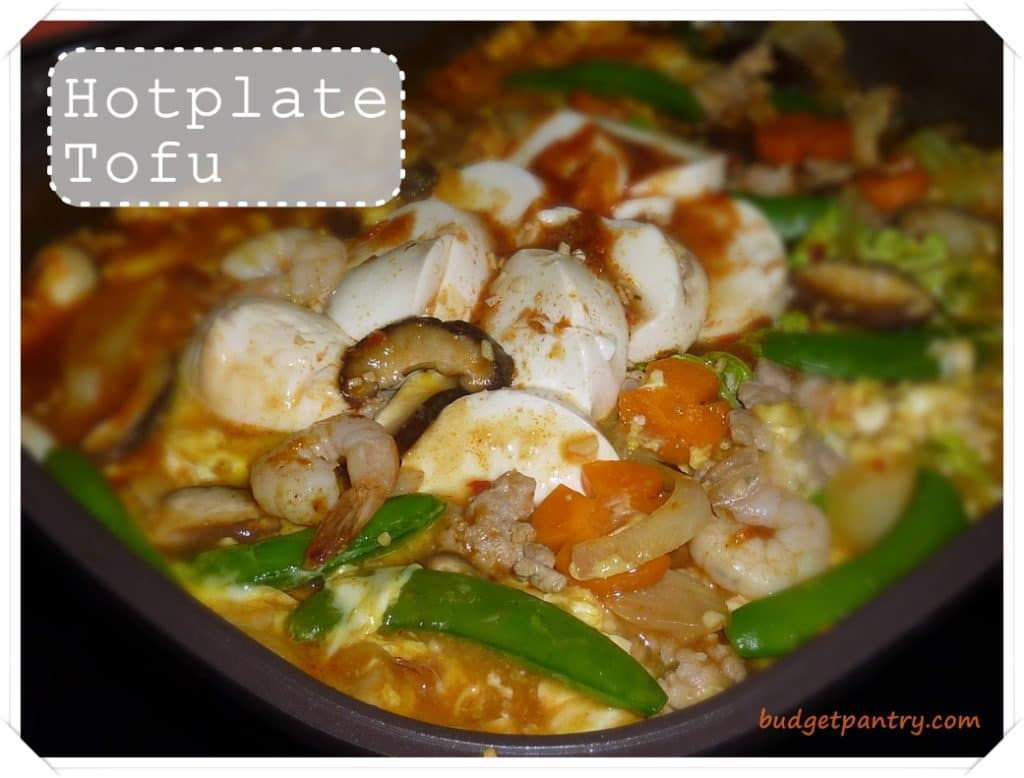 Hotplate tofu is my must-order dish when I eat at Zi Char stalls. "Zi Char" is a dialect term which literally means "Cook" (zi) and "Fry" (char). Dishes are almost always eaten with rice and often prepared on high heat in a Chinese wok.
My favourite hotplate tofu is from a zi char stall at Blk 279 Bukit Batok East Ave 3. The signboard reads "Mei Chin Seafood" (maybe from eons ago) but the packaging and receipt all read "大食家"。The dish is just a little spicy, with onions, shallots, a bit of chilli bean paste, tofu, prawns, minced meat, vegetables and beaten egg served in a hot plate.
I was having such a craving on Tuesday that I just had to cook it.. and I did, with Prima Taste's Sweet and Spicy Seafood Sauce, which is recommended for cooking hotplate tofu:

*For crispier tofu with more bite, you can coat it with a light dusting of corn flour and let it fry in the Happy Call before adding it back to the dish. I skipped that step. I also added more ingredients because this was a one-dish meal for us that night.
Happy Call Hotplate Tofu
Serves: 4
Total cost: $7.85
Total cost per serving: $1.97
What I used (listed in order):
1 tsp olive oil
Half yellow onion, sliced
1 tbsp minced garlic
Half a carrot, sliced into circles or flower shape
Sweet Peas (1/3 packet), snap the ends off and tear off the "strings"
6 fresh shitake mushrooms (stems removed), sliced
Chinese cabbage (a small handful), sliced
1 tbsp spicy chilli bean paste
150g minced pork or chicken
12 medium prawns
1 tube tofu (we prefer normal silken tofu), sliced into rounds
1 packet Prima Taste Sweet and Spicy Seafood Sauce
5 tablespoons water
1 tbsp cornstarch solution (half tbsp cornstarch + 1 tbsp water)
2 eggs, beaten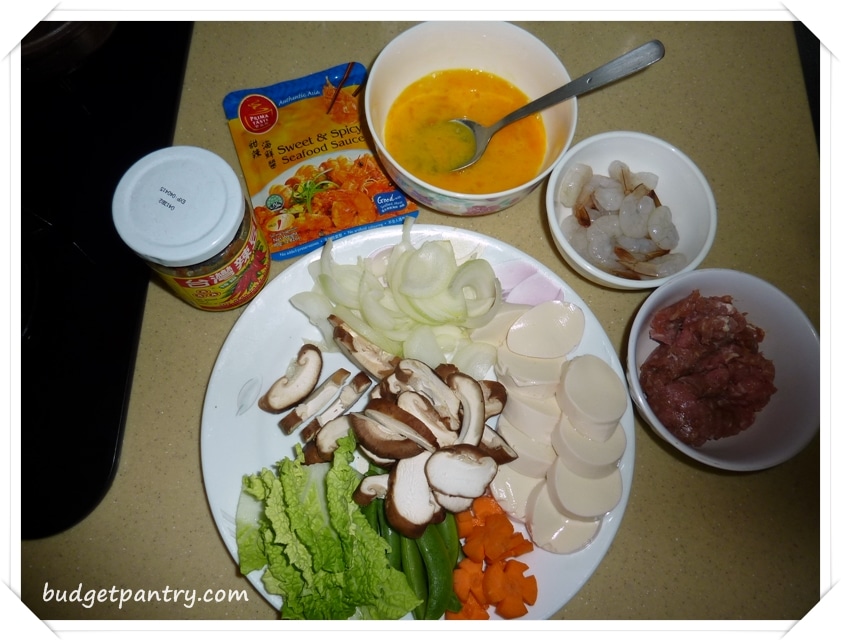 Marinade for the minced meat:
Half tbsp oyster sauce
1 tsp fish sauce
1 tsp Chinese cooking wine
A dash of white pepper
Steps:
1. Marinate minced meat for 30 minutes.
2. Heat up the oil and fry onions and garlic til fragrant.
3. Add the carrots, mushrooms, peas, cabbage, chilli bean paste and stir fry for 2 minutes before adding the minced pork. Break up the meat into small pieces. Add prawns when the meat changes colour.
4. Add the packet of Prima Taste seafood sauce and 5 tablespoons water. Mix well, then add cornstarch solution. Layer tofu on top and spoon gravy over.
5. Lastly, add the beaten egg and close lid for 1 minute before serving.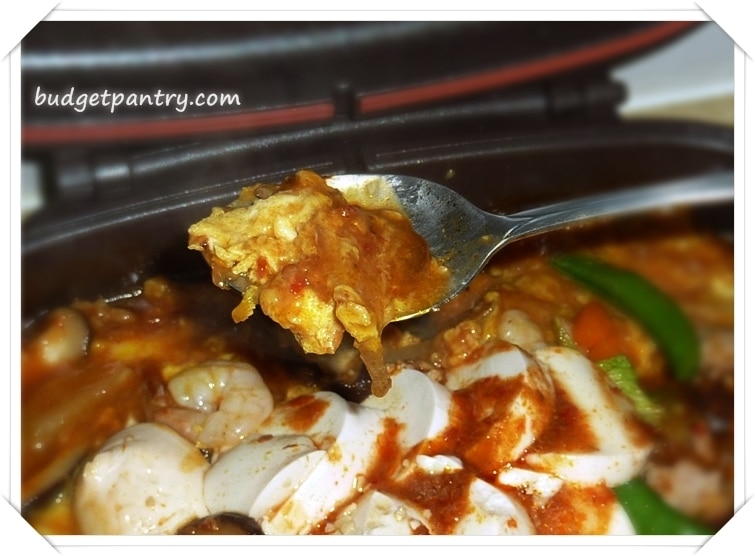 How much I spent:
$1.50 for minced pork
$0.80 for tofu
$2 for prawns
$0.40 for sweet peas
$0.70 for mushrooms
$0.20 for onion
$1.75 for Prima Taste sauce (mine was FOC)
$0.50 for eggs
Everything else from my pantry

Ok technically for hotplate tofu, you're supposed to dish up the ingredients in step 4 first and set it aside. Then in a clean pan, pour in the beaten egg and let it set just a bit. Return the sauce and arrange the ingredients back into the pan when the egg is still a bit a tad runny. This way, you will have an barely-set omelette at the bottom with ingredients and gravy on top. I chose to combine the egg into the gravy for an egg-y gravy over rice. It's your choice!
Thank you Prima Taste, for sending me your Authentic Asia Cooking Sauces!